Metal Gear Survive review - staying alive shouldn't be such a slog |

reviews, news & interviews
Metal Gear Survive review - staying alive shouldn't be such a slog
Metal Gear Survive review - staying alive shouldn't be such a slog
Bring out your wild side in this strange survivalist simulation
Mains: grass-fed lamb, humanely killed
Survival is hard work. If you're not desperately trying to hunt and forage food you're dying of thirst or trying to scavenge materials to make the most basic weapons and tools. Who needs Netflix and Deliveroo when you can roast a gerbil and wash it down with a rusty bucket of dirty water?
Then there's a base that needs building, people to take care of, stuff to repair and missions to undertake. It's a long day. Chuck in a plague of zombie-like Wanderers and you've got Metal Gear Survive – a bit like Bear Grylls meets The Walking Dead. It's a slog of spectacle but at least you don't have to drink your own wee, even though you'll more than likely get a "both ends" tummy bug along the way. Sounds like fun? It is, sort of.
'Metal Gear Survive' is a spin-off that has spun out of control
For those familiar with the 20-year old Metal Gear series, park your expectations. This is a Metal Gear game in name only; with head honcho Hideo Kojima acrimoniously parting company with Konami prior to this stand-alone follow-on from Metal Gear Solid V.
The action takes place in Dite, a dimension separate but similar to Earth, located at the end of a wormhole and littered with Wanderers and the Dust, a mist like substance that is toxic to humans. To return home you need to reactivate a device called the Digger, capable of generating wormholes – but typically, you lack the data to do this, so there's lots of "fetch" missions as you locate a search site, dodge or fight the Wanderers and get back before you run out of vital supplies.
As you venture through this barren unfamiliar terrain you'll be constantly aware of ever decreasing vital statistics. Hunger never goes away so collecting food and hunting animals is a top priority. The same goes for thirst, though finding a clean source is challenging for the first few hours, thus often leaving you sick after drinking dirty water. These base survival elements are a challenge to maintain and underpin a continuously tense atmosphere.
However, where the developers overstepped the "challenge" line and ventured into "annoying" territory is with the third survival requirement – oxygen. Most of the world is covered in a permanent Dust storm which means you need an oxygen mask with a limited supply. Inside the Dust, your stamina depletes quicker and can only be replenished fully by returning to your base. The Dust issue narrows down this free roaming world dramatically, forcing players not to wander too long and make them stick to one or two missions per excursion.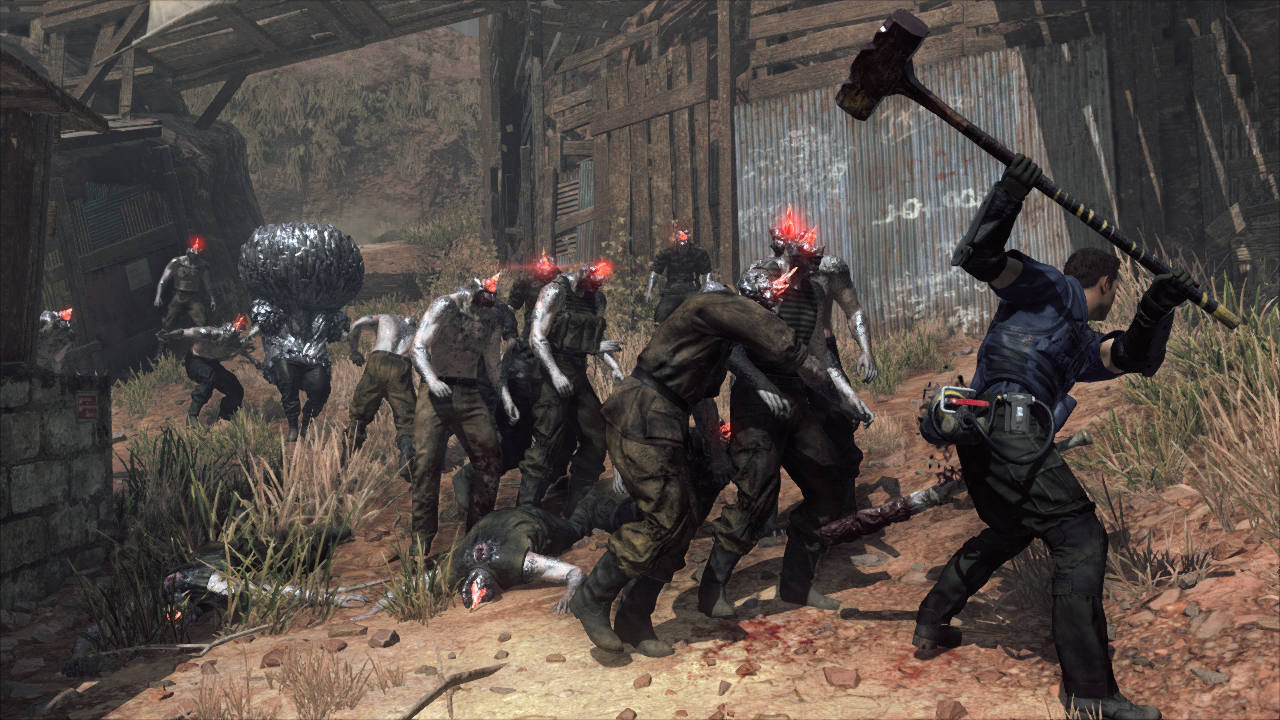 There are other bug bears in this survivalist outing. Healing yourself isn't as straightforward as using a cure-all health kit. Depending on the injuries sustained, you need a specific cure – which is often too hard to come by. Also, while all gamers understand the inherent jeopardy in a survival title the scant use of saves or checkpoints in the open world means once again, like when dealing with the Dust issue, you have to continually return to base or risk losing all progress from the previous save.
There's an online co-operative mode, that you can't use until you reach the lofty heights of level 20. The available missions are also locked away until you make sufficient progress in the story so MG Survive considers its online component an end-game activity, rather than something that exists alongside the campaign. All this means you can't just jump into a game with a friend – which, while this is understandable as there are many skills that need to be attained to play this overly complicated adventure, means there's still a fundamental flaw in game design if you're not able to enjoy online play without half completing the game first.
Metal Gear Survive is a spin-off that has spun out of control. In many ways it looks and plays like a Metal Gear game, but the survival elements have been delivered to the detriment of much in the way of fun. Everything feels like hard work that, even when accomplished, is rarely rewarded. The game should be applauded for an interesting take on the action adventure genre but no-nonsense survival doesn't have to be quite as gruelling as this tedious labour of love.