Civilisations, episode 2, BBC Two review - Mary Beard on the cultural offensive |

reviews, news & interviews
Civilisations, episode 2, BBC Two review - Mary Beard on the cultural offensive
Civilisations, episode 2, BBC Two review - Mary Beard on the cultural offensive
Images of the human form investigated, from classical Europe to Mexico, China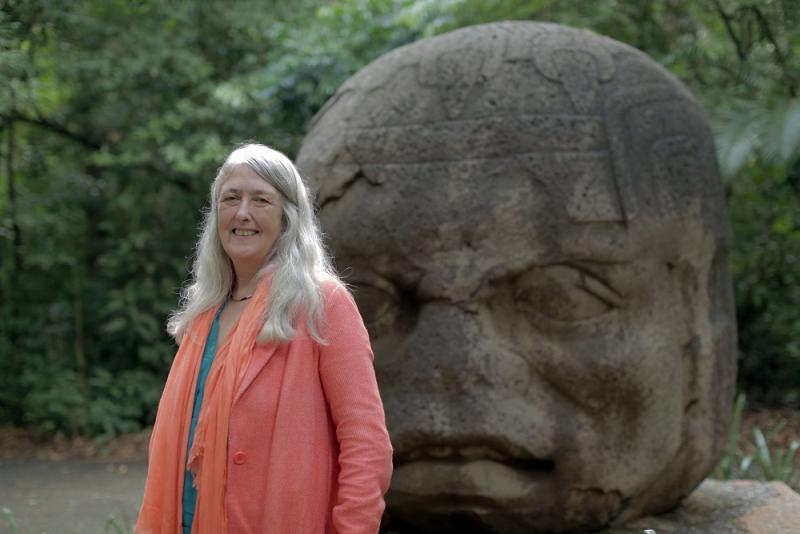 Mary Beard dwarfed by huge Olmec Head, c. 900-400 BCE, Villahermosa, Mexico
The sheer ambition of the BBC's new Civilisations is becoming apparent.
The sheer ambition of the BBC's new Civilisations is becoming apparent. This second episode, with Mary Beard grasping the presenter baton from Simon Schama, was subtitled "How Do We Look?" and themed around representation of the human image. It moved from the massive memorials of Mexico's Olmec culture, via some equally sizeable relics in Ancient Egypt, to changing manners of sculptural portraiture in 5th century BCE Athens. After a side-track to China's terracotta warriors, we were immersed in 18th century European attitudes to classical art, that were themselves reappraised by Beard in a coda that returned to Mexico.
It wasn't as huge a journey, in either its thousands of miles or years, as Schama's opener, so brought home the difficulties of making comparisons and reaching conclusions across non-related cultures all the more acutely. The triune territory of Ancient Egypt, Greece and Rome must surely be Beard's home ground, and its contiguity and consecutive development allows, even encourages pursuing themes between cultures. When you throw in another culture from halfway across the planet, the risk is that you start passing value judgements across what are the essentially incomparable, metaphorical apples and oranges of what has come down to us from such past worlds.
We wonder whether the introduction of micro-knowledge would get in the way of the grand statement It also raises the issue of just what we really know about these worlds (if Civilisations is seeking an epitaph, Einstein's "The more I learn, the more I realise how much I don't know" would fit). Tackling the "Greek revolution" in sculpture, that key moment in history (and her argument) when representation of the human form moved from totemic-hieratic to humanist-representational, and what inspired it, Beard was honest enough to admit she didn't have an answer. Might it have been related to the rise of democracy, or simply that the sculptors got better over a short 200 years? "In truth, we don't know."
If we accept such an admission – from an eminent classicist, about her specialist field – how much more striking it seems when Beard confronts worlds that are much further beyond her ken. "It really is big," was her distinctly monolithic response to that huge Olmec head with which "How Do We Look?" opened (main picture), its details, from lips to irises, lovingly described, the rising purple in the prose almost embarrassing. The bigger questions – how? why? – weren't even tackled. Another, more familiar type of documentary would at this point have popped in a couple of experts to give even basic context, but Civilisations isn't taking such outside advice. There may be many reasons for that – including how much longer it would end up going on – but we may also wonder whether the introduction of such micro-knowledge would get in the way of the kind of grand statement being issued, almost Delphically, by the implied stately fount of contemporary cultural knowledge (read, a BBC Arts huddle, Schama to centre?).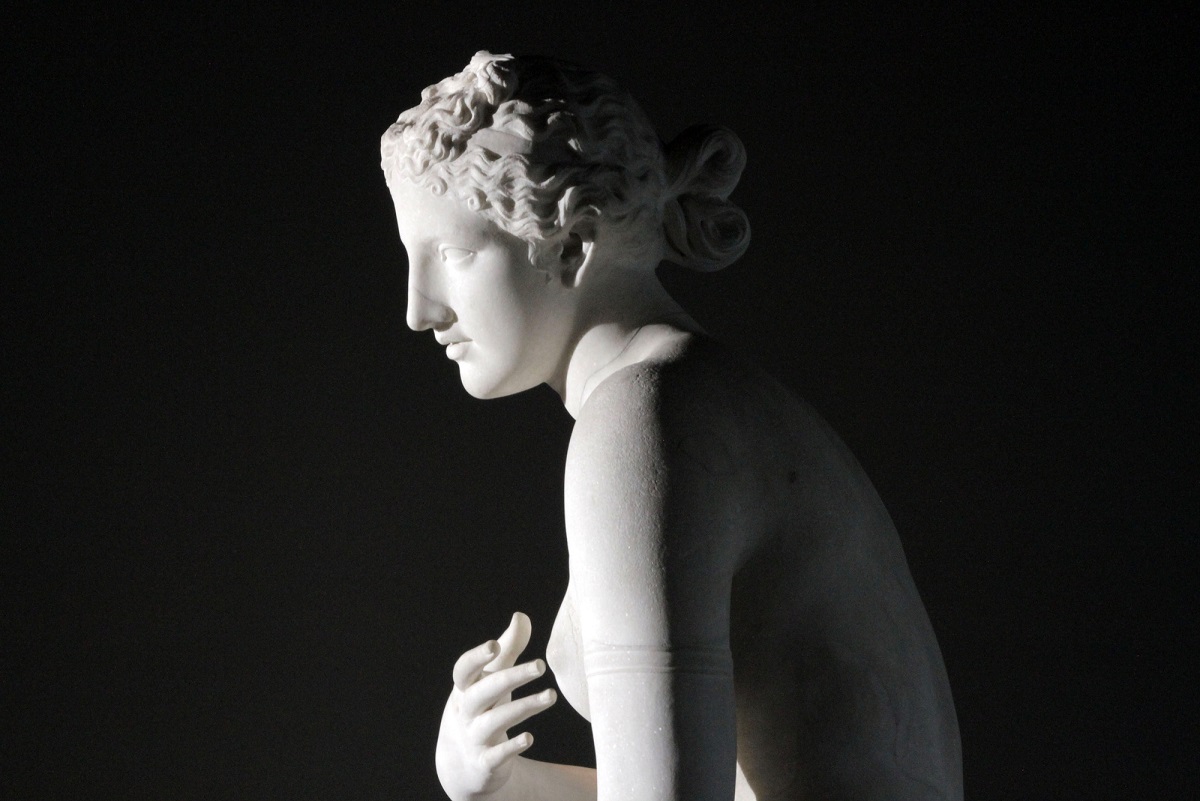 Because grand statements, like Beard's opening "When civilisations first made art, they made it about us", its last word typically stressed, are all over the piece. The proviso that Islamic art has never typically engaged with representation aside, how do they hold together when your frame of reference includes the Fayum portraits of Egypt (as intimately contemporary in a "realism" sense as anything), the idealised forms (more often male than female, and certainly beauty-centric in priority, the "flat and the flabby" excluded from the canon: pictured above, Aphrodite of Menophantos, Praxiteles, 4th century BCE, Palazzo Massimo alle Terme, Rome) of the classical world, and the terracotta figures of China, not true portraits but "likenesses of no-one", their variations of features driven by some sort of factory technique (and anyway intended to be buried, thus never on display to any viewer)?
Then throw in the fact that Beard's examples here are essentially societies where religion appears not to be a determining factor (she will be tackling "The Eye of Faith" in episode four). Tramp your way around the forest temple complexes of South Eastern and Southern Asia, and you might construct any number of alternative hypotheses to back another theory. The fault of Civilisations' attempt at central unifying narrative is that it doesn't allow the differences of each individual world to speak for themselves. (Pictured below: Olmec Jade Figurines, c. 600-200 BCE, Museo Nacionale de Anthropologia, Mexico City)
Which is all very well until you start asserting new value judgments over old ones in the way that seems implicit in the addition of that plural to the series title. There were alarming early shots here of Beard presenting to camera against a background of what looked like explosions, as if she was inadvertently caught up in some of the cultural vandalism that opened episode one. In fact, she was at a marble quarry on Naxos, where at one point a huge, unexcavated totemic form that had never left its point of origin became an "extremely nice place to sit" – the kind of cosy aside I'm not certain that we need from a presenter, even one whose style is notably less formal than Schama's (she certainly preferred to take the weight off her feet).
But Beard then performed a closing act of iconoclasm of her own, a rebuke to poor old Sir Kenneth, traduced, via Winckelmann and the Apollo Belvedere, with all the "narrow way of seeing" that this new Civilisations is out to overthrow (Clark even got televisually exhumed for a few seconds of his series to remind us how very old-fashioned it all looked). Since chucking out one kind of intolerant absolutism about cultural value only to put another in its place is not very appealing, I hope Beard wasn't just replacing the Syon House Apollo with the primitivism (my loaded word) of the "Olmec Wrestler" (which may or may not be a wrestler, and may not even be Olmec at all).
Was director Matthew Hill overpaying homage to Terrence Malick with all those poetic tree shots?
It rather left the impression that if a plural needed to be added anywhere in Civilisations, it could have gone into the subtitle of Clark's original, "A Personal View". For Civilisations is surely a collection of personal views – that may reveal (sometimes profoundly) new insight, at the same time as they stimulate disagreement. Indeed, that latter reaction may even be the more dynamic and productive one.
Technically, it was as grandiosely impressive as some of the structures it surveyed. I'll disagree with a colleague and say that the spare, string-dominated score here from Tandis Jenhudson seemed as good a piece of screen accompaniment as could be imagined. Was director Matthew Hill overpaying homage to Terrence Malick with all those poetic tree shots? He certainly took advantage of some nifty slow motion opps, at one point enveloping Beard in floating drapery not unlike the Greek sculpture she was studying – some slo-mo cigarette lighting and coin flipping that introduced us to China looked redundant stylistic showing-off, though – as well as sped-up collage cuts as we moved between eras. It's as energetically contemporary as the Clark original now looks dated. But take a cautionary, relativistic final reminder, perhaps, from Ozymandias, whose metaphorical presence somehow looms large in Civilisations. All will pass.