The Woman in White, Series Finale, BBC One review - good-looking, but flat |

reviews, news & interviews
The Woman in White, Series Finale, BBC One review - good-looking, but flat
The Woman in White, Series Finale, BBC One review - good-looking, but flat
Frisson lost in Wilkie Collins adaptation low on individuality, drama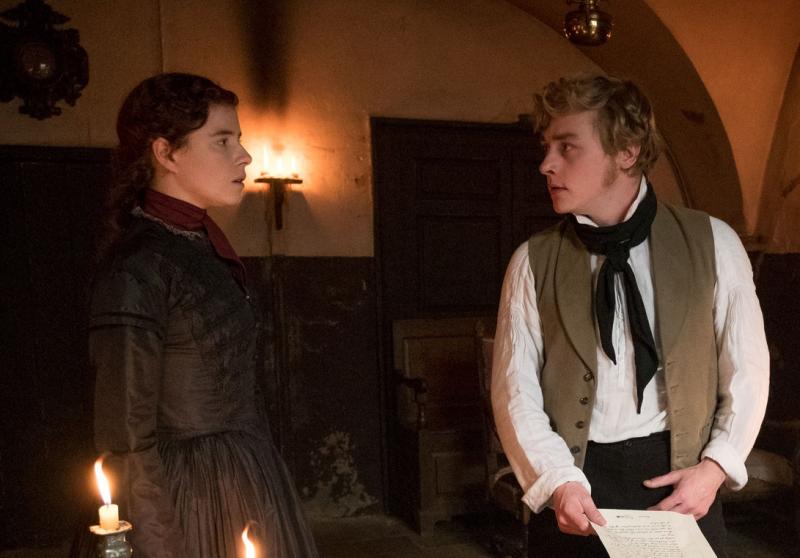 Where's the story going now? Jessie Buckley, Ben Hardy
Much has been made of this adaptation of The Woman in White having an especial relevance for our times.
Its concern with the power dynamics of gender relations was certainly hammered home right from the beginning, as Jessie Buckley uttered its loaded opening question, "How is it men crush women time and time again and go unpunished?", effectively delivered to us, the audience, to boot. But despite such references being periodically dropped into the dialogue – and that opening sentence certainly didn't come from the Wilkie Collins novel, either – as its five episodes developed,
Fiona Seres's
dramatisation
never quite convinced that any new agenda was being set.
In fact, it took some rather easy ways out, making for a sense that the glorious landscapes of Northern Ireland that provided the backdrops weren't the only thing chosen for their photogenic quality. Collins makes no bones about Walter Hartright's first impression of his novel's marvellous heroine, Marian Halcombe: "The lady is ugly!" Which you certainly couldn't say of Buckley, who sometimes (rather unsettlingly) seemed to be channelling Jenny Agutter from The Railway Children, with the impression that hockey sticks, if not quite jolly, certainly weren't morose. (That very final scene, in which Buckley seemed to be gallivanting in the desert, was an extremely strange way to bow out, but at least it gave a sense of some unexpected depths.)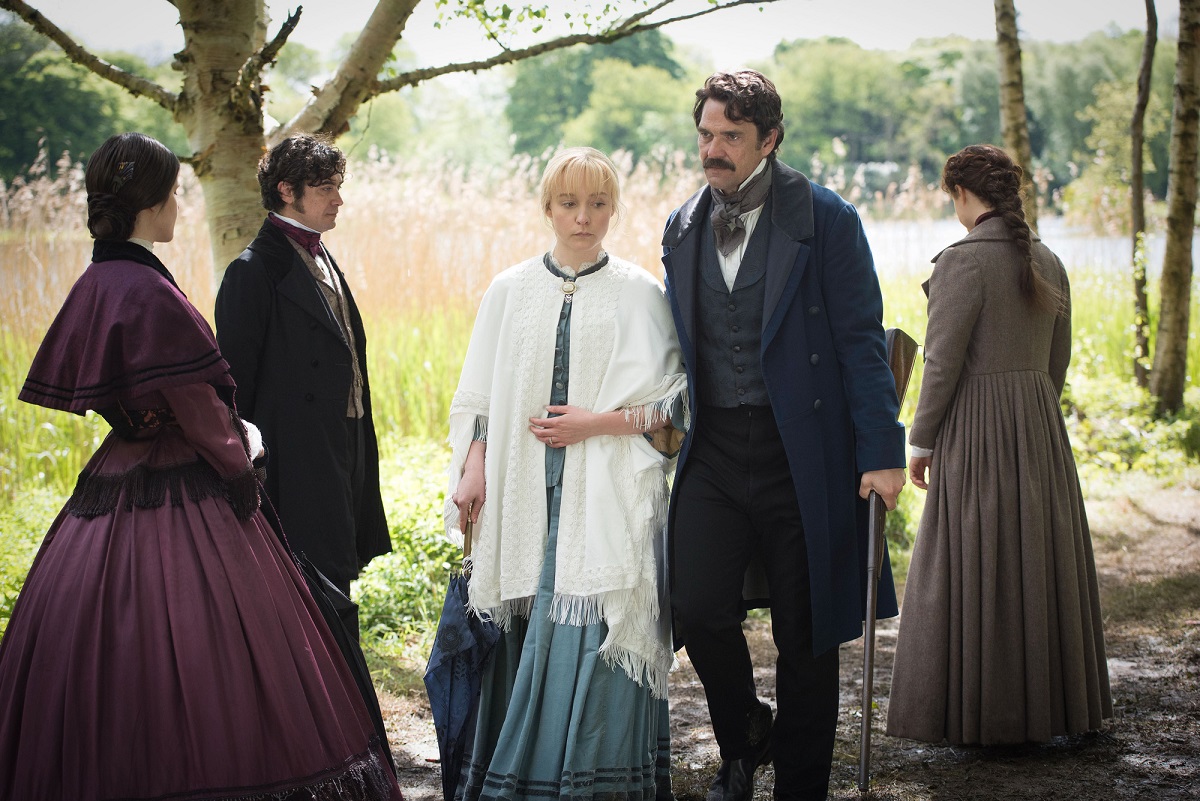 Collins would hardly have recognised his great villain, either: Count Fosco, too, was much changed, "odious corpulence" not being a charge you could level at the comely, however louche Riccardo Scamarcio (the small animals, white mice and all, that are no less a part of Fosco went by the wayside, too). Admittedly, nothing was lost in the chemistry of his interactions with Marian – how he manages to win her "half-willing, half-unwilling liking" says so much about sexual fascination, feelings especially radical for the Victorian era – but it was a different balance of forces entirely (pictured below: Jessie Buckley, Riccardo Scamarcio). It also gave an unexpected intonation to the scene between Dougray Scott as Sir Percival Glyde and his friend, who was conversing from his bath ("You reveal yours, I reveal mine": secrets, of course).
It wasn't only Fosco who was unconscionably thin here. The original novel, with its episodic structure and different narratorial voices grappling for control, was always going to be problematic for adaptation purists, but this version felt flat. Yes, once you worked out what was going on, there was a degree of ongoing investigative interest from Art Malik as the Dickensianly-named scrivener, Erasmus Nash (his added context story as sentimental a piece of guff as that writer would never have resorted to). But it was just too lugubrious to attain much drive, the exception that proved that rule being the briefest appearance of Mrs Hartright (Cathy Belton, stepping in from Mrs Gaskell?), with her own urgent questions about her son. How it made you root for someone who disrupted proceedings a bit!
Director Carl Tibbetts and his collaborators created it with all the love and care characteristic of the BBC's Sunday night period slot, but how clunky it sometimes felt (yes, melodrama can be a clunky genre…). The glowing, golden-boy charm of Ben Hardy as Walter Hartright just didn't cut the mustard – his distress in one scene was principally suggested by a clumsy disruption of make-up, which otherwise only seemed to change with the sprouting of sideburns. No sense of urgent engagement between him and Buckley's Marian came close to transfixing.
Indeed, there were times when the principle imperative behind some of their dialogue felt like it was to impart the next necessary piece of plot development, preferably in words of no more than one syllable. At their very first meeting over the breakfast table, Buckley warned him to avoid the ham, advice that this production, solid but no more, failed to heed. The ever-changing colour in Jon Opstad's score had as much character as anything else here, and often rather more nuance than the protagonists.
The principle imperative behind some of their dialogue felt like it was to impart the next necessary piece of plot development, preferably in words of no more than one syllable
rating
Explore topics
Share this article