The Flying Lovers of Vitebsk, Brighton Festival review - a dynamic dedication to an artist's muse |

reviews, news & interviews
The Flying Lovers of Vitebsk, Brighton Festival review - a dynamic dedication to an artist's muse
The Flying Lovers of Vitebsk, Brighton Festival review - a dynamic dedication to an artist's muse
and the perfect love story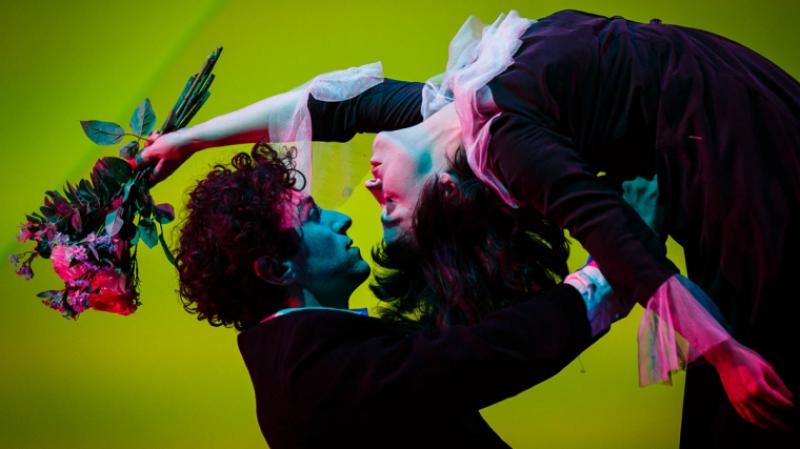 Kneehigh Theatre's song and dance spectacle
They say that behind every successful man is a strong woman. The Flying Lovers of Vitebsk is as much – if not more so – the championing of the unsung hero in this story of the famous early modernist artist, Marc Chagall.
His wife, Bella – early muse, sharer of world views and buckets of milk and mother of their daughter Ida, is paid tribute to, for her devotion and dedication to her husband's art.
The birth of surrealism is played out on a small stage, made up of geometric shapes from the hyper-colour backdrop, wooden structure set and the angles at which the actors lean, holding onto ropes to make triangles in the space between their bodies, echoing the impressionistic angles of Chagall's most famous works.
Two musicians dressed in black suits play traditional Belarusian and Jewish tunes on a piano and a cello. A red balloon, a winged clock, a pair of shoes – all feature like characters in the lives of the couple from Vitebsk as they trace their story through a tumultuous period in history of the first World War and the Russian revolutions.
An analytical phone call contextualises the work of the Russian-French artist in this particular defining moment for art history, at the same time that Chagall simplifies his own message about his work, that he painted because he felt. Because of the "agony of need to remember" the faces, places, flowers and animals that make up Chagall's body of work. Traditional Jewish candles, fruits, green cows and blue cockerels are presented in papier mache and are worn as costumes, giving an absurdist edge to the Jewish choral harmonies and traditional dancing scenes. The sounds and smells of his paintings come alive; bubbling samovars and frying fish balls; the selected, distilled memories packed away into the minds of the characters and taken from Vitebsk to St Petersburg.
Part song, part spoken, part gestural dance, the couple recreate the poses in the paintings of kneeling, leaning, kissing, offering flowers. It's a vibrant, elegant dance to the end of time, celebrating a love that breathes and flourishes through creative genius – and the appreciation of it.
"She had died, so hidden", Marc comments of Bella's written manuscripts, which were cast aside for her dedication to his career. But this, her swansong, sees a spirited songbird in pink tights, as the key to Chagall's success. The poignance of Bella's ability to allow her husband to put his art ahead of all else – even the birth of their child – is sensitively unlocked and their story prised open for us to experience.
It's a vibrant, elegant dance to the end of time
rating
Share this article