Big Sky, Big Dreams, Big Art: Made in the USA, BBC Four review - unexpected facts aplenty |

reviews, news & interviews
Big Sky, Big Dreams, Big Art: Made in the USA, BBC Four review - unexpected facts aplenty
Big Sky, Big Dreams, Big Art: Made in the USA, BBC Four review - unexpected facts aplenty
From the Wild West to Abstract Expressionism, Waldemar Januszczak on an enthusiastic journey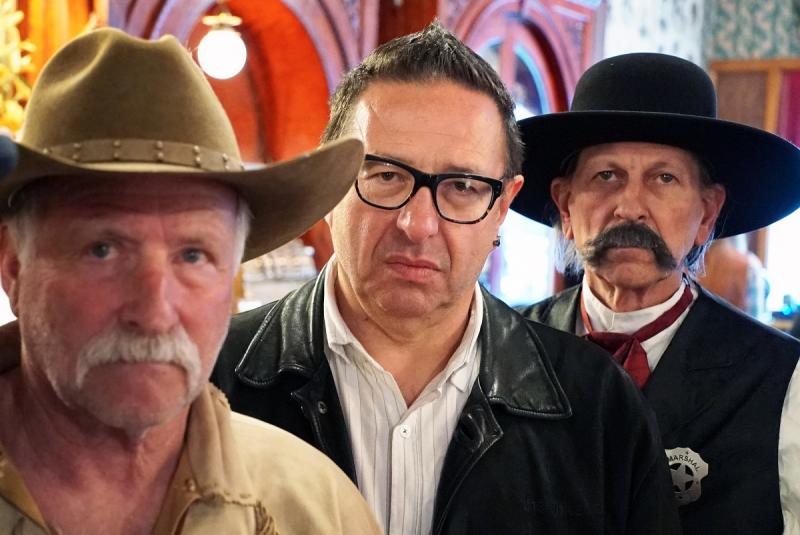 Don't shoot the presenter: Waldemar Januszczak and the Cody Gunfighters
"Oh say, can you see, by the dawn's early light" was a vision of the American flag, that star-spangled banner, riding proud from Francis Scott Key's patriotic poem of 1814 based on an episode in the War of 1812. His sentiments were decades later rather improbably set to the tune of a popular drinking song from a London gentlemen's club, metamorphosing into the official American national anthem by Act of Congress in 1931 – you couldn't make it up.
That was just one of the unexpected facts in Waldemar Januszczak's three-part foray into the special nature, as he sees it, of American art: as in his recent work, WJ the presenter doubled as WJ the director. It started with a foray into the Wild West, with side excursions to New York and Los Angeles. The scene was set with quotes from DH Lawrence, another English export, who spent time in New Mexico and eloquently pondered the notions of the spirit of place. WJ wandered through some of the most dramatic landscapes of North America, telling us that the spirit of place is always in the art, as he headed toward what he characterised as the "Promised Land". He stressed the unique qualities of that landscape, claiming its dramas and the late 20th century phenomenon of land art could only happen in America. A rather hubristic suggestion? What about the Nazca lines in Peru or the rock-hewn Buddhist caves on China's Silk Road: contemporary land art follows a long tradition.
The wild, we were finally told, is largely a work of fiction: what you see is what you want to see
To give WJ his due we had some marvellous glimpses of Navajo and other Native Indian petroglyphs and pictographs, millennia-old carvings and paintings on rock to be found in the deserts of the southwest. Native Americans evidently entered the dream world and came back with images. (But so did the artists of southern Africa and Australia.)
Land art – fitting art to the place. WJ was in search of nothing less than the spirit of America, introduced by a montage of Grant Wood and American Gothic, George Bellows' boxers, Mark Rothko's transcendent sublime rectangles of glowing colour, and Edward Hopper's Nighthawks, not to mention the hero of this episode, Jackson Pollock. Whose first name, guess what, was Paul.
The identity of American art was attached to that astonishing creation Spiral Jetty, a 1,500-foot-long spiral of rocks set by Robert Smithson in 1970 into Utah's Great Salt Lake; one of the great visual pleasures of this programme was seeing its various incarnations over the years, as the jetty was exposed by the falling levels of the water and re-emerged encrusted in salt, a snow storm in the desert. It was drowned, disappeared and then reappeared.
Later we witnessed the crumbling Double Negative by Michel Heizer, where the artist created an artificial canyon with bulldozers, stretching 1,500 feet (something magic about that third-of-a-mile figure?) and digging out 240,000 tons of rock in the process (pictured right, with the presenter in his trademark black). But James Turrell's remodelled volcano and Walter de Maria's Lightning Field didn't get a mention, nor the fact that land art seems to have reached an impasse.
But we should be grateful for the less familiar, including the 19th century landscape painter Thomas Moran, who came from Lancashire as a child and ended up with American sublime, painting the Grand Canyon, Mt Cross Mountain in Colorado, and Yellowstone. The federal government bought a painting of the last for $10,000 and, inspired by this visionary landscape, was prompted to claim Yellowstone as the world's first national park in 1872. We also saw the art of that Easterner-turned-Westerner Frederic Remington, the painter and sculptor of cowboys, making the myths visible.
Western myths figured ever larger as WJ stood stalwart in a re-enactment of a shoot-out between goodies and baddies, bandits and sheriffs, in the dusty main street of a Wild West town in the middle of nowhere (main picture). This was Cody, Wyoming, named after Buffalo Bill and where Paul Jackson Pollock was born, his father a badly paid worker in the Irma hotel. Later the family migrated to the City of Angels: at the High School of Manual Arts young Pollock, always a rebel teamed up with a kindred spirit – Philip Goldstein, later Philip Guston, later a leader of the New York School. Then it was on to theosophy, that impenetrable edifice of mysterious thought, preached on the West Coast by Krishnamurti, its cascades of words provided by Madame Blavatsky, and embraced by abstract painters including Kandinsky and Mondrian, not to mention Guston and Pollock. It was all getting a bit much.
In between, there was a side trip to Mexico City, the great city of art – move over New York, Paris, St Petersburg! – where a Dominican convent became the Ministry of Education, complete with the amazing murals of Diego Rivera, 235 fresco panels, the Sistine Chapel of the Americas painted in the 1920s. But what of the Riveras in the US, and the rows with capitalism when his left-leaning mural created for New York's Rockefeller Center in the 1930s was destroyed, only to be recreated later and now on permanent display in the Museum of Fine Art in Mexico City.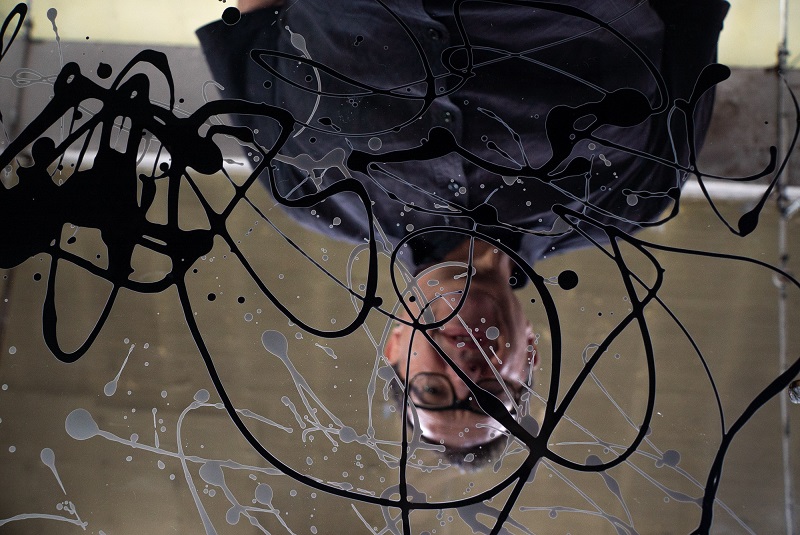 But anything that brings Rivera's magnificent visual inventions, mesmerising social criticisms embodied in magnificent wall paintings, to our attention is a brilliant televisual bonus. Especially welcome now that the US has become the land of Trump, but quite what the achievements of Mexico have to do with WJ's point about American art was a little confusing: no mention of the political idealism of art supported at the time of the New Deal in the 1930s Depression.
Another bonus was the examination of the socially critical and complex art of Thomas Hart Benton, a regionalist painter who taught Pollock in New York: vintage film showed Benton actually composing by drawing and even modelling in clay a vital abstract choreography of flowing shapes which underlay his brilliant and emotional human dramas.
What is conventionally hailed as the first really American art, Abstract Expressionism, turned up with Pollock re-imagining that Wild West in abstract terms. A neat conceit was Benton's abstraction overlaid with detailed figuration, whilst Pollock is the opposite, the rhythms of a herd of mustangs subsumed into the glories of his creations of dripped and flung paint. (Pictured above: Waldemar attempts to paint like Jackson Pollock; image, Matt Conway)
The wild, we were finally told, is largely a work of fiction: what you see is what you want to see, the visible world cloaking something much bigger, the artist the conduit. The problem here was making a theory to fit the facts, and an all-too-facile buying into the American myth with untempered enthusiasm from an observer intellectually inebriated by the vast beauties of the deserts of the southwest.
Western myths figured ever larger as Januszczak stood stalwart in a re-enactment of a shoot-out between goodies and baddies, bandits and sheriffs
rating
Share this article
Subscribe to theartsdesk.com
Thank you for continuing to read our work on theartsdesk.com. For unlimited access to every article in its entirety, including our archive of more than 10,000 pieces, we're asking for £3.95 per month or £30 per year. We feel it's a very good deal, and hope you do too.
To take an annual subscription now simply click here.
And if you're looking for that extra gift for a friend or family member, why not treat them to a theartsdesk.com gift subscription?