Gringytė, Williams, CBSO, Gražinytė-Tyla, Symphony Hall, Birmingham review - living in the moment |

reviews, news & interviews
Gringytė, Williams, CBSO, Gražinytė-Tyla, Symphony Hall, Birmingham review - living in the moment
Gringytė, Williams, CBSO, Gražinytė-Tyla, Symphony Hall, Birmingham review - living in the moment
Lili Boulanger burns fierce and bright in a powerful centenary tribute
Mirga Gražinytė-Tyla - simplicity is a complex business
How to judge a genius who died at 25? Gerald Larner, in his programme note for this concert by the City of Birmingham Symphony Orchestra, suggests that Lili Boulanger's tragically early death was actually central to her achievement. She knew she probably wouldn't see 30, and directed her energies accordingly.
The result is unlike anything else that was being written during the First World War: music with all the invention, fire and vaulting ambition of youth, underpinned by an awareness of mortality that's less like a creeping terror than some mighty, towering presence on the horizon – evoking defiance and a sort of awe. It's music of vivid immediacy: living in the moment, without a trace of escapism.
Those were precisely the qualities that Mirga Gražinytė-Tyla found in Boulanger's setting of Psalm 24. It's a flame-tongued vocal fanfare, and the CBSO Chorus matched the opening brass flourish in articulation and attack, singing with a tight, slightly nasal colour that it'd be lazy simply to call "Gallic". Let's just say that it was ideally suited to Boulanger's blend of fervour and clarity. The short orchestral miniature D'un matin de printemps – one of the last works that Boulanger completed before succumbing to Crohn's disease in March 1918 – bristled and shimmered like Ravel in verdant mood. Gražinytė-Tyla calmly held it up and let it revolve, with low pungent clarinets and prickly strings catching both light and shade.
For the Pie Jesu of 1918 – Boulanger's very last completed work, which she dedicated on her deathbed to her sister Nadia – the CBSO Children's Chorus floated an aching, eerily chromatic line high above a tormented landscape of organ and keening solo strings. The slightest hint of self-consciousness would have tipped it into outright anguish: Gražinytė-Tyla simply let it sing itself out. In fact, the lack of fussiness and the sense of a shared experience made this concert feel rather like a belated sequel to Gražinytė-Tyla's Birmingham Debussy Festival in March. The whole CBSO extended family was here. Orchestra, Chorus, and the Children's Chorus in their pink shirts were all piled high onto the Symphony Hall stage, and were enthusiastically greeted by a capacity audience that was clearly quite willing to follow this particular team into even as dark a corner of Boulanger's world as the massive, louring Psalm 130 that ended the first half.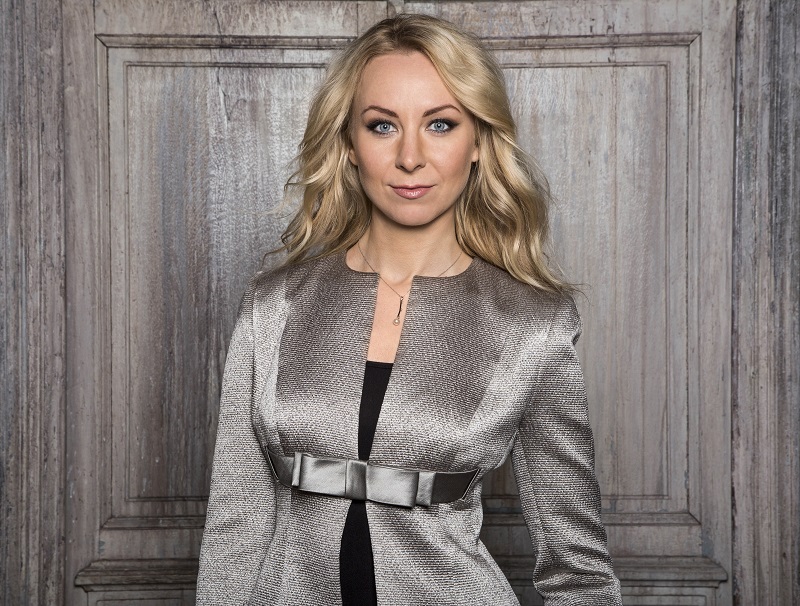 "Out of the abyss, I cry to thee" begins the text; and that's where it ends, too: returning with grim resolution to the depths amidst sombre glints of harp and celeste. The CBSO Chorus, initially blanched in tone, was soon surfing hectic full orchestral climaxes with apocalyptic ferocity, and Gražinytė-Tyla handled her huge forces as if they were a single instrument. When the soloist (the mezzo Justina Gringytė, pictured above) climbed beseechingly towards heaven, the women of the chorus seemed to merge with her beam of tone; whereupon Gražinytė-Tyla sent the violins arching after them. Boulanger's vision is so passionate, and yet (in parts) so bleak that it could easily be unbearable. Here, it burned with a fierce, illuminating flame.
So it's no discourtesy to Fauré's Requiem – still less a concession to those who'd relegate it to a Classic FM relaxation CD – to say that it felt like balm by comparison. The CBSO Chorus under its director Simon Halsey is an instrument of sometimes overwhelming power and precision, but the CBSO's associate chorus director Julian Wilkins had prepared this performance, and he'd subtly remodelled their sound: rounding off hard edges, clarifying massed sonorities and – without sacrificing focus or purity of tone – giving everything a tender radiance that suited this music exquisitely. Musical line and text were phrased as one, the sopranos' Lux aeterna glowed like a halo, and the opening lines of the Offertoire became a graceful, hovering tracery of interlocking lines. Credit for that goes to Gražinytė-Tyla too, of course. She'd opted for the version in which violas replace all but a single violin, and used the orchestra as the performance's motor – laying down a framework in which choir and soloist (Roderick Williams, singing with openhearted candour) could simply unfold the work's message of consolation.
A conductor doesn't need to be demonstrative to create a sense of occasion, and in Birmingham, at any rate, Gražinytė-Tyla knows that. On a purely musical level, a couple of her ideas misfired slightly. Leader Sharon Roffman played the violin solo in the Sanctus from high in the choir stalls – beautifully but with some loss of audibility – and the soprano solo in the Pie Jesu was sung by the entire children's chorus – again, beautifully, but at the expense of the intimacy that comes with a solo voice. But in this hall, and on this evening, the audience responded, as Gražinytė-Tyla (knowing her home crowd) must have guessed they would. And what else really matters? Lili Boulanger understood music's capacity to find eternity in the here and now. Increasingly, that seems to be at the centre of Gražinytė-Tyla's artistry, too – which can only be healthy.
A conductor doesn't need to be demonstrative to create a sense of occasion, and Gražinytė-Tyla knows that
rating
Share this article