Frang, CBSO, Gražinytė-Tyla, Symphony Hall Birmingham review - an Elgar tradition renewed |

reviews, news & interviews
Frang, CBSO, Gražinytė-Tyla, Symphony Hall Birmingham review - an Elgar tradition renewed
Frang, CBSO, Gražinytė-Tyla, Symphony Hall Birmingham review - an Elgar tradition renewed
Great Brit goes Nordic Noir, while Beethoven dances for joy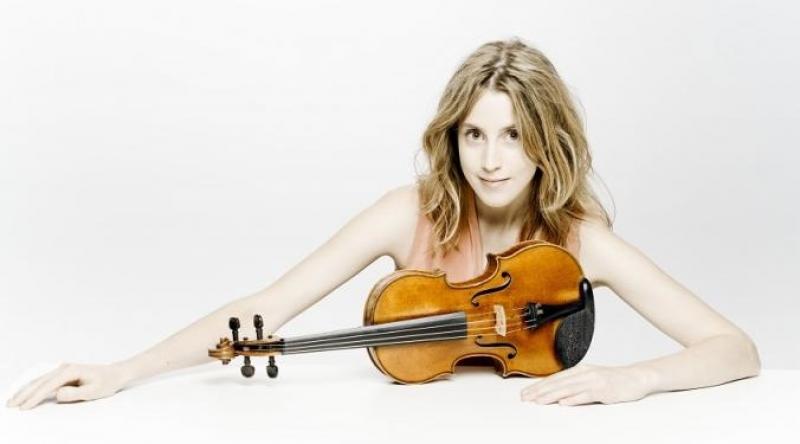 Vilde Frang - poetry and emotion
Mirga Gražinytė-Tyla has such a rapport with her Birmingham public that she can silence a capacity crowd - 2000-plus audience members, spilling over into Symphony Hall's choir stalls – with the tiniest of gestures. Into that silence she neatly placed the first chord of Messiaen's Un sourire, and you could hear every fibre of the string texture.
Un sourire was Messiaen's contribution to the 1991 Mozart bicentenary; slight, by his standards, but entirely characteristic. Strings and woodwinds intone a sort of chant, in expansive paragraphs. They halt, and brass and percussion let loose a raucous cascade of birdsong. And repeat. Gražinytė-Tyla paced Messiaen's call and response spaciously and clearly – you might even say classically.
But as an opener to an evening of Elgar and Beethoven, Messiaen was unexpectedly effective: a hint of controlled fervour, a symphonic grandeur of vision, all done with the most unassuming of means. And it was further proof of Gražinytė-Tyla's approach to programming – an ear-opening, slightly quirky way of making musical connections that evokes Rattle's early Birmingham experiments (in the best possible way).
Still, that capacity crowd was most probably there to hear Gražinytė-Tyla's first encounter with Elgar's Violin Concerto. Her predecessor Andris Nelsons had a habit of announcing major Elgar works, only to cry off for a range of reasons. It's not that the City of Birmingham Symphony Orchestra sees itself as the dogmatic guardian of some untouchable playing tradition, particularly: Sakari Oramo stripped the varnish from Elgar's choral works to revelatory effect during his Birmingham tenure. Gražinytė-Tyla (pictured below right) didn't compromise either, shaping the opening tutti in bold, sombre brushstrokes that set the stage for an unambiguously tragic reading.
The soloist, the young Norwegian violinist Vilde Frang, will have had something to do with that. This is the first time I've heard Frang live, and her Gramophone Award-winning disc of the Korngold and Britten concertos had led me to expect a glossier tone. Her agility (to say nothing of her capacity to hurl dazzling beams of sound) is beyond question. But the heart of Frang's sound is actually broad-grained, dusky, and intensely articulate, and with her very first entrance she drew the music in around herself, tremulous with melancholy. Eyes downcast, and bending before Gražinytė-Tyla's increasingly tempestuous orchestra, Frang made the concerto a romantic drama: a poet against the storm. The tops of her phrases had a way of vanishing into the general string sound, which made the Andante feel more than ever like a duet between violin and orchestra – with the melting sweetness of Frang's high notes matched by some radiant ensemble woodwind playing.
Gražinytė-Tyla tended every response with care, and made the orchestra crackle frostily at the opening of the finale's famous accompanied cadenza. This is the point where a performance of this concerto has to stake everything. As Frang etched her lines desolately against Elgar's deepening twilight, the effect was piercing, setting the seal on a conception – and a performance – that was intelligent, ardent and deeply moving.

After Beethoven, perhaps only Gražinytė-Tyla could have made the Pizzicato Polka feel so appropriate

After the interval, Gražinytė-Tyla launched Beethoven's Pastoral Symphony with a skip. That's exactly how she went on, too. She approached each of the first three movements as a dance, while digging sufficiently deep into the bass bedrock to give the music its due weight. Sonorities were rich, but tempos were buoyant and phrasing was light on its feet; the first movement swiftly accumulated an irresistible momentum. Gražinytė-Tyla has taken what she needs from the Historically Informed Performance movement – a vibrato free first movement second subject, valveless trumpets, and small timpani (deployed with startling effect in the Storm) – but she's not afraid to play up the music's character, either. The CBSO's woodwind principals brought an endearing sense of fun to the second movement's birdsong cadenza.
And the sunlit landscape of the final "Shepherd's Hymn of Thanksgiving" teemed with life – a rising cello figure played with a cheerful swing; and the way the second violins pointed their trills – before broadening, deepening, and sailing radiantly into a pay-off that made perfect sense of what had come before. Gražinytė-Tyla's intelligence, her command of symphonic architecture and her connection with her orchestra all go without saying by now – and coming after 40 minutes of Beethoven, perhaps only she could have made an encore of the Pizzicato Polka feel so appropriate. Because there's something more to this young Lithuanian's music-making: a generosity, a naturalness and a sense of joy that makes you remember why you love music in the first place. Un sourire, indeed.
Frang made Elgar's Violin Concerto a romantic drama: a poet against the storm
rating
Explore topics
Share this article