McQueen review - the dark brilliance of Alexander McQueen |

reviews, news & interviews
McQueen review - the dark brilliance of Alexander McQueen
McQueen review - the dark brilliance of Alexander McQueen
Moving documentary charts the anarchic fashion designer's life and career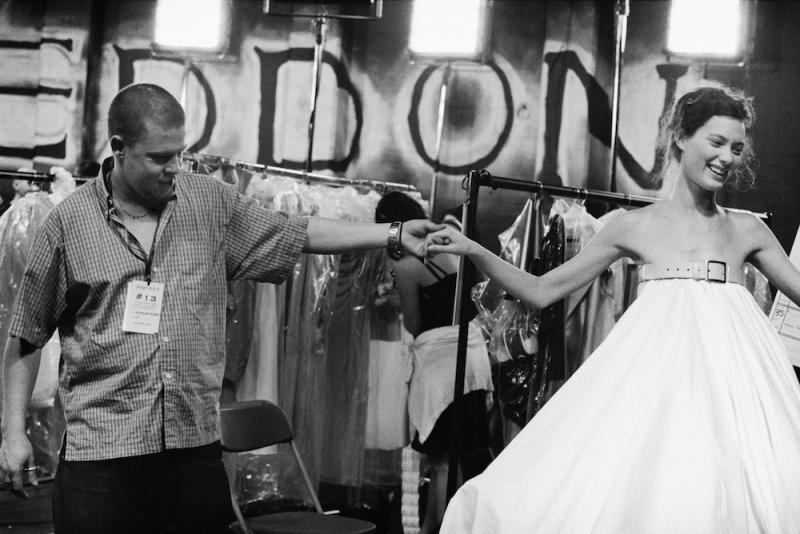 Alexander McQueen: a dress fit for robots to spray-paint
Lee Alexander McQueen said that he pulled the horrors out of his soul and put them on the catwalk. Eight years after his death, and three years after the record-breaking Savage Beauty retrospectives at the Metropolitan Museum and the V&A, his extraordinary story remains as powerful as ever.
This moving
documentary
by Ian Bonhôte and Peter Ettedgui (son of late designer Joseph Ettedgui) provides a glimpse into that soul.
Full of archive footage, it's a chance to see those stunning catwalk shows as well as new interviews with assistants, friends, models and family, some of whom haven't talked before (others, like Bobby Hillson, who brought McQueen on to her Central St Martin's MA fashion course, and former assistant and boyfriend Andrew Groves, were on the 2011 McQueen and I TV doc). It starts at the beginning, when Lee McQueen was a pudgy, unprepossessing lad in Stratford, the youngest of six children, son of a taxi driver who didn't like queers. He wasn't much good at school but he was always drawing clothes in lessons.
The film is presented in five chapters, or tapes, named after the shows that were his most pivotal. The first is his 1992 MA graduation show (his aunt Renee provided the money for the course), "Jack the Ripper Stalks His Victims", providing a taste of what was to come – the runway as performance art, the gothic and historical elements, the danger, the darkness. Some of the clothes were blood-red inside and lined with human hair, like a body. (He was already an accomplished pattern-cutter, having been apprenticed at 16 to Savile Row tailors Anderson & Sheppard – his mum's idea). Stylist Isabella Blow, McQueen's eccentric muse and friend, bought the whole collection, in stages. He would march her to the cashpoint.
Their relationship was intense; she was like a mother or sister, says McQueen's older sister Janet (her son Gary, who worked for McQueen as a designer, convinced Janet to participate in the film). It was Blow's idea for him to use his middle name because it sounded more marketable. She and McQueen fell out later after he was appointed to Givenchy and didn't give her the role she expected, even though she had a hand in brokering the deal. This isn't fully explored, as we mainly get former husband Detmar Blow's side of the story (he does like to talk), though you can understand that appointing an extravagant muse might not be appealing to a couture house's bottom line. McQueen never commented publicly: she killed herself by drinking weedkiller in 2007, after several other suicide attempts, underlining the uneasy parallel between their lives.
His charisma was astonishing. "We were paying him to work for him," remembers his friend and agent Alice Smith. There was hardly enough money for a pint of milk at first and he used his dole money to buy fabric, but Blow's high-fashion connections propelled him into the right places.
He was convinced the world was against him, that Paris was waiting to see him crash
Fame, with all its craziness, came fast. "Highland Rape", in 1995, had shock value. It was based on the Highland Clearances of the 18th century, with torn dresses – models looked like they'd been violated – and low-cut tartan bumsters (he said he wanted models to put their pubic hair in Anna Wintour's face). It referred to his Scottish heritage, on which he was fixated, and to Janet being abused by her violent ex-husband – a man who'd also sexually abused McQueen as a child, which had a profound effect on his life and work.
Another show featured a pile of crashed cars that caught fire by mistake, but everyone carried on, of course. At another the model's dress was spray-painted by robots – his assistants always hoped fervently that he would "forget about the robots", but they remained a theme. Michael Nyman's beautiful score adds to the drama (they were friends, and McQueen would play his music late into the night at his studio. He also, in early days, listened constantly to Sinéad O'Connor on his Walkman.)
Everything changed with the Givenchy role. "The money was good," says McQueen. But the chandeliers, the stuffy grandness of the Parisian atelier (he was the first designer to allow the Givenchy tailors to enter the hallowed area), the way they treated him like a king when he didn't want to behave like one – it was, he said, like taking a dinosaur out of the sea. McQueen and his wild London entourage were seen as street-urchins. And he missed his dogs. "The fun times were over," says designer and former assistant Sebastian Pons. McQueen slimmed down, thanks to liposuction and lots of cocaine. He was convinced the world was against him, that Paris was waiting to see him crash. John Galliano at Dior had four times his budget, he thought. "Paranoia will destroy her," was one of his maxims. He heard voices, became aggressive, trusted no one, especially not his boyfriends. Sometimes he was super-cool, says Pons, sometimes "he was "like a devil crossing the door. It was hellish."
In "Voss" (2001) fetishism and lunacy shine forth. Models with bandaged heads (McQueen wth Kate Moss, pictured above left; he loved his friend and stylist Mira Chai-Hyde's post-surgery look) are trapped in a mirrored box like a padded cell in a mental hospital, unable to see the audience. At the end, a box within the box flaps open to reveal a large naked woman in a mask, breathing through a tube, surrounded by fluttering moths. "Fat birds and moths – fashion's worst nightmare," says Michelle Olley, the bird in question. No arguing with that.
McQueen seemed trapped as well. He had become a global brand, doing 14 collections a year. He was HIV positive and wanted to escape the constant pressure. "I can't just stop," he told friends, "fifty people have to pay their mortgages." He planned to kill himself as part of his final show, the triumphant "Plato's Atlantis" in 2009, but was dissuaded. Less than a year later, he hanged himself in his wardrobe on the night before his mother's funeral. He was 40. "We can all be discarded quite easily," said McQueen in an interview. "You're there, then you're gone." In his case, not so fast.
Fat birds and moths - fashion's worst nightmare
rating
Explore topics
Share this article