theartsdesk at Download Festival 2018: three days of metal mayhem |

reviews, news & interviews
theartsdesk at Download Festival 2018: three days of metal mayhem
theartsdesk at Download Festival 2018: three days of metal mayhem
Guns'n'Roses, Ozzy Osbourne, Avenged Sevenfold and many more
Four giant Axl Roses enjoy the fireworks
Since Glastonbury lies fallow this year, Download is the biggest British green field festival of the summer. 100,000 souls gathered to celebrate the canon of metal on the land around Donington Park racing circuit.
The site has four stages, two outdoor, the Main Stage, featuring headliners Avenged Sevenfold, Guns'n'Roses and Ozzy Osbourne, and the Zippo Encore Stage, and two under canvas, the Dogtooth and Avalanche stages, as well as a large arena for the hammy activities of WWE NXT Wrestling and also an enclosure where men and women dressed in armour batter each other all weekend.
Theartsdesk sent down a three person team for the three day event. Self-confessed metal-lover and Download regular Ellie Porter (this year's her fifth time) covers Friday. Caspar Gomez, festival veteran but Download virgin, covers Saturday. Finally, Sunday is by Guy Oddy, whose love of popular music began in early-Eighties metal (first gig: Twisted Sister!) and still often veers towards hard rock. The 4/5 "score" accompanying this review was generated in proper mathematical fashion be estimating the mean from those given by Ellie (5/5), Caspar (3.5/5) and Guy (3.5/5).
Friday 8th June
By Ellie Porter
Above: Avenged Sevenfold headlining

"It's nice to be home," says my friend as we survey the sea of happy metallers strolling about the hallowed grounds of Donington Park, former home of the Monsters of Rock festival and Ozzfest and now, since 2003, the site of Download. It's Friday afternoon and we've arrived just in time to catch the fading strains of CKY on the Zippo Encore Stage, but we're heading down to the Main Stage to see rising stars Marmozets – a fresh, snarling quintet from Yorkshire fronted by the charismatic Becca MacIntyre. It's only 4.00 PM but this lot are playing like they're headlining, and the crowd is eating out of Becca's hand, making us think that we'll be seeing them higher up the bill before too long.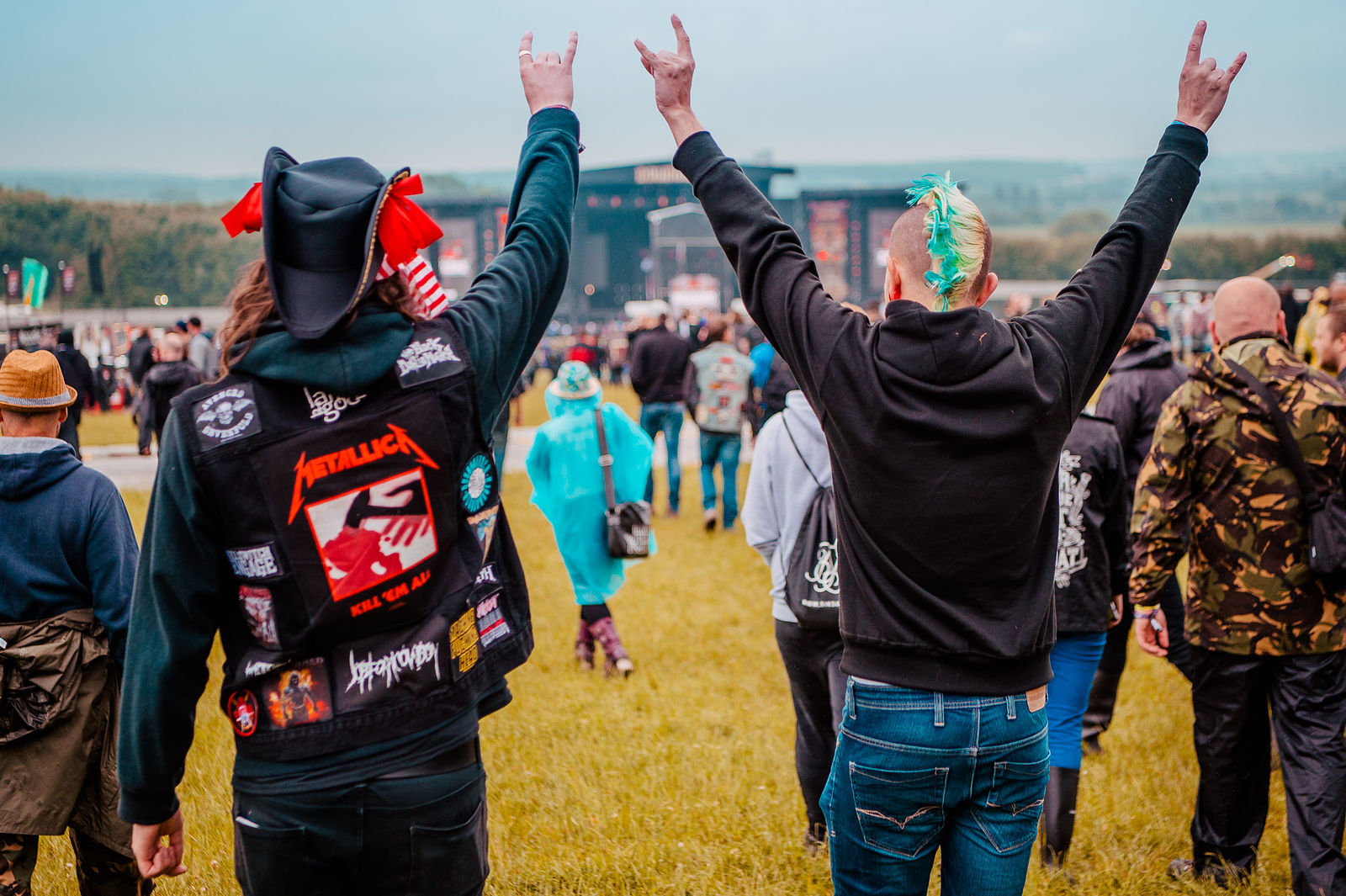 Back on the Zippo Encore Stage, a sizeable crowd is awaiting the arrival of the happiest man in rock – Andrew W.K., the white-clad, party-loving force for joy who bounds onto the stage beaming before diving straight into recent single "Music Is Worth Living For", from current album You're Not Alone and bashing out old favourites such as "Party Hard" and "We Came to Party". "It's great to be here with you," he declares at one point, "This is what partying is all about! It feels good to be alive!" It's impossible to watch this man – who is also a motivational speaker, Village Voice advice columnist, and much-needed positive presence on Twitter – without a stupid happy grin plastered across your face.
We return to the Main Stage for a spot of dramatic Danish metal courtesy of genre-bending combo Volbeat (pictured below right). Led by singer Michael Poulsen (who really has a touch of Springsteen to his look, but with a few more tattoos), they power through a series of rousing singalongs and slightly odd Johnny Cash covers before inviting Napalm Death singer Mark "Barney" Greenway up on stage to join them for "Evelyn" from 2010's Beyond Hell/Above Heaven album. Napalm Death, incidentally, are playing later today on the Dogtooth Stage. They've only got a half-hour set but that should be enough time to fit in 30-odd songs…
If you need a break from hard rocking, Download also provides quality entertainment in the form of WWE NXT wrestling, which it has done for the past couple of years. A massive tent hosts bouts by various greased-up grapplers from NXT – Triple H's WWE division of up-and-coming wrestlers – so we pop in for a bit of that, musing on what these musclebound Americans might think of British chants such as "You're shit and you know you are" – then catch a bit of Hell Is For Heroes on the Zippo Encore Stage. Their brand of melodramatic scream-metal is not inspiring us today. A sludgy cover of The Cure's "Boys Don't Cry" is particularly draining, so we give up and head to the Avalanche Stage next door to see headliners Bad Religion. The contrast couldn't be more dramatic – an invigorating blast of straight-up American punk rock delivered with no messing about by Greg Gaffin and his super-tight band of absolute pro's.
Californian metal behemoths Avenged Sevenfold are tonight's Main Stage headliners, and they get straight into it with the epic title track from 2016's proggy, dense album The Stage. What excellently-named lead guitarist Synyster Gates lacks in stage presence he makes up for with incredible technical wizardry, while singer M. Shadows grabs the attention of a thrilled crowd and doesn't let go. The show's production values are seriously impressive – including a lot of eyebrow-frazzling pyrotechnics (possibly slightly overused) and a mournful giant astronaut floating above the stage for "Higher". And there are treats from back in the day for the old-school fans (a comment from M. Shadows suggests they might be tiring of touring the new stuff) as well as more recent belters like the Maiden-esque "Hail to the King".
The band honours late drummer Jimmy "The Rev" Sullivan with "So Far Away", and a touching tribute to chef Anthony Bourdain, whose death was reported today, leads into a wistful cover of Pink Floyd's "Wish You Were Here". All in all, it's a fitting finale to the first day of Download 2018.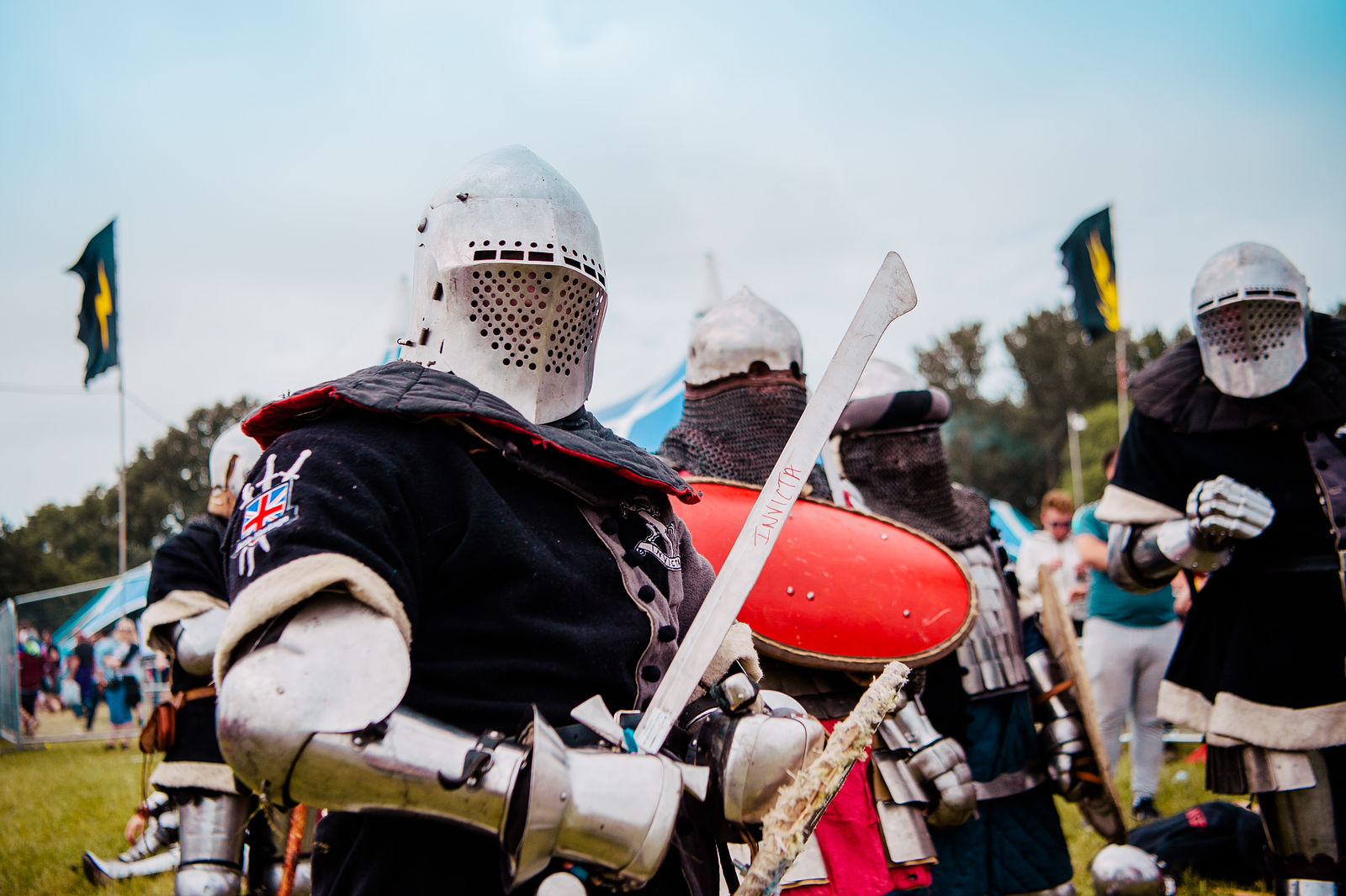 There are many reasons people keep coming back to Download (AKA "our annual summer holiday in Derby"). It's one of the friendliest, most inclusive festivals out there, welcoming everyone from the littlest ear-defender-wearing five year old to the most grizzled, battle-jacket-sporting, cider-drinking, Judas Priest-loving biker, and its organisation gets better and better. This year is a real treat, from Saturday's headline set by a thrillingly rejuvenated G N' R to Ozzy Osbourne's storming set with his excellent band on Sunday. In between, we loved everything from the ear-melting, bone-crunching heaviness of Meshuggah to slick Southern rock from Black Stone Cherry and louche, sarcastic, black-feathered gothiness from Marilyn Manson. And sunshine?! That was just the icing on a very heavy cake.
Saturday 9th June
By Caspar Gomez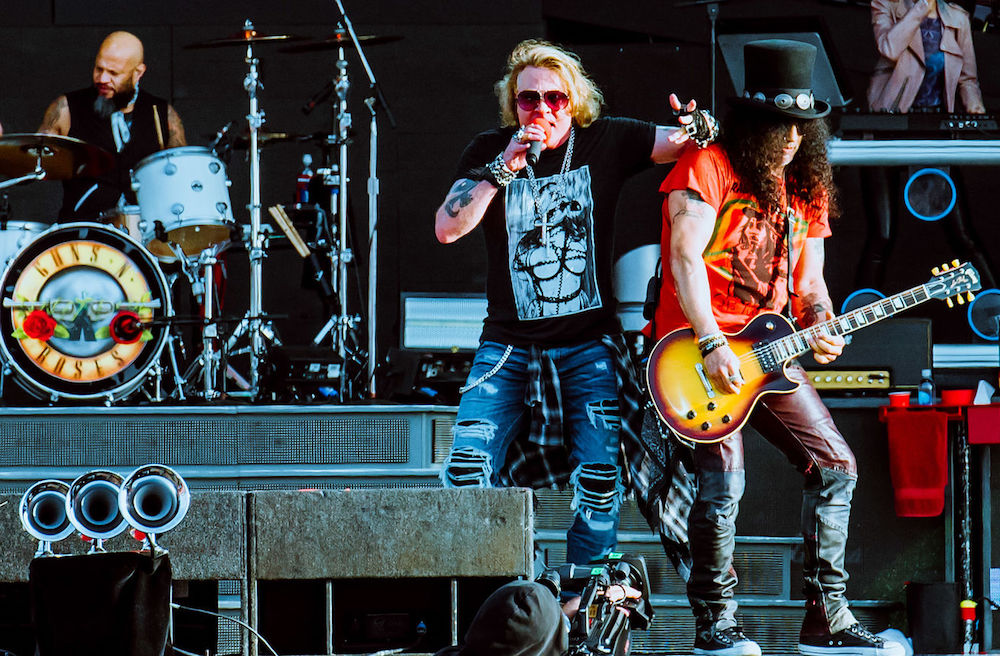 Above: Guns N' Roses headlining
The day begins with a set by Canadian wannabe-Seventies heavies Monster Truck wafting over our campsite. Sounds surprisingly welcome for the time of day. Scrumpy and whisky but no naughties lead to a shockingly bright'n'early brain-awake with no ill effects. Excepting occasional spliffs, Download doesn't go in for mind-spanglers. So be it; let's meet the metallers on their own turf.
After fried eggs done very badly on an under-performing barbecue, due to security confiscating our gas stove on the way onsite, a stomp to the Zippo Encore Stage on a cloudy but warm lunchtime reveals Corrosion of Conformity in roaring action. These reinvigorated 1990s North Carolina metallers initially adhere to a template of squalling attack but they end with one of their breakthrough songs, "Clean My Wounds", which drops into an enjoyably dubbed out percussion sequence before exploding to a climax.
The site is at its fullest pending Guns N' Roses later. Everywhere's a sea of black. Metal now has two main uniforms, the classic denim'n'tee and the more modern I'm-in-The-Matrix-me look. Overall, the dress sense is many times more characterful and visually interesting than the imagination-free leisurewear that's overtaken Britain's high streets. Full marks, metallers.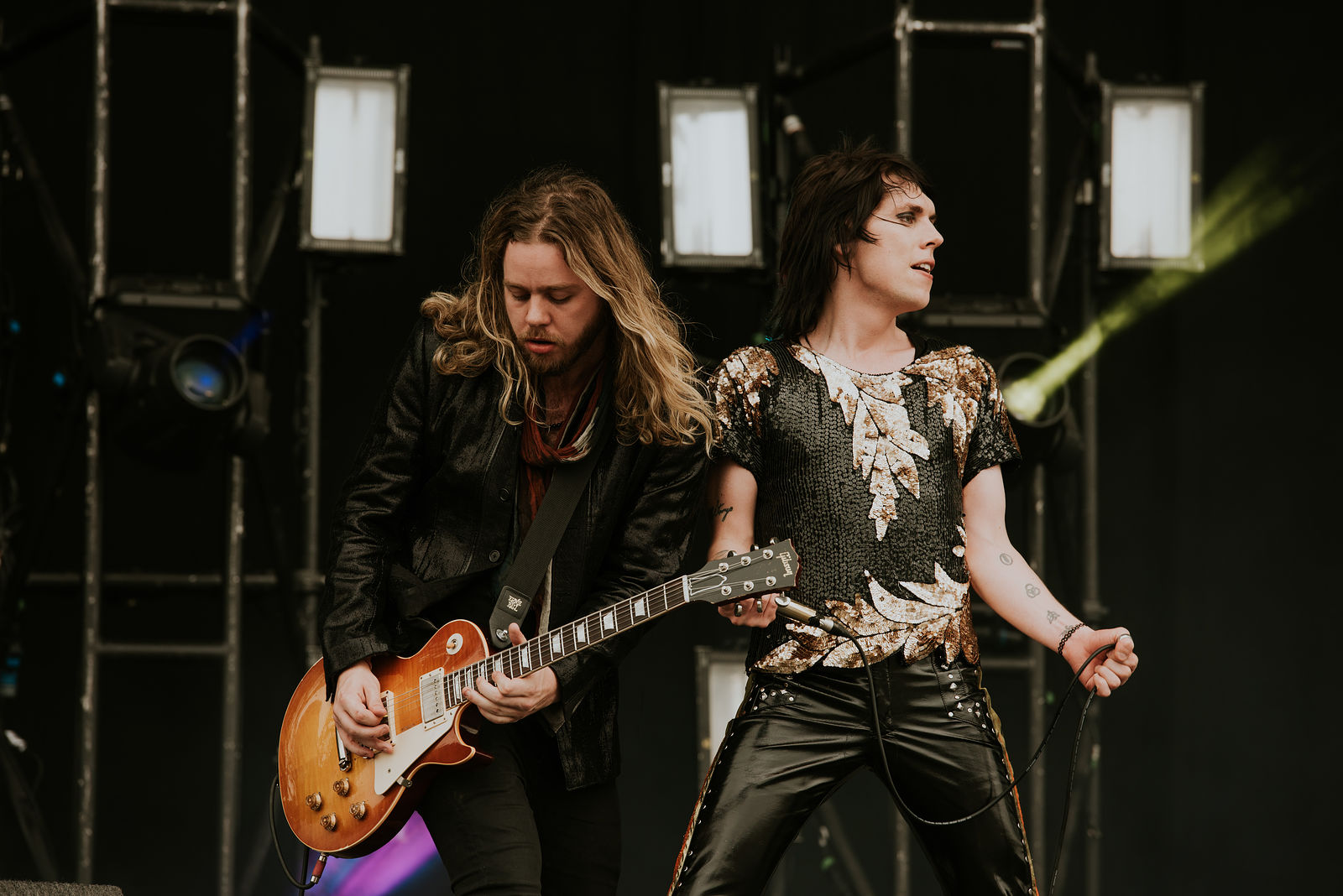 At the Main Stage, The Struts (pictured right) are doing their thing. They are one of the weekend's hottest acts and it's easy to see why. They've supported the Rolling Stones and The Who, achieved a high international profile, are young, and singer Luke Spiller is a good looking, charismatic frontman, today clad in gold lamé. Their music is melodic, with poppy heft, and they close with a number whose chorus recalls 4 Non Blondes' perennial ear-worm "What's Up". They can only grow bigger.
Back on the Zippo Encore Stage, L7 (pictured below left) are playing. The stage is named after the cigarette lighter and Download isn't backwards in hurling corporate sponsorship and ads in our faces. The stageside screens have occasional text about onsite equality, etc, but are mostly giant ad hordings for onsite ticket upgrades and beer. L7, on the other hand, fairly bleed outsider attitude. Their drummer, Dee Plakas, broke her arm 48 hours ago so blonde-coiffed Adam Ant sticks-woman Jola is on the kit. Plakas, however, is still on stage, bouncing around and joining in on the mic. Bassist Jennifer Finch is pure energy throughout, emanating couldn't-give-a-damn, roll-with-it sass. Their set seems especially short – six songs - but they burn it up, voraciously feasting on "Everglade", "Fuel My Fire" and, especially, the righteous punk of "Shit List" and the pop grunge anthem "Pretend We're Dead".
After this the spectacle of Baby Metal, which I'd been looking forward to, palls somewhat. There's some mad nonsense about a fox god and "the Chosen Seven" hyping us up on the screens and their show is something else, a welter of choreographed J-pop dancing from the female singers, accompanied by super-proficient musicians. It all looks amazing, in gold'n'black skirted warrior outfits and horned headgear, but the music is simply too one-note, cheesy songs jarring against symphonic fret-widdling, and after four songs I wander off.
Back at the tent we grill haloumi (super-middle class but, in our warming icebox, it lasts longer than meat), eat Morrisons Cheese Savouries (food of the gods) and swiftly chug drinks with new weekend friends, fuelling up on apple brandy too for Guns N' Roses. Before we get to them a quick mention of two other bands I especially enjoyed over the weekend. French outfit Igorrr are based around a laptop, a drummer, an operatic female vocalist and a guy dressed as a Neanderthal troll. Their music is an insane car crash of battering breakcore, death metal riffage, and soprano grandiosity, with a side order of Balkan gypsy, just for good measure. Ace! Possibly best of all, though, is the visceral mosh carnage unleashed by thrash legends Napalm Death (pictured below right).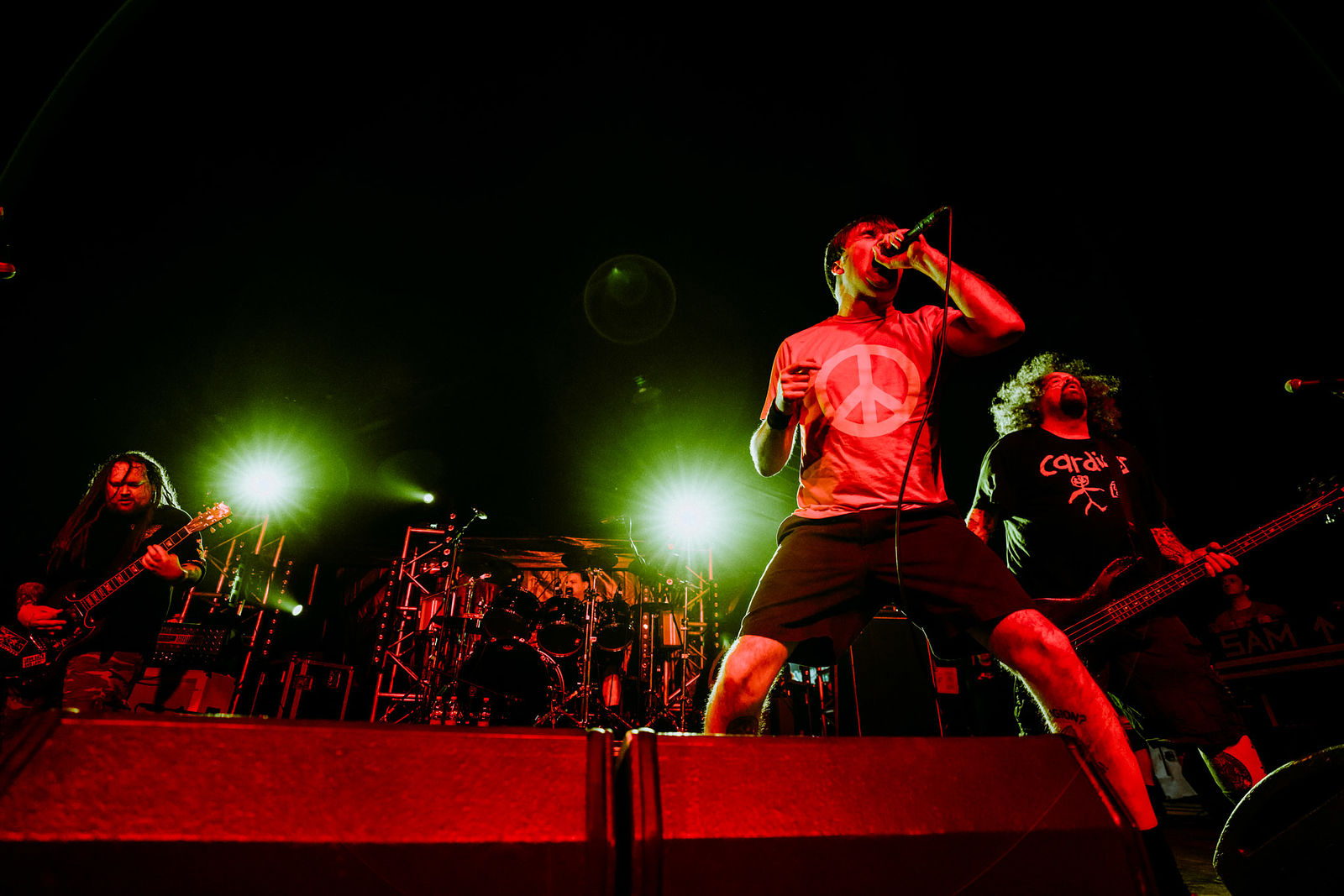 So to Saturday's headliners. When I hear Guns N' Roses are playing for over three hours, I become concerned. After they end, as we walk away, I hear someone say, "Well, that wasn't punk rock." It wasn't and it was never going to be. This isn't 1986. But it was entertaining, albeit with spells where the attention wandered. They are, it appears, a group enjoying themselves, playing in-house bar band to a hillside that seems to contain every one of Download's 100,000.
They kick off with the killer Appetite For Destruction double-header of "It's So Easy" and "Mr Brownstone". The crowd, naturally, goes nuts, my own small party included. It must be in the band's contract that Slash has to wear the top hat and Axl a plaid shirt tied around his waist. Slash also wears a Bob Marley tee-shirt but for Axl the gig is a dressing up box escapade. Amongst many other outfit changes, he wears eight different hats, each one more Pharrell Williams-style gigantic than the last. Pre-concert jibes about his weight and voice are exaggerated. Apart from a horrific piano-accompanied sung intro to "November Rain", his voice may strain, his face red with it, but it doesn't jar.
Duff McKagan, lean, gangly and purposeful, wears a Jonesy's Jukebox tee, in honour of LA-living Sex Pistol, Steve Jones. The set is also something of a jukebox, peppered with covers. These include the expected, such as a bouncy "Live And Let Die" and an endless "Knockin' On Heaven's Door" - the latter a sing-along highlight of the night - but unexpected numbers also feature, such as a tasty version of Soundgarden's "Black Hole Sun" and a shambolic but incongruously pleasing back porch-style acoustic attempt at "Wichita Lineman". Less welcome is Slash's instrumental rendition of Pink Floyd's "Wish You Were Here", although his take on "Johnny B Goode" into the theme from The Godfather, then leading into a crowd-slaying "Sweet Child O' Mine" is a passing moment of performance genius.
Others that spark with life include a version of "Slither", arguably the most famous song by Slash and McKagan's post-GNR outfit Velvet Revolver, and a solid pass at the "Civil War", a juicy post-Appetite titbit they ended up squeezing onto 1991's Use Your Illusion II. Slash and fellow guitarist Richard Fortis axe-spar regularly, although the former's manner is poised, electric cool whereas Fortis is prone to unpleasing eyes-closed orgasm faces during solos.
After the encore and the ballad "Patience", which is well-executed but not to my taste, they rip into the classic Who song "The Seeker" with aplomb but it's the explosive closing rendition of "Paradise City" that really floats my boat, fireworks exploding above and that riff rolling up and down the huge crowd, extending, sending everyone upwards. They're not much for dancing at Download, more into watching performances (except, of course, in the stagefront mosh-pits), but at that moment I could see movement right the way up the field. It got in the bloodstream and those eight minutes or so were my most euphoric of the weekend.
In the end, Download was an enjoyable experience but has little in common with my preferred festival ambiance. At one level it's very easy going but at another there's a palpable sense of micro-management. The security, who are universally affable and good at their job, are everywhere. Download has an atmosphere akin to a logo-heavy, marketing-savvy sporting event, in that people come to drink, bond over an activity, go to bed at a sensible time, then get up and do the whole thing again in a steady, controlled environment. Thus there's a limited sense of wildness, of escaping the everyday and entering Hakim Bey's fabled temporary autonomous zone. But Download's fans are devoted and they like its prosaic presentation, so it's clearly a matter of taste. The assembled are here to rock. Full stop. And, whatever else it may not do, Download does rock, and rock hard!
Sunday 10th June
By Guy Oddy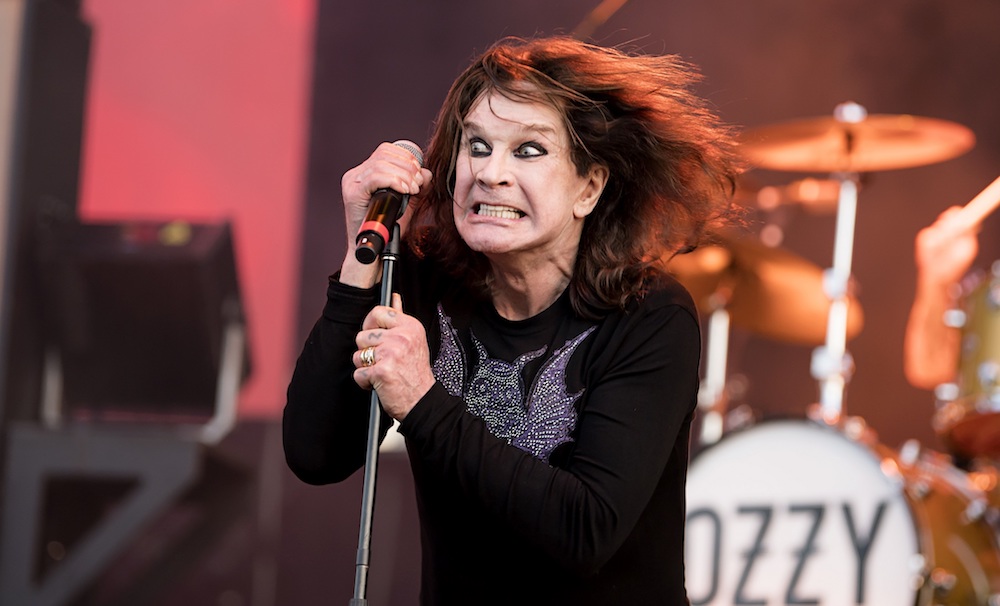 Above: Ozzy Osbourne headlining (© Ross Halfin)

The music at Download 2018 has already been going for two days by Sunday but from its first day, the festival presented a plethora of riches, from the melodic, hardcore punk of LA's Bad Religion to an awesome set of sludge rock by Midlands' heroes Napalm Death, who finished their set with a heart-felt cover of the Dead Kennedy's "Nazi Punks Fuck Off".
Today scorching weather arrived alongside the end of our barbecue and Scrumpy supplies. So, having slapped on some sun cream and picked up more cider and hog roast buns on site, we made for the Main Stage and Cradle Of Filth's preposterous speed metal. Screaming and growling like a goblin with laryngitis, Dani Filth got the day going with a hefty dose of humour which set us up for Turbonegro. Fronted by the Duke of Nothing, a man seemingly channeling both the late GG Allen and Judas priest's Rob Halford, the Norwegians laid down lively and funny tunes from the speedy "All My Friends Are Dead" and AC/DC-esque "Fish City" to the punky "Hurry Up And Die". As the Duke of Nothing so succinctly put it: "Shouldn't you be in church? It's the Lord's day, motherfuckers."
This was a gauntlet that was picked up by German hardcore metal veterans, Kreator (pictured above right). Synchronised head-banging, six-foot high flames bursting out of the edge of the stage and songs like "Satan Is Real" and "Hordes of Chaos": this was metal the way it used to be. They even got a fly-over by an aeroplane trailing a sign which proclaimed, "Jesus Loves Everybody". All this was topped, however, by lead singer/guitarist Mille Petrozza's somewhat dramatic exortation that "This is your last chance to kill each other," before finishing with the over-the-top "Pleasure To Kill".
You don't see Ice T's metal band, Body Count on these shores very often, so when South Central's finest took to the stage, there were plenty to welcome him back to the UK. Kicking off with a cover of Slayer's "Raining Blood", they took the crowd by the scruff of the neck during a high-octane show that featured an appearance by Ice's two-year old daughter, an impassioned call to end racism, plenty of macho posturing and songs drawn from 25 years of Body Count. These included "Bowels of The Devil", "There Goes The Neighbourhood" and "Manslaughter" before bringing on Hatebreed's Jamie Jackson for a magnificent version of "Cop Killer". That Ice T is 60 years old and is still rocking this hard should give hope to us all.
Marilyn Manson (pictured left) came onto the Main Stage in the full glare of the sun and really didn't look happy about it. He soon discarded his trench coat but persisted in stomping around the stage like a vampire Mussolini backed by a band of pasty-faced ghouls. I can't say that I've ever been one of the Pale Emperor's fans but had thought this might be a good chance to see him in all his glory. Unfortunately, it soon became apparent that it wasn't going to be worth falling victim to the weather and burning to a crisp. So, after a handful of songs we moved on.
Headlining the tented Avalanche Stage were Swedish garage rockers The Hives (pictured below right). Undeterred by the boiling weather, they took to the boards in matching black and white suits, before announcing, "We are Vikings," and tearing into an adrenaline-fueled set of smart, sharp punk theatre. Laying down career highlights, such as the dynamic "Paint a Picture", "Tick Tick Boom", "Main Offender" and "Hate to Say I Told You So", the mosh-pit was soon lively with flying beer, flying bodies and a guitarist crowd surfing on his back while still playing. This was just what the doctor ordered after Manson's po-faced, teenage tantrum music.
There had been much excitement among the crowd for the return of Ozzy Osbourne and his long-term guitarist Zakk Wylde, who were headlining Sunday's Main Stage. But, after The Hives' high-energy set, Wylde's extended soloing on "War Pigs" and other Black Sabbath classics and Ozzy's constant cries of "Let me see those fuckin' hands" just didn't cut the mustard. After the Prince of Darkness plodded through the likes of "Fairies Wear Boots", "Suicide Solution" and finally, "Paranoid", the sky was lit up by enough fireworks to cause plenty of confusion for nearby East Midlands Airport. But by that time, we'd already found a bar to listen to the last half an hour with some liquid refreshment and somewhere to sit down. Which is probably just what Ozzy could have done with, long before the end of the show.
AND IN SHORT
Worst thing about Download: The nightlife. There's an area called The Village open until 3.00 AM, fairground rides, stalls (many closed), a pop-up Co-op supermarket, and a couple of marquees (silent disco, feeble metal burlesque, etc), but the vibe is not in the least invigorating, more like a desultory wind-down.
Best thing about Download: Many festivals are friendly but Download takes it to a whole new level. People approach on the campsite and give you marinated king prawns for your barbecue, then chat as if you'd been neighbours for years; that sort of thing. Half the people wear tee-shirts saying things like, "Fuck Off, I Don't Like You" but turn out to be the most genially chatty folk imaginable.
Most popular tee-shirt (apart from Guns N' Roses): Five Finger Death Punch
Most commonly heard song on stalls and sound systems: "Sweet Home Alabama" by Lynyrd Skynyrd
Time it took to spot 100 images of skulls: 50 minutes (excluding Iron Maiden's Eddie, who is not a proper skull - and the rule was also that Guns'n'Roses' Appetite For Destruction five-skulls-on-a-cross tee-shirt only counted as one)