Notes From the Field, Royal Court review - sobering report from the frontline of race |

reviews, news & interviews
Notes From the Field, Royal Court review - sobering report from the frontline of race
Notes From the Field, Royal Court review - sobering report from the frontline of race
Anna Deavere Smith shines her singular light on American inequality and systemic injustice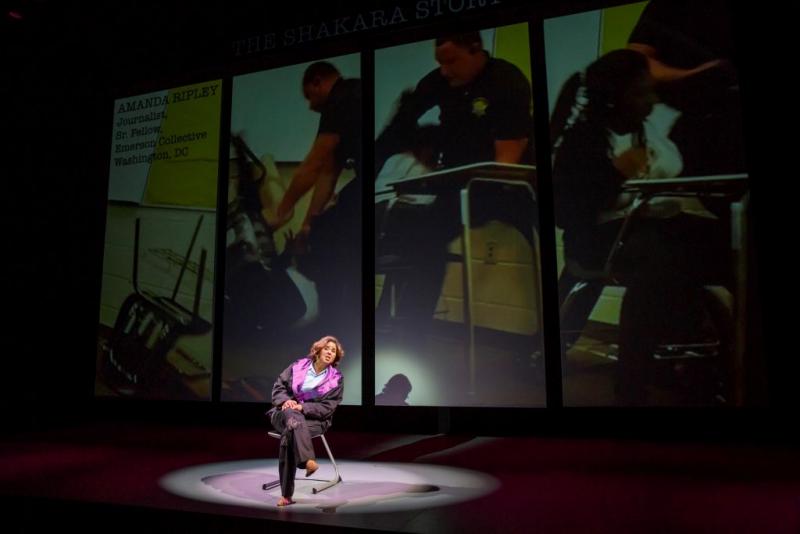 Multitudinous: Anna Deavere Smith in 'Notes From the Field'
Anna Deavere Smith contains multitudes. As the solo performance artist recounts the testimonies she has selected from the more than 250 people she interviewed for this portrait of inequality and the criminal justice system in America, it is as if each person she has talked to possesses her.
For each separate account, the rhythms of her body change, her centre of gravity seems to shift, and the cadences of her voice are are distinctly different as if each speech were a piece of music; the play has arrived at the
Royal Court
as part of this year's LIFT.
Yet even as each performance beguiles, the composite picture of riots, police beatings, and the school-to-prison pipeline funneling black people born into poverty from one hopeless situation to another creates a bleak vision of a society at war with itself. Today, Trump's shoot-from-the-hip racism ricochets through America with depressing regularity. What's therefore particularly devastating about this richly varied achievement -– in which Smith painstakingly lets the detail, rather than her analysis, tell the story -– is that the material was collated while Obama was in power.
Indeed, the former West Wing star was praised by Obama while this show was first being performed to rapturous critical acclaim in 2016 Off Broadway, where Smith has been creating work for a quarter-century or more. Her Fires in the Mirror explored the 1991 Crown Heights race riots (and came to the Royal Court in 1993), while her Twilight: Los Angeles 1992 was recently revived here at the Gate Theatre, albeit minus Smith as its sole player. Long keeping one foot in academe whether at Stanford or, latterly, NYU, Smith has received numerous accolades, including two Tony nominations, a MacArthur "genius grant", and a Guggenheim fellowship in theatre arts.
If all this suggests an exercise in worthiness, park that assumption elsewhere: what erupts from the stage is a kaleidoscopic portrait of flawed humanity, with all the eccentricity, unintentional comedy, and contradictions that implies. The Maryland-born Smith discovered a gift for mimicry as a chld, as is evident from the moment she first appears as Sherrilyn Ifill, the famous civil rights attorney, who proceeds to detail how disadvantage has been inflamed by disastrous policy decisions.
The next moment, she's Kevin Moore, the young black man who filmed Freddie Gray in Baltimore and whose death in 2015 from spinal cord injuries as the result of a police beating sparked violent protests. As Ifill, Smith sits tilted in an armchair: reflective, considered, a human compendium of policy decision and social inquiry. As Moore, the performer sheds decades, her physical movements and speech patterns becoming more jerky as outrage courses through her body.
Her director, Leonard Foglia, presents the stage initially as a blank canvas, video footage and projections emerging before long to amplify time and place. Before Smith appears, stats highlighting the prejudices of the criminal justice system are beamed onto the bare brick wall: we read, for instance, that black people in New Jersey are twelve times more likely to go to jail than white people. Accompanied onstage only by the musician Marcus Shelby on double bass (the two are pictured below), Smith shifts between characters in full view. her transformation from protester to pastor happens with a long black coat, while an officious mother is incarnated simply with a shawl.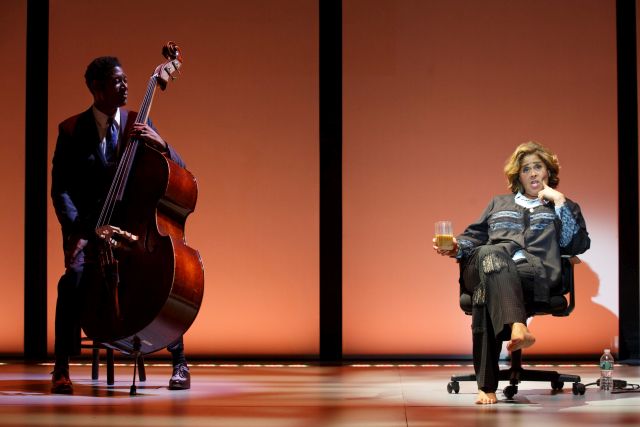 Yet what most defines Notes From the Field is the way tragedy and comedy cohabit as Smith identifies splinters of telling verbal individuality that pierce the heart. There's the protester Allen Bullock, who pronounces police as "poah-leese": the word chimes relentlessly through a monologue made staccato through his agitation about the difficulties of being young, black, and misunderstood. Jamal Harrison Bryant, the pastor at Freddie Gray's funeral, delivers his sermon in the rhetorical tradition that inspired the civil rights movement, swinging his arm as if batting each word into the audience. The Stockton, California mayor, Michael Tubbs, is verbally ill-at-ease but comes into sharp focus as he recounts talking to a classroom of six-year-olds who have all lost relatives to shootings.
The result is an extraordinary evening made all the more powerful by Smith's clear emotional connection with her interviewees, which in turn allows their lives to resonate vividly onstage. What's inescapably depressng is that the Trump administration's ongoing campaign to fill the judiciary with as many white, far-right judges as possible means that the problems highlighted here are only being intensified. This realisation gives added urgency to Smith's vibrant mosaic of life on the edges. It's at once the triumph and the tragedy of the play that it will surely remain profoundly relevant for the forseeable future.
What erupts from the stage is a kaleidoscopic portrait of flawed humanity, with all the eccentricity, unintentional comedy, and contradictions that implies
rating
Explore topics
Share this article