Proms at Roundhouse / Proms 9 & 11 review - rituals from Messiaen to Mahler |

reviews, news & interviews
Proms at...Roundhouse / Proms 9 & 11 review - rituals from Messiaen to Mahler
Proms at...Roundhouse / Proms 9 & 11 review - rituals from Messiaen to Mahler
Out-of-sync Beethoven 9 the only blip on a journey from the trenches to the heavens
Not so far off a thousand - Mahler's Eighth Symphony in its natural home, the Royal Albert Hall
Once the Proms season is under way, you soon regret dissing the prospectus. Connections become apparent, long-term programming a merit, especially this weekend just gone, which took us from elegies and meditations on two world wars heavenwards at the halfway point - Britten's cautious but still cathartic optimism at the end of the masterly Sinfonia da Requiem - and up to the heights of Beethoven's "Choral" finale and Mahler's Eighth. It was also a fabulous demonstration of how a world can be captured as much in a five-minute piece as a 90-minute so-called "Symphony of a Thousand".
We began with disrupted serenity in the ever-impressive Roundhouse (★★★★) as George Benjamin co-ordinated an offstage trumpet, strings off to the right and four querulous flutes in front of him in Ives's The Unanswered Question. It's odd that a place with such a dome, a mini Albert Hall, should lack any reverberation at all, but that mostly suited the biting, whiplash playing within the London Sinfonietta to perfection. Especially so in Stravinsky's Symphonies of Wind Instruments which concluded a fascinating first half, the first clarinet's knife-thrusts sounding more extraordinary than ever, textures perfect, dancing rhythms taut.
Stravinsky dedicated his work to the memory of Debussy, but the end of the First World War must also have been haunting him; it was to the forefront in an enthralling sequence. What could not have been anticipated was the untimely death two weeks earlier of Oliver Knussen - London Sinfonietta stalwart, original Proms programmer, composer of myriad pinpoint sound worlds and Benjamin's mentor. He would have been in the hearts and minds of many of the players and audience members as well as that of his talented pupil.
That there is no dearth of younger composing talent figured in the quartet of short pieces commissioned by 14-18 NOW, the World War Centenary organisation, and the LS, with support from the German embassy. All had a programmatic basis – Hannah Kendall's Verdala commemorated the loss of 600 lives in the sinking of the ship carrying troops from Jamaica – and three had texts. Isabel Mundry's Gefallen sets the words of August Stramm, killed in action, while in We Wept Luca Francesconi movingly inscaped the words of Dolly Shepherd, a driver mechanic who at the end of the war found "the silence so awful. We've been used to the noise of guns, all day long, but it was so strange to have silence".
Unquestionably the masterpiece of the four was the last minutes of inhumanity, great Georg Friedrich Haas's mini opera condensing the words of two doctors and horrifying stage directions from Karl Kraus's epic wartime drama The Last Days of Mankind. Rare among contemporary composers, Haas sets language hauntingly, the harp accompaniment in the early stages begging odd comparisons with Strauss's Prologue to Ariadne auf Naxos before the conjured murderscapes turn the music darker. National treasure Susan Bickley delivered this, and all else, with perfect poise and commitment – a riveting performer.
Anticipating very loud gong and tam-tam noise after the interval in Messiaen's commemoration, this time of losses in the Second World War, Et exspecto resurrectionem mortuorum (I await the resurrection of the dead), two of us moved from front-row seats to prom at the back. Those crescendi were still terrifying, fingers-in-ears moments; brilliant Owen Gunnell, who'd featured very impressively in Reich from the Colin Currie Group at the Young Musician Prom, should henceforth be known as The Deafener, but a very artistic one. Rightly, the cumulation of this Messiaen piece with, unusually, no moments of radiant consolation, was the final processional for "the voice of an immense crowd". Always an unforgettable experience, and especially so in the Roundhouse.
The commemorative theme continued at the start of the evening Prom (★★★) back in the bigger colosseum with a BBC commission, Latvian Ēriks Ešenvalds's setting of Longfellow's A Shadow, the words crystal-clear from the BBC Proms Youth Choir (pictured below) conducted by Simon Halsey. Ešenvalds is a younger John Rutter on the choral scene, hugely popular, able to write catchy melodies and gratifying choirs with his textures, but – as with many of the songs in the Latvian Choral Festival finale to be covered soon on theartsdesk – tending to a pop-song memorability that edges on the banal. The conclusion, though, with humming and whistling, was hugely effective.
We then moved from hell to an ambiguous glimpse of heaven in Britten's Sinfonia da Requiem. Easy to forget the genius wrote two symphonies proper to set alongside the best – this in 1940 and the more elusive Cello Symphony 23 years later. Once again there was deafening, even to those of us sitting at the back of the hall, with the drum explosions at the start, razor sharp incisiveness in the Boschian scherzo, articulate radiance in the "Requiem aeternam".
Donald Runnicles pulled it off with the World Orchestra for Peace (pictured below). But Beethoven's Ninth is more ruthlessly exposing of absolute togetherness, and I can't remember more disconcerting results from a professional orchestra in the first two movements. Or rather, something like it when I last heard this peculiar entity under Gergiev – listed as its "conductor", a mockery when you recall his conducting against the Georgians in South Ossetia and for Putin in Palmyra – at the Proms in Rimsky-Korsakov's Scheherazade. Now, as then, there's a problem: put 17 leaders/concert masters in the first and second violins, and what kind of cohesion do you expect? Especially on limited rehearsal time and an event which, if I understand the orchestra's biography aright, is only the 20th of its kind since 1998. This was frighteningly diffuse, as close to an orchestra not really being an orchestra at all as I've ever heard.
Runnicles could more easily realise his steely-muscular interpretation in the flow of the slow movement, with some admittedly exquisite clarinet-led wind playing, while the young chorus, if not coached to realise every word in the "Ode to Joy" and somewhat limited by having to keep their hands stiffly to their sides – look, no scores! - helped carry the great final sequence alongside a good team of soloists (Erin Wall, Judit Kutasi, Russell Thomas with his bright heldentenorish credentials and the cavernously impressive Franz-Josef Selig), and the final bacchanal was thrilling enough to bring many of the folk in the seats to their feet. Worth noting here that when the orchestral version was played as the European Anthem at the Europe Day Concert in St John's Smith Square on 9 May, it was met by a spontaneous and unprecented 34-second silence, broken only by someone's mobile phone going off. Let it not be a requiem for Britain.
That the out-of-phase orchestral nightmare couldn't be ascribed to the capricious Albert Hall acoustics from where I was sitting, centre back, was amply demonstrated by the perfect togetherness of the BBC National Orchestra of Wales the following evening (★★★★★), luminously transformed into the Mahler orchestra in excelsis by its Danish Principal Conductor Thomas Søndergård.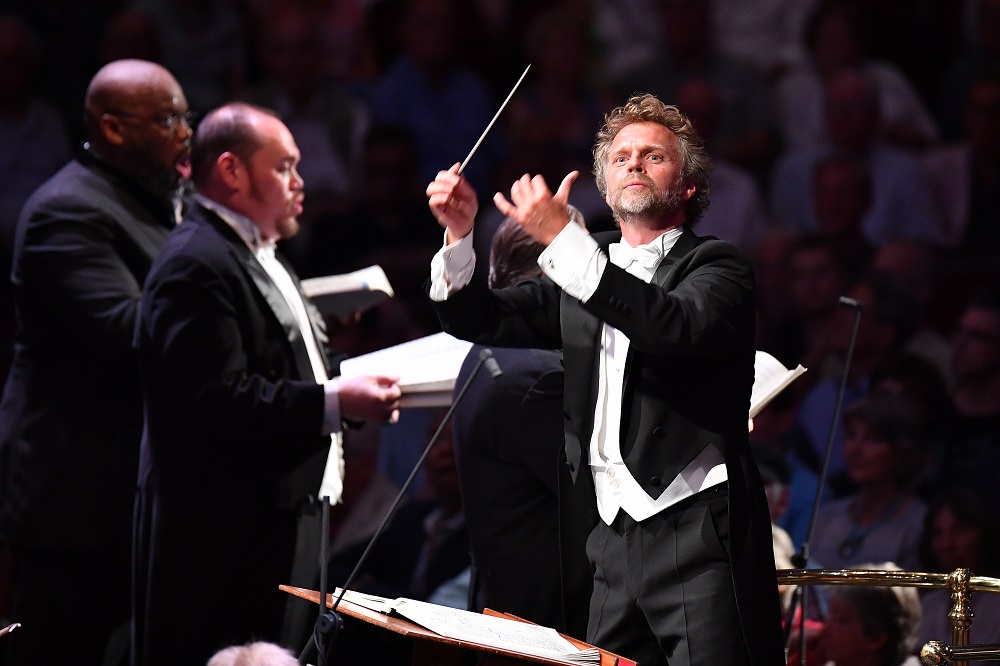 He appreciates the volatility in this most extraordinary of choral symphonies, spreading the cue of Mahler's opening injunction for the first movement's pentecostal hymn, Allegro impetuoso, to whole swathes of the symphony. The speeds remained just the right side of hectic, and wrought miracles of exuberance from the Southend Boys' and Girls' Choirs, angels with dirty faces as Goethe's closing scene from Faust starts its steady ascent.
Tempi were helpful to the soloists, too, not overtaxing the magnificent Quinn Kelsey and Morris Robinson in their opening Part II solos (pictured above with Søndergård), allowing an expression of the text at which the already great Tamara Wilson (pictured below) excelled. It's rare to have a so-called second (actually first equal) soprano of equal calibre, the thrilling Camilla Nylund; in fact there can't ever have been a better solo line-up for this work.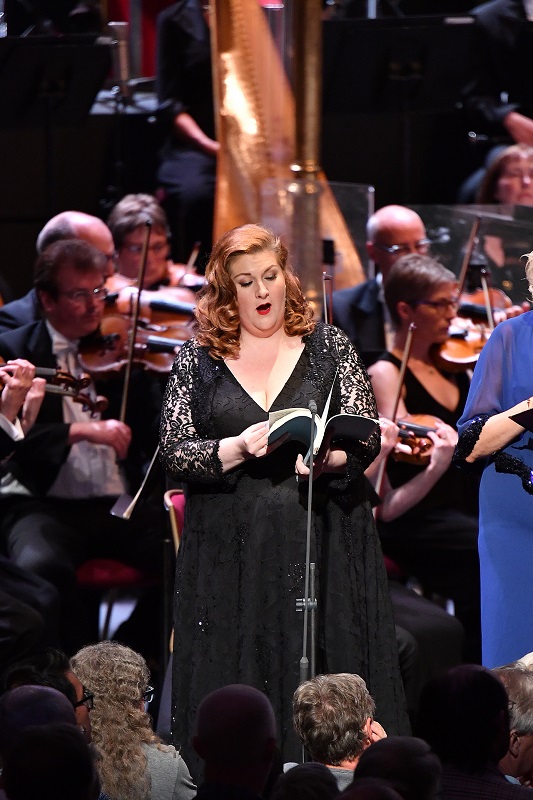 Flunk it, and no amount of good conducting, orchestral playing and choral singing can compensate, as Jiří Bělohlávek found to his cost in a vocally disappointing First Night performance back in 2010 (the last time Mahler 8 was performed at the Proms). The pleasures here were compounded here by Norwegian mezzo Mariane Beate Kielland, an unusual timbre from a sympathetic performer standing in for the peerless Christine Rice, true contralto Claudia Huckle and reigning Wagnerian Simon O'Neill, one of the few heroic tenors around who remains clarion in extremis. The ultimate luxury was to have Joélle Harvey, darling of this Glyndebourne season as Handel's Cleopatra, singing the seraphic few lines of the Mater Gloriosa from above.
If there was any flaw, it was that from where I was sitting, the offstage brass weren't detectable as such. But their platform companions recovered from a few dodgy moments in the first movement to etch their lines alongside top-notch woodwind with radiant clarity throughout the Faust drama. Organist Jane Watts didn't stint on the full glory of the Albert Hall's king of instruments, spine-tingling on the symphony's very first pedal-plus-chord. And it should go without saying that there are few sounds more impressive than the combined forces of the BBC National Chorus of Wales, BBC Symphony Chorus and London Symphony Chorus, as clear of intent under Søndergård as the orchestra. This is the ultimate Proms spectacular, and all involved did it proud.
BBC iPlayer listening available for 28 days: Proms at...Roundhouse here, Prom 9 here and Prom 11 here
There can't ever have been a better solo line-up for Mahler 8
Share this article
Subscribe to theartsdesk.com
Thank you for continuing to read our work on theartsdesk.com. For unlimited access to every article in its entirety, including our archive of more than 10,000 pieces, we're asking for £3.95 per month or £30 per year. We feel it's a very good deal, and hope you do too.
To take an annual subscription now simply click here.
And if you're looking for that extra gift for a friend or family member, why not treat them to a theartsdesk.com gift subscription?