Cambridge Folk Festival review - women rule the roost |

reviews, news & interviews
Cambridge Folk Festival review - women rule the roost
Cambridge Folk Festival review - women rule the roost
The 54th festival was a broad tent dominated by Patti Smith and Janis Ian
Wednesday, 08 August 2018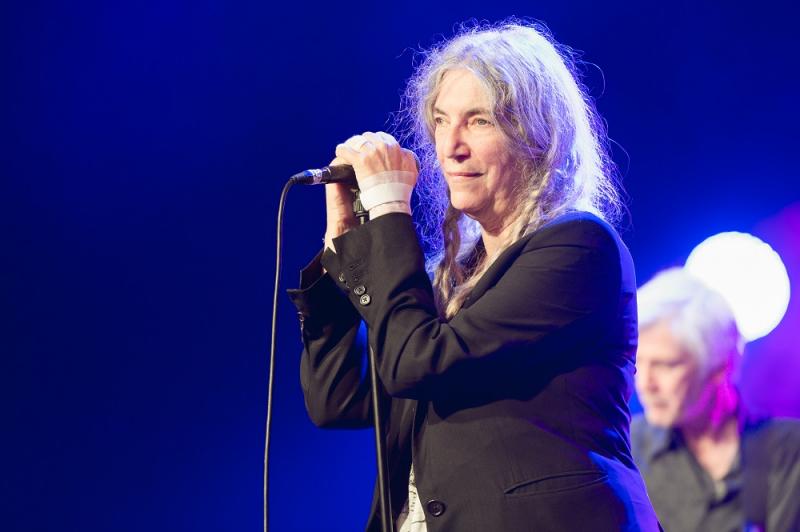 Patti Smith: would Peggy Seeger approve?
Twinned with the legendary Newport Folk Festival, founded on Rhode Island in 1959 as a counterpart to the celebrated jazz festival, the Cambridge Folk Festival this year celebrated its 54th birthday under blue skies. The sun shone relentlessly throughout its four days, which meant that performers squinted out at a sea of semi-clad and often tattooed bodies, many sheltering under beaded parasols.
Keeping everything in tune with the high levels of humidity can't have been easy though most everyone managed it – even though, as Janis Ian joked, tuning has sometimes been antithetical to folkies. Who was it coined that phrase, "it's close enough for folk music"?
Folk music, so often mocked, is once again where it's at, as the presence of so many teens and twentysomethings, many with children, testified. But the audience spanned all ages, many of them surely fans from the early days of the post-war revival, veterans of Aldermaston who remembered that Bob Dylan once wanted to be Woody Guthrie and who perhaps attended the inaugural bash, when Paul Simon was a late addition to the bill and just 1,400 people came. Dylan has never played but just about every other folk legend has. This year, the most venerable was Peggy Seeger, 83, a veteran of Cambridge '65.
Whether she'd approve of the presence on the bill of Patti Smith is another matter, but the poet laureate of punk clearly hit the Cambridge sweet spot. Her injunction to "get rid of the fucking smoke – I'm not Metallica!" demonstrated how much the festival has changed: Janis Ian recalled that in 1991 she was castigated for using a wha-wha pedal! "Because the Night" and "Gloria" were the climactic numbers in a set that included Smith's unique take on "We Three Kings", written in the Nineties and inspired by a visit to King's College Chapel to see Rubens' Adoration of the Magi. Was it simply projection to feel that in talking about Herod she was really talking about Trump? Smith wished Barack Obama a happy birthday and expressed the near-universal hope that his golden days would return. Taking no chances this time, she slipped on her hornrims and picked up a lyric sheet, dedicating a magisterial "A Hard Rain's a-Gonna Fall" to "my friends in Stockholm". The whole audience stood and sang. The Nobel Laureate would surely have been delighted. (Two evenings previously, Smith had sung it in Cologne, joined by a bespectacled-in-sympathy Joan Baez.)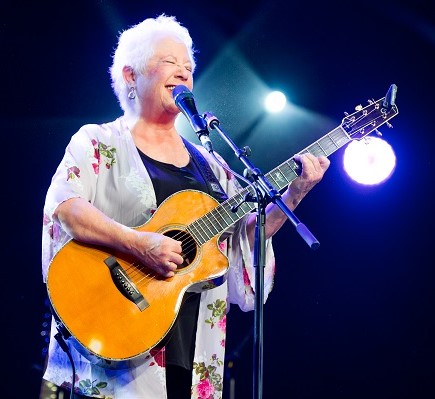 The folk scene, however warm and fuzzy, was once as male-dominated as the 1950s and '60s were generally, but at Cambridge 2018 women held sway. Janis Ian (pictured right), now 67 ("Don't applaud – there's nothing I can do about it") made her recording debut at 15 and is probably best-known for her song "At Seventeen", which still sends shivers down the spine. Championed by Leonard Bernstein and much garlanded, she is sadly under-rated, a musician's musician whose consummate artistry is spellbinding. Her lyrics are always perfectly wrought, the lines economical yet speaking volumes. And boy can she play the guitar! Working in various tunings, she offers up the sort of licks and riffs of which the late Jimi Hendrix (with whom she once jammed) would be proud, drawing from her diminutive cutaway Santa Cruz subtle and amazing effects, including harmonics and feedback, without benefit of gizmos.
Ian's stage presence is in inverse proportion to her size and she has the comic's (and of course the musician's) sense of perfect timing when it comes to anecdotes, one of which culminated in the sardonic "Married in London". Her set included such classics as "Jesse", "Light a Light", "Through the Years" and of course "At Seventeen". She closed by breaking "the golden rule" of performance – playing a new song. "She Is, She Is (Resist)", written just three days earlier, is the "Society's Child" of our age, a song for the #MeToo generation; a blast against sexism, fundamentalism, exploitation and much besides. A rap, in every sense – and one which drew equal cheers from the guys in the audience.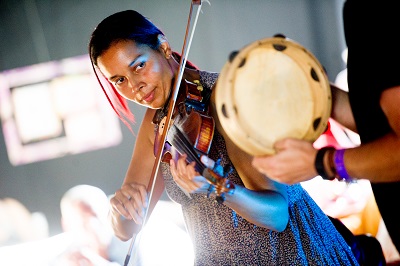 Rhiannon Giddens (pictured above), the Festival's second guest curator, whose chosen acts included Canadian banjo-picker Kaia Kater, husband-and-wife duo Birds of Chicago, plus the aforementioned Seeger, made her presence felt across the weekend, popping up in workshops and discussions – all in the great Newport tradition. The fiddler, fretless banjo player, singer and founder of the Grammy-winning Carolina Chocolate Drops delivered a powerful set on the main stage that included the gut-wrenching Odetta (and Paul Robeson) classic "Waterboy" and a reworking of Ethel Waters' "Underneath a Harlem Moon", as well as soaring tributes to Patsy Cline and Sister Rosetta Tharpe, so-called godmother of rock 'n' roll.
Darlingside, who made quite an impression with their 2016 Cambridge debut, arrived direct from Newport and with a good line in banter. A four-piece "baroque folk-pop" group from Boston who took their name from Sir Arthur Quiller Couch's advice (delivered to them at their Williams College song-writing class) to "kill your darlings", they play between them a half-dozen instruments and gather round a single mic to sing harmonies that recall Crosby, Still, Nash and Young, and occasionally the Byrds. Check 'em out at the Shepherd's Bush Empire on 1 November.
Daoirí Farrell's Sunday lunchtime set surely awakened anyone who'd partaken of too much Otter's Beer the night before. Twice honoured in the 2017 Radio 2 Folk Awards, he offered such ballads as "The Unquiet Grave" and "The Blue Tar Road", the poignant traveller's lament, accompanied by his own Irish bouzouki and by Blackie O'Connell on uilleann pipes and Robbie Walsh on bodhran. All of them are extraordinary musicians, but Walsh's drumming was something quite other.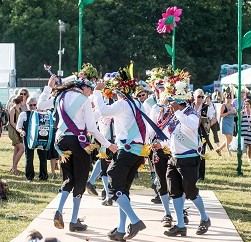 For those who take a broad (Louis Armstrong-esque) view of folk music, Cambridge is a delight, a place to hear some of the great names and voices on the scene today – a place where you pitch up to hear Kate Rusby and get the added bonus or Lori Watson and Eddi Reader, harmonising to perfection on "The Wild Mountain Thyme", or take a singing workshop with Beth Nielsen Chapman, or stumble into one of the many impromptu sessions – or buy a fabulous fan-fretted guitar hand-made by Alan Miller.
Vast as it now is, Cambridge has lost none of its sweetness. People who like folk music are generally a nice bunch who wait politely in line and try not to block the view of the guys behind them. And though the festival audience remains very white, can there be any better example of cultural assimilation than an Asian Morris dancer? (Eat your heart out, Nigel Farage!) The Morris Men and Women were probably the Festival's hardest-working performers, and the hottest. With their flowers and their bells, they surely add to the gaiety of the nation.
What a great weekend. Kudos to Cambridge Council.
Photos of Janis Ian, Rhiannn Giddens and the Morris Men by Ollie Millington
For those who take a broad view of folk music, Cambridge is a delight, a place to hear some of the great names and voices on the scene today
rating
Explore topics
Share this article