Cambridge Folk Festival, Cherry Hinton Hall |

reviews, news & interviews
Cambridge Folk Festival, Cherry Hinton Hall
Cambridge Folk Festival, Cherry Hinton Hall
Short on grime, long on collapsible chairs, but the great music gratifies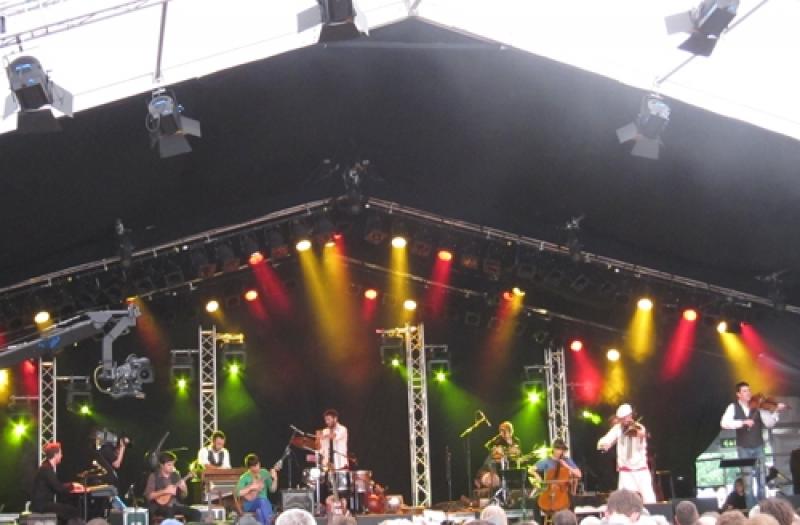 Penguin Café, performing with energy and precision
It was the invasion of the collapsible chairs at this year's Co-operative Cambridge Folk Festival. From above it appeared that an army of extremely well-equipped picnickers was staking its claim on the quarter of a mile surrounding the main stage using only fold-up chairs, checked blankets and pints of cider, occasionally lobbing colourful balloon missiles into the air. To call it civilised would be an understatement.
It was quite simply extraordinary how far people had gone in pursuit of convenience. Those of us poor sods who sat on the floor could barely see for the sea of green canvas furniture. But the relaxed (to the point of horizontal) atmosphere which such careful provision resulted in was perfect to greet a line-up of intriguingly different brands of folk.
On Friday Newton Faulkner gave an exuberant early-evening performance on the main stage. He filled the intervals between some unusual acoustic versions of his hits and quirky covers, which included Massive Attack's "Teardrop" and Queen's "Bohemian Rhapsody", with a comically fast-paced and guileless commentary. An authentic ceilidh (Scottish country dancing) at a smaller stage got the blood pumping as those of us participating hurled ourselves around in reels before we were lulled back to an evening languor by the smoky tones of the Robert Cray Band on Stage 1. Calm was restored completely by the vibrant timbre of Feufollet, Americans who sing in traditional Cajun French but perform classic tunes. But we were worked up to a frenzy yet again when Bellowhead took to the stage to close the evening.
After a night spent under canvas for most of the 12,000 festival-goers, the sun broke through the clouds on Saturday as Penguin Café struck up on the main stage. A "rebooted" version of the late Simon Jeffes's experimental Penguin Café Orchestra, which toured extensively in the Seventies and Eighties, its reincarnation is an astonishing feat led by Jeffes's son Arthur. The classically trained musicians, a couple of whom are original band members and the rest Royal College of Music grads, pour such energy and precision into executing the old songs that people were cramming themselves into the tented area in front of Stage 1 like a surging colony of ants. They performed classics like "Telephone and Rubber Band" and "Music for a Found Harmonium" superbly, but their new material, particularly "Landau", shows the new direction their sound has taken which seems, amazingly, a progression of the original stuff without being a poor imitation.
Kate Rusby was probably the only performer on the bill who wouldn't have felt too intimidated following Penguin Café. Back touring with a new band, she bathed us in her heart-melting melodies and chatted about the delights of bringing her little daughter to the festival for the first time. Also packing a punch on a sunny Saturday was the astonishingly young Gaelic band Manran, Irish traditionalists Danu and Antipodean choir the Spooky Men's Chorale.
As darkness fell and we started gearing up for the hotly anticipated silent ceilidh (like a silent disco but with two kinds of folk music with the same rhythms), another serious festival highlight appeared on Stage 2 in the form of Martin Hayes and Dennis Cahill. Hayes has been crowned All Ireland Fiddle Champion six times and watching the blur of his hands as he plays to perfection at record speed and with such emotion it is easy to understand why. With accompaniment from Cahill on guitar, they make for a beguilingly wonderful duo.
Away from the hordes of fold-up chairs, near the duck pond where happy toddlers and troublesome teens were splashing about and trying to drown each other, was an amazing new addition to the folk festival: the Den. Inside a Tibetan-style tent emblazoned with colourful shapes was a brand-new stage for emerging talent. I have to admit that once I'd heard the calibre of material on offer in this smaller setting it was quite hard to return to the main arenas.
On Saturday I was impressed with a number of Den denizens, including Rachel Sermanni and Megan Henwood. On Sunday, Bard were excellent. But the best thing on offer was a musician who has had some success in Australia but is an unknown here called Passenger (pictured right), who strummed his way through some startlingly beautiful lovelorn tracks, including an edifying cover of "The Sound of Silence". He'll be playing on the main stage some time soon.
Altogether Sunday was the best day. Port Isaac's Fisherman's Friends started things off with a collection of hearty sea shanties and some really hilarious banter. The decibel force of their collective singing voices as they blasted out the old tunes was quite overpowering. Rumer cemented previous critical comparisons to Carole King with a warm, earth-motherish set which soared out and somehow filled the huge space making it impossible to believe she was a relative unknown until only two years ago. There was a nice interlude from Scottish folkstress Emily Smith, a seductive Caitlin Rose lulled her audience and Emily Portland in the Club Tent delivered some lovely new tunes steeped in the storytelling of the folk tradition.
Laura Marling, who won the Best Female Solo Artist at the Brit Awards earlier this year, was probably the most mainstream purveyor of folk on offer. She headlined the final evening playing a mixture of favourites from her popular first two albums but also offering a tantalising glimpse of her happier-sounding American influenced third album A Creature I Don't Know, which is due to be released in September. Known for her onstage shyness and reticence, she was refreshingly chatty and seemed to be genuinely pleased to be returning to the festival as a major headliner.
By nightfall the collapsible chair army was fully wearing its blankets and preparing to sit it out into the wee small hours. The Cambridge Folk Festival offers an extremely British experience, brilliantly organised and executed, and very gratifying. Even the portable toilets have running water and a workable flush. If you're after the grime and grit of Glastonbury then you might find it a bit too staid. But if you're just happy to hear great music in a great setting then you won't be disappointed.