Edinburgh Festival 2018 reviews: Home / The Prisoner |

reviews, news & interviews
Edinburgh Festival 2018 reviews: Home / The Prisoner
Edinburgh Festival 2018 reviews: Home / The Prisoner
Playful visual trickery and gnomic bafflement at the International Festival
Visual trickery: an entire house appears before our eyes in Geoff Sobelle's magical Home
Home ★★★★
Philadelphia-based theatre artist Geoff Sobelle has scored highly with two previous Edinburgh Fringe shows. Flesh and Blood & Fish and Fowl, way back in 2010, imagined the natural world wreaking ruthless vengeance on the mundanity of modern business in bizarre visual spectacles, while the smaller-scale The Object Lesson in 2014 was a more reflective work on objects and memory, with a jaw-dropping magic trick as its poignant conclusion.
Home is Sobelle's debut at the International Festival, and his most ambitious Edinburgh offering to date, presenting nothing less than the on-stage erection of an entire house, its fixtures and fittings, as well as the arrival of several families who – presumably at different times – inhabit it.
As in Sobelle's earlier works, there's plenty of playful visual trickery here – a room that miraculously materialises behind a translucent plastic sheet, for example, or doors and cupboards that seem to link up in impossible ways. But it's the sheer scale of Sobelle's creation that's so astonishing, and the meticulous, loving detail with which he evokes the humdrum domestic goings-on of showering, washing up, watching TV and more.
And this being Sobelle, things soon threaten to get out of hand, as his creation begins to spill off the stage and into the auditorium itself, thereby involving increasing numbers of audience members who unexpectedly become crucial characters in his creation. It's all done so deftly, so effortlessly, however, that it's happening in front of your eyes before you can even wonder at the bravery of entrusting so much to paying punters.
Sobelle's emotional range broadens as Home develops, bringing in the raucous comedy of birthday parties, births and Christmas as well as the sadness of loss and death. But it remains, too, rather at the upbeat end of the emotional scale, so much so that there's a danger of it verging on the twee, and Home's world of trendy middle-class creatives, well-behaved children, yoga practice and endless supportive friendships risks appearing rather insular and self-regarding. Nonetheless, it's an astonishing, joyful achievement, one that celebrates the mundane and the messy, and reminds us not to overlook the simple joys of what we see around us every day.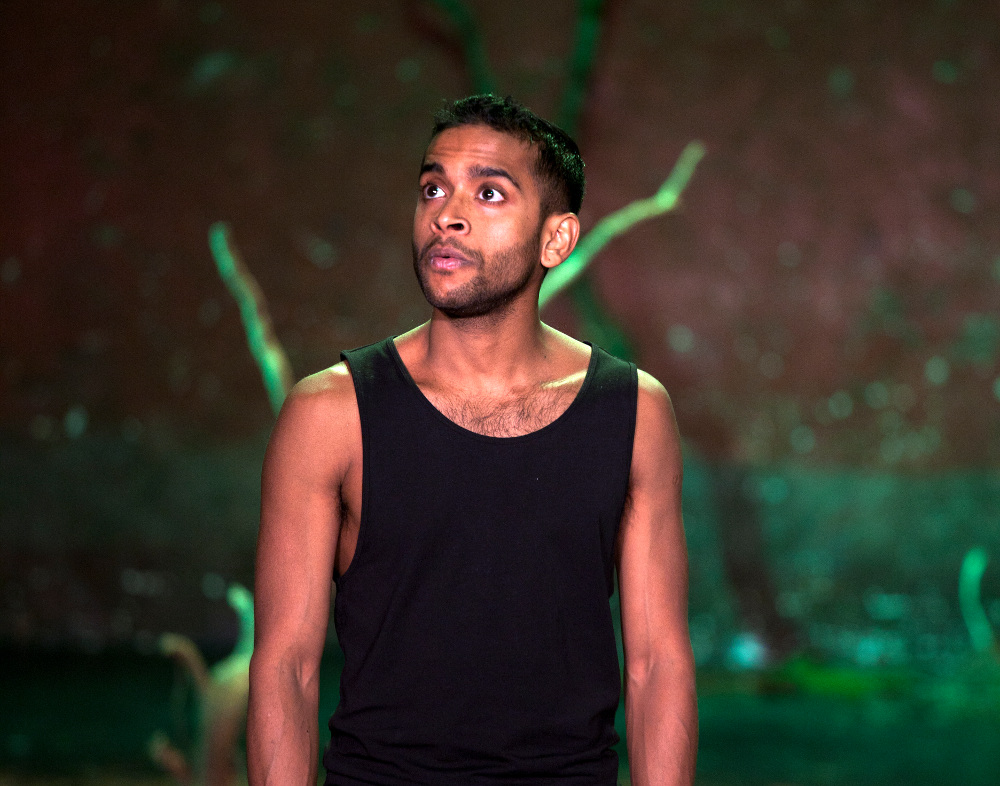 The Prisoner ★★
Of the Edinburgh International Festival's three productions by 2018's resident company, Paris's Théâtre des Bouffes du Nord, The Prisoner is the most gnomic, the most baffling, and, frankly, the most disappointing. Which is a great shame, of course, because it's also the one possibly most hotly anticipated, being co-written and co-directed by the Bouffes du Nord's guiding light across several decades, legendary elder statesman of the theatre Peter Brook.
We're in an unnamed foreign land – judging by the sun-scorched trees, dusty rocks and heat-suggesting lighting, this isn't Europe. Young Mavuso, after committing an unspeakable crime, receives an enigmatic punishment: to sit on a hill outside a prison for two decades, forbidden to leave his spot however a host of visitors might attempt to help him, although never actually incarcerated.
Brook and co-writer/co-director Marie-Hélène Estienne's tale unfolds as if it's an ancient parable on guilt, punishment and redemption, an effect heightened by its multinational cast and arid, austere set. Sri Lankan-born Hiran Abeysekera (pictured above, photo by Simon Annand) is charismatic as the troubled young man, and Malian Hervé Goffings brings unforced authority as his uncle Ezekiel, who enforces the bizarre punishment. Donald Sumpter makes a self-effacing visitor, sent to interrogate the prisoner, and Indian Kalieaswari Srinivasan is strong, too, as Nadia, the sister Mavuso is attempting to protect.
But there's something amiss here. David Violi's Godot-like set (or "set elements", as the programme describes it) looks as stripped-down and raw as a theatre set could be, and certainly provides a stark contrast with the recently refurbished multicoloured Victorian splendour of the Edinburgh Lyceum's interior. But the stunted branches and piles of sawdust are, of course, just as artfully artificial as any more modern construction, including that of the theatre itself. Likewise the story, though drawing on the tropes of ancient myths and archetypal narratives, lacks a clear sense of direction or even forward movement, doubling back on itself in time, and shifting narrative perspective confusingly – not to mention digging up troubling issues of incest and abuse without attempting to grapple with their implications.
With an absence of music (though soundscapes are evocatively generated by the actors themselves), the show emerges from silence and returns again gently at its close, though Philippe Vialatte's rather restless, overly signposted lighting seems slightly excessive amid the austerity elsewhere.
It's a work that echoes many of Brook's theatrical concerns since The Mahabharata of the 1980s, and even feels like a satellite to that earlier work, though far more modest in scale and ambition. If nothing else, The Prisoner offers an austere 70 minutes of quiet, thoughtful, slow-moving theatre amid the frenzied energy and garish colours elsewhere across Edinburgh's festivals. But it's a troubling work all the same, not altogether convincing in its format or its themes, and dramatically rather inert.
The Prisoner at London's National Theatre from 12 Sept to 4 Oct 2018
It's the sheer scale of Sobelle's creation that's so astonishing, and the meticulous, loving detail with which he evokes humdrum domestic goings-on
Explore topics
Share this article