'I saw that death is beautiful, unspeakable and strange': on filming 'Island' |

reviews, news & interviews
'I saw that death is beautiful, unspeakable and strange': on filming 'Island'
'I saw that death is beautiful, unspeakable and strange': on filming 'Island'
Filmmaker Steven Eastwood introduces his documentary about the last moments of life
Monday, 10 September 2018
'It is as though the image of dying is not something we should see, or even want to see'
Most of us have very little knowledge of the process of life ending, physically and emotionally, until it comes suddenly into our own experience. Dying remains taboo. We don't talk about dying, we don't teach it in schools, and yet this event is as natural and everyday as birth. Having been one of the central subjects for art for a millennium or more, death has come to be one of the least broached. The images we have are medicalised or euphemistic.
All of the beauty, grace and candour of death visible in classical painting is gone. So too is the representation of our very creatureliness, that we die not so much as personalities (for personhood has usually receded, or been sedated) but as simply breathing bodies. Death is written in to our biology, to all biology. It is such a strange world we live in where one of the two most certain things that will happen to us (birth and death) is almost entirely erased by our culture. It is as though the image of dying is not something we should see, or even want to see.
Over one year between 2015-16 I filmed people at the very end of their lives. I wanted to know more about what happens throughout the process of dying, what palliative care is, and how the society I live in would react to a filmmaker saying he wants to be with someone when they die. It was the team and leadership at Mountbatten Hospice on the Isle of Wight that made such a seemingly risky proposition possible. Like many other hospices, it is hidden in the suburbs, gently challenging stigma and taboo still, from the outside, but within its walls delivering incredible care and enabling life to be lived fully, until it stops.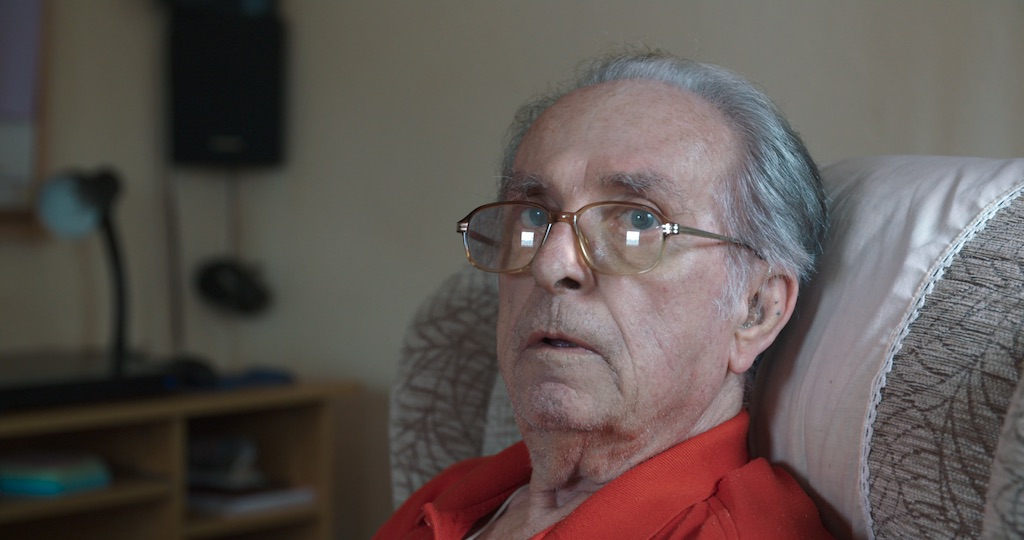 Introductions to the idea of filming the end of life were first made in my absence, by members of the community team on home visits to patients, across this beautiful and otherworldly archipelago. It turns out it is more straightforward to film with people at this sensitive time than it is to convince exhibitors and festival programmers to take on a film which features the moment of death. But if you understand the central tenet of the hospice movement, which is the rights of the patient to live and die in the way they see fit, with dignity, inclusion, and as best as possible without pain, then this becomes less surprising. And if you think participating in a film would be far from your wish list when you have a terminal illness, think again. For some, knowing that there is limited time can bring things into focus. And filmmaking can be a remarkably open and unorthodox space.
I came to know many extraordinary people. Alan (pictured above) had a deep philosophy of life, death, his own body, that he wanted to share, and I believe the film enabled him to do that, at 88, during the last months of his life. Alan invited me to be with him when he died and I feel very privileged to say that I was. In order for this to be possible I had to be named as Alan's next of kin in his medical notes. I got the call early one morning and raced to the south coast and on to the ferry. I spent two days continuously filming Allan as his life came to an end, and this is an experience I will never forget.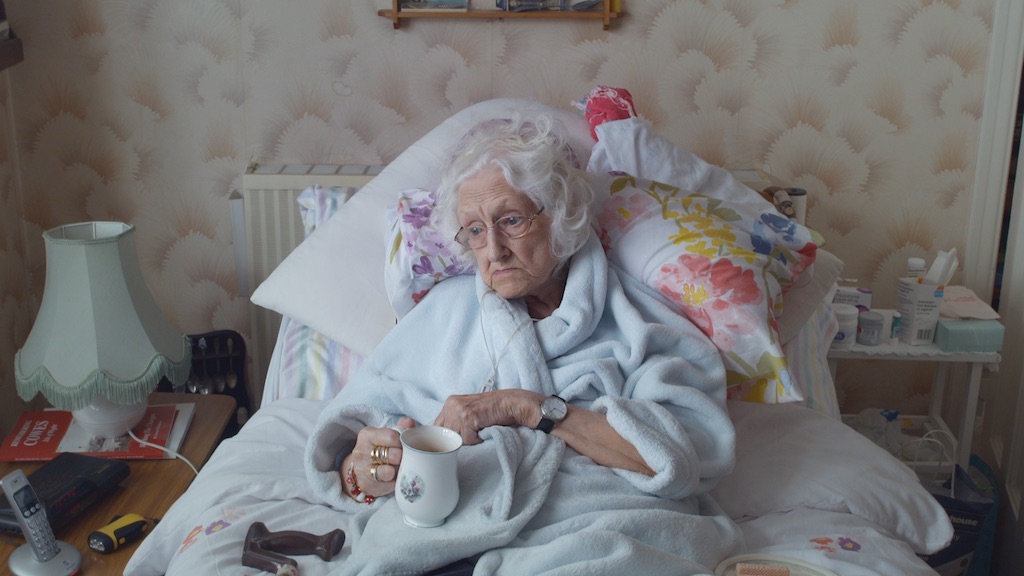 Jamie was very different, closer to my age, newly married and with a four-year-old daughter, surrounded by family and friends in shock. Nobody wanted him to die. This community came together for an extraordinary fund-raiser party, so that Jamie could go on one last weekend away with his family, to a caravan park on the island. The film became a safe space for him to directly address what he was facing. If Alan is the film's mind, then Jamie is its raucous, visceral humour, and its beating heart. Then there was Mary (pictured above), so delightful, but isolated, in her endless measured coffee spoon afternoons, and Roy, slipping away in the middle of a split between his brother and boyfriend. Everyone has accumulated fascinating and different stories, but we are all the same eventually, we all touch, feel, breathe, curl into an end.
We fear the image of a person who has died will burn us, but it doesn't. We fear proximity to death will change us, depress us, forge lasting negative associations with people we love. But it doesn't. What was it like and how did I feel, when Alan died? I felt elated. I saw that death is beautiful, unspeakable and strange. It is as though life is an engine, turning over, stalling then stopping, the person already vacated, just the body living, until it no longer can. I don't think of the film as being about cancer, or suffering. To my mind it isn't harrowing or burdensome. I felt uplifted and empowered by the extraordinary events I was fortunate enough to be invited to bear witness to. I hope that something of that feeling of empowerment has translated to the screen.
Island opens on 14 September with filmmaker Q&A screenings from 10 September

Below: watch the trailer to Island
Allan invited me to be with him when he died and I feel very privileged to say that I was
Explore topics
Share this article