The Rake's Progress, British Youth Opera review - perfect poise in slippery Stravinsky |

reviews, news & interviews
The Rake's Progress, British Youth Opera review - perfect poise in slippery Stravinsky
The Rake's Progress, British Youth Opera review - perfect poise in slippery Stravinsky
Well-trained young singers have space to articulate skewed morality tale
Friday, 07 September 2018
The moral pointed by Trulove (Pedro Ometto), Baba (Jessica Ouston), Nick (Sam Carl), Anne (Samantha Clarke) and Tom (Frederick Jones)
So it's been sellouts for half-baked if well-cast productions of The Rake's Progress and now Britten's Paul Bunyan at Wilton's Music Hall, while British Youth Opera's classy Stravinsky in the admittedly larger Peacock Theatre, several hundred yards away from the Hogarth Rake paintings in Sir John Soane's Museum, played to a half-empty house, last night, at least.
Why
is
this, as Auden and Kallman's great creation Baba the Turk, bearded lady of St Giles' Fair, asks of her feckless husband Tom Rakewell? No idea, but I urge you to catch the last performance on Saturday to see what youth and beauty can do when given the right support and the space to shine.
The set-up of a company carefully organised to give young singers and players (of the Southbank Sinfonia) maximum preparation from experienced professional staff is certainly doing its job both here and in the 18th century pasticcio The Enchanted Island if reports of that tell true. It's true that the sounds from the pit are a little careful under BYO Music Director Lionel Friend (good lord, it was he who conducted the first opera I ever saw, La Traviata at ENO in the late 1970s). One day they'll take the risk of a fiery young conductor. But this way, given Friend's eagle eye, the singers can feel secure in their incredibly meaningful and accomplished delivery of the wickedly off-kilter way Stravinsky sometimes sets his great librettists' lines.
That goes for everybody, from the three singers in the taxing main roles of Good (Anne Trulove), Evil (Nick Shadow) and the weak-willed, easily poisoned victim caught in between (Tom Rakewell) down to fine vignettes from Iain Henderson as auctioneer Sellem and even Thomas Mole as Madhouse Keeper. Samantha Clarke's Anne (picture above with Frederick Jones in the Bedlam scene) could be seen and heard in any of the world's opera houses right now. Her sympathetic facial expressions tell us everything we know, the lyric soprano seems effortless, and there's strength of purpose here (Anne, like Micaela and Pamina, is no pale good girl as she dares all to help her wayward sweetheart; in our poets' marvellously simple words for her, "If love be love, it will not alter/falter").
Frederick Jones as Tom could do with more colour in the voice, but has plenty of musicality and meaning, and is probably technically speaking the best protagonist I've heard in the role; the tricky top notes hold no fear for him. So yet another useful young tenor on the books. There's plenty of focused energy, too, from Sam Carl's Nick Shadow, especially good when the sartorial mask falls in the graveyard claiming of Tom's soul.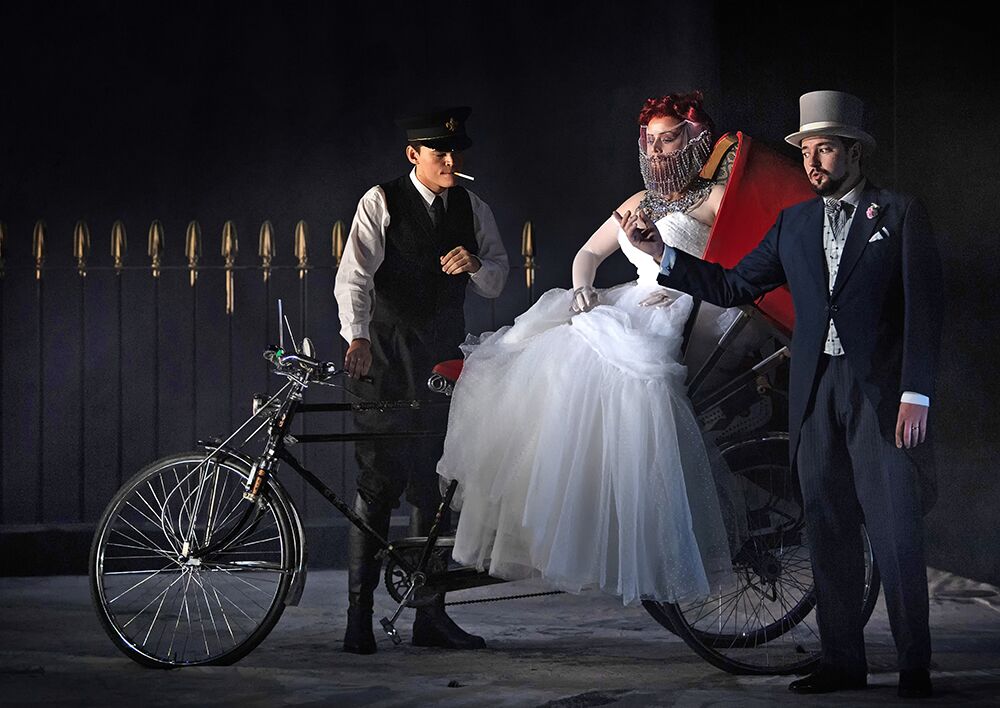 Jessica Ouston (pictured above as Baba stepping from her "sedan") is the only one who needs to work a bit harder on the words – more consonants, please – in Baba's catalogue of her curiosities, but comes energetically into focus in her rage cabaletta, husband-beating included. Her maternal advice to Anne in the auction scene, delivered sitting cross-legged and confidentially, was one of the two points which moved me to tears (the Bedlam scene nearly always does, the more so given Stravinsky's classical-masque restraint).
All these singers have been trained to use their hands and arms meaningfully to inform the text. The clarity is familiar from director Stephen Unwin's simple but effective English Touring Theatre Shakespeare (unforgettable Henry IV plays with Timothy West as the best Falstaff I've seen and son Sam as Hal). Just how much hard work has been done by movement director Natasha Harrison becomes evident in the sparky choruses, a perfect balance between stylisation and free motion in between.
The ensemble works superbly in the clutter-free space designed by James Cotterill. Was it as wry mock-competition with the classic Hockney Rake first seen at Glyndebourne that the late Howard Hodgkin is the reference point? His splodges stylishly inform the gilded frame, a drop cloth variously and effectively lit by Mark Jonathan and the various colour-schemes through the opera's nine scenes, the spattered hanging at the back gradually falling to strip away all theatrical illusion in the final madhouse ritual. The period is loosely, but not obtrusively, 1950s. There are no radical comments on an already rich piece of music-theatre, but for once there don't need to be. The singers and their understanding of words and music always come first.