The Rake's Progress, LPO, Jurowski, RFH review - supreme fluency from Eden to Bedlam |

reviews, news & interviews
The Rake's Progress, LPO, Jurowski, RFH review - supreme fluency from Eden to Bedlam
The Rake's Progress, LPO, Jurowski, RFH review - supreme fluency from Eden to Bedlam
Toby Spence captures every facet of Tom Rakewell in perfectly detailed Stravinsky
Toby Spence: youthful looks, experienced delivery
Lightness and gravity in perfect equilibrium have always graced Vladimir Jurowski's Stravinsky.
From his first London
Rake's Progress
at English National Opera, proving that he could do the delicate and translucent after his Royal Opera debut conducting Verdi's
Nabucco
, via the Glyndebourne revival to this, much the most strongly cast, a
London Philharmonic Orchestra
concert staging – direction uncredited – executed with more ingenuity than several recent productions, Jurowski's sleight of hand has been paramount. Though the finesse is remarkable, there's no need to put words like "emotion" into inverted commas, as Stravinsky liked to do. As with all the best
Rake
s, this one was ultimately moving to tears.
Equally part of that success was Toby Spence's Tom Rakewell - a relatively late substitute for Allan Clayton, but just as intelligent, and as strong, tenor-wise, as this surprising role often requires. Spence's plus is that he looks young but has the wealth of experience to know how to handle Stravinsky's more elaborate flights of fancy and heftier outbursts as well as the miraculously successful, because unorthodox, setting of the great libretto by W H Auden and Chester Kallman. Youthful bumptiousness, expressed with perfect physical confidence, quickly gives way to profound world-weariness, terror in the graveyard where the sinister manservant finally states the terms of his employment and madness stilled by the old love in the Bedlam masque of Venus and Adonis.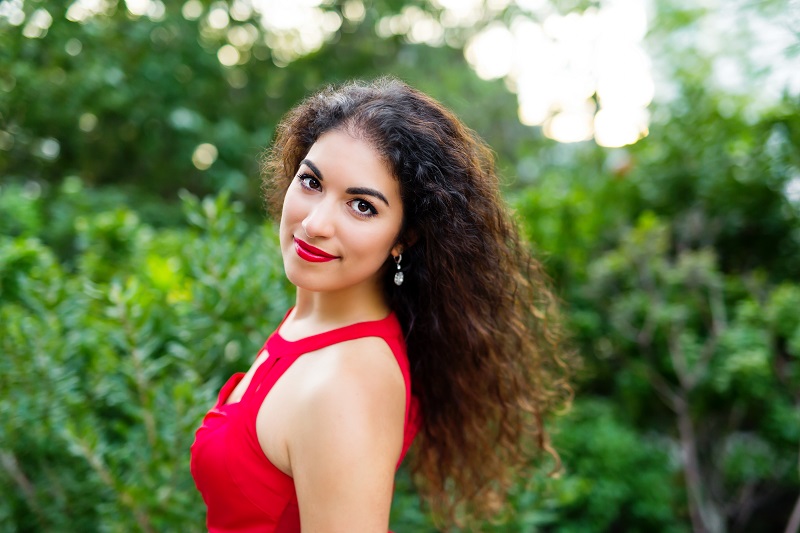 It certainly didn't matter that only one of the four principals was as originally advertised - Matthew Rose as Nick Shadow, a role he also filled out impressively at Glyndebourne. Rose's true bass makes the unveiling near midnight after a year and a day's service cavernously awesome (though I never quite got the short long trousers - to suggest that the devil doesn't fit comfortably into human apparel? Or only wears Prada well?) Puerto Rican American soprano Sophia Burgos (pictured above by Kate Lemon) was a supremely simpatica Anne Trulove, just a touch quavery at the start, and extended rehearsal time of the sort accorded at Glyndebourne would surely have made her more assertive in her aria that "'if love be love, it will not alter" - Anne, after all, is more courageous than your average ingenue - though the slipped beat towards the end didn't matter too much as she still nailed her top C.
The biggest thrill came in Anne's semi-supernatural intervention in the card game, more than the usual echo of past material, and the greatest balm in her cradle-song to the temporarily soothed mad Tom in the tearjerking simplicity of a trio with flautists Juliette Bausor and Sue Thomas - music of the spheres indeed - prolonged the 'exquisite penitence' of the preceding duet: the one moment where Stravinsky summons his greatest godlike shade, Bach, for extra depth.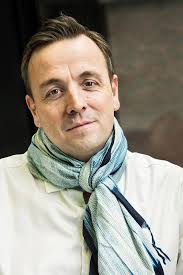 It can't be often that a mezzo (Patricia Bardon) gets replaced by a countertenor (Andrew Watts. pictured left) shortly before the performance, but there's always a suggestion of androgyny about Baba the Turk, Tom's existential bid for a wife to whom he has no attachment and owes no debt. Watts surely has the biggest sound of his breed, well displayed when he played the devil in Jurowski's performance of Schnittke's Faust opera back in 2009 (coincidentally enough, he shared the role with another contralto, Anna Larsson). The volume tends, though, to be at the very top and the chest voice of his range, leaving the middle a tad clouded. But this was a redoubtably well-acted performance with plenty of aplomb and sympathy.
With Jurowski mid stage, turning regularly to keep tabs on his singers in the acting space, this was the best chance to hear those other soulful singers in Stravinsky's cast, above all first horn, oboe and bassoons (the serpents in the garden). Fascinating detail from powerful bass lines, too, and a zesty pacing for much of Scene One which gave way to more leisure and soul when needed (starting with the Tchaikovskian chords at parting). The London Voices got better with their words in the second half, and gamely acted out the invisible director's demands, best of all a collective cranking of Nick's stone-into-bread machine which worked much better than the usual damp squib.
Pure class reigned throughout, completed by deft cameos from veterans Marie McLaughlin and Kim Begley, to crown respectively brothel and auction. Malcolm Rippeth's lighting and a few props always told us where we were, and at roughly what time, though the supertitles, as at Glyndebourne, had arbitrary cut-off points since for Stravinsky secco (ie harpsichord-accompanied) recitative is not always where Auden and Kallman decide it ought to be and text delivery wasn't always exemplary. Remembering that the only hitch of Hockney's designs at Glyndebourne was the fatal delay between the three scenes of each act - Stravinsky sets up continuity with musical cliffhangers - the icing on the cake was Jurowski's ability to whizz from one tableau to another. At last he got a mise en scène worthy of his total fluency.
Youthful bumptiousness, expressed with perfect physical confidence, quickly gives way to profound world-weariness
rating
Explore topics
Share this article