Māris Briežkalns Quintet, EFG London Jazz Festival 2018 review - a Rothko symphony |

reviews, news & interviews
Māris Briežkalns Quintet, EFG London Jazz Festival 2018 review - a Rothko symphony
Māris Briežkalns Quintet, EFG London Jazz Festival 2018 review - a Rothko symphony
Latvian players and composers homage a great artist they can call their own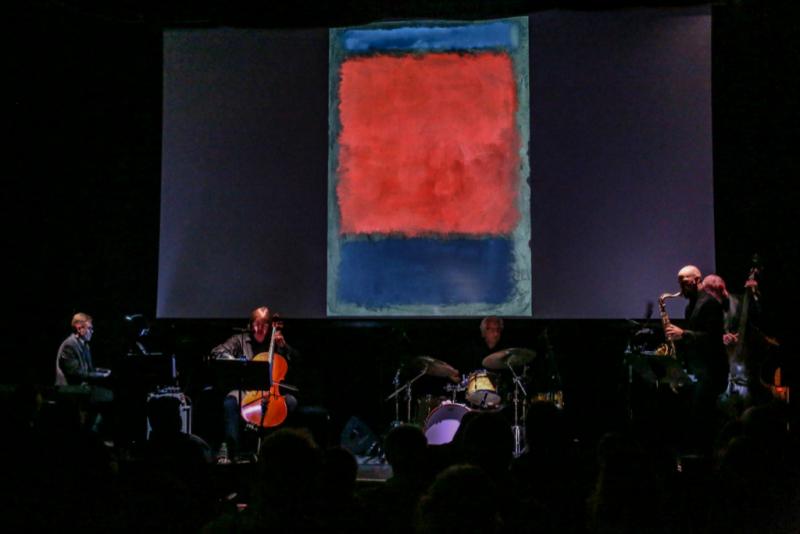 Five players and one of nine Rothkos
One part of the brain, they tell us, responds to visual art and another, quite different, to music; we can't cope adequately with both at once. Which is why I'm often wary of those musical organisations which think that what we hear needs to be livened up with more to see: mixing Debussy with so-called "Impressionists", for instance, or Stravinsky with Cubism.
A case can all the same be made for paintings which inspire composers, and vice versa, even if it's still a stretch to handle both simultaneously. This was the interesting experiment that Latvian musicians have just applied to the work of Russian Jew Mark
Rothko
, born in 1903 in what is now Daugavpils within their borders (it was then part of the Russian empire, and father Rothko emigrated to America to prevent his sons being called up for the Russian army).
Such was Friday evening's event In Kings Place's Hall Two, rejecting simple boundaries including those of pure jazz: the Māris Briežkalns Quintet had commissioned nine Latvian composers from different spheres to choose a Rothko painting and "describe" it in music. What we got was, in effect, a symphony in nine very different movements – some featuring the expected improvisations, others written out from start to finish – with an encore-finale from popular songwriter Raymonds Pauls to mitigate the ultimate sombreness.
Surprisingly, the Rothko Foundation had given permission for the images to be projected (though without the additions Briežkalns, the group's percussionist who introduced each number, would have liked). There were successful correspondences, pieces which pursued their own line and even an interesting test when the screen images got briefly out of sync in the middle; for three of the numbers, you had to think back to the colours you'd just seen and work a little harder to see if you thought the match was good.
It was, to begin with, in Lolita Ritmanis's Against the Current, the only movement to work with a numinously figurative painting, an early work of 1945 (the sequence took us through Rothko's life in art chronologically). Raimonds Macats made a striking start in harmonica unisons with saxophonist Kristaps Lubovs; after this, and until the Pauls finale, he moved to his other instrument, the cello. In Love's Song Ēriks Ešenvalds, a composer we know here for his choral music, got a vibrant kick out of a vibrant Rothko abstract from 1948. Three of the numbers, starting with Peteris Vasks's Autumnal, seemed to pursue their own minor-key lyricism, lacking perhaps the masterly scope of Rothko but close to an essentially Latvian folk melancholy. That was poignantly underlined in Georgs Pelēcis's Black and Gray, though the late picture of that title went deeper; those late Rothko elegies are all the more powerful for our knowing that he was shortly to commit suicide (in 1970).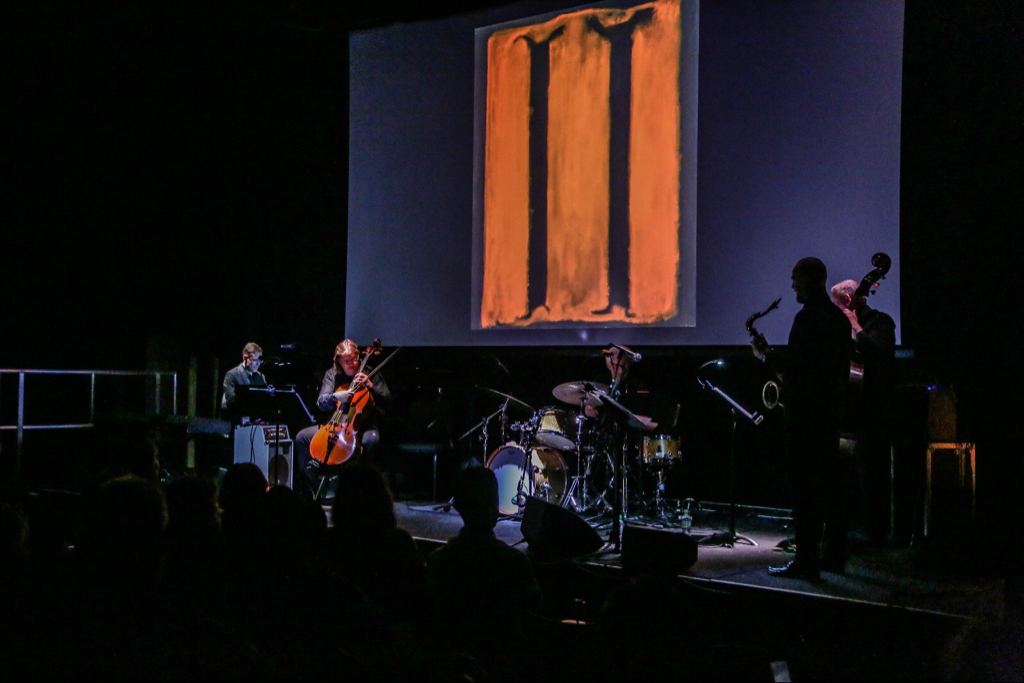 Otherwise, there was so much to celebrate. Vilnis Šmīdbergs's Waltz had a haunting, chromatic, downward-digging riff and eluded a perceptible 3/4; harder still to detect the Three in Two of Jēkabs Nīmanis, accompanying what was for me the most surprising of all the Rothko works (pictured above). Briežkalns promised us this would be crazy, and it was: giddying, original, unpredictable, with the most tumultuous of many extraordinary piano improvisations from the consummate Viktors Ritovs. I wanted to hear the Quintet in action again on Saturday night, in their second London Jazz Festival event, this time with singer Kristīne Prauliņa; but other Latvians, led by the phenomenal Gidon Kremer, were playing in Birmingham under neighbouring Lithuanian Mirga Gražinytė-Tyla, so Baltic loyalties had to be divided. What astonishing musical riches from so small a country.
Composer Ēriks Ešenvalds got a vibrant kick out of a vibrant Rothko abstract from 1948
rating
Explore topics
Share this article