EFG London Jazz Festival, first weekend review - Jeff Goldblum a jazz musician? |

reviews, news & interviews
EFG London Jazz Festival, first weekend review - Jeff Goldblum a jazz musician?
EFG London Jazz Festival, first weekend review - Jeff Goldblum a jazz musician?
Bill Frisell mesmerised, Bobby McFerrin enchanted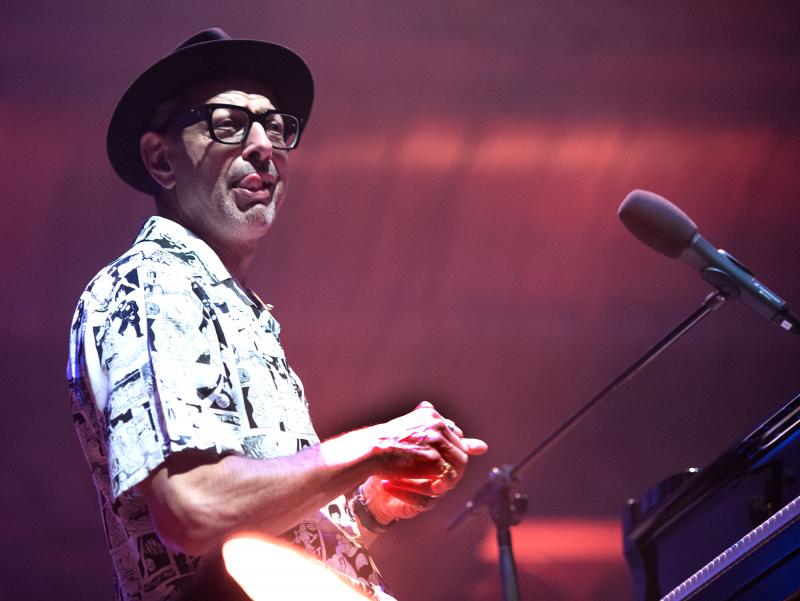 Jeff Goldblum: 'His other band members are able to cover up his shortcomings'
The choice of what to go and hear in the London Jazz Festival can be bewildering: this first weekend of its 10-day run presented over 120 events. I managed to attend eight, of them at least in part, including some of the show that has predictably soaked up most of the media attention: the first of Jeff Goldblum's two concerts on Saturday at a packed Cadogan Hall.
Goldblum's credentials as an A-List celebrity, as an entertainer, as a stage presence, as a charmer, as a quick-witted comic improviser are in no doubt. He can turn literally anything into part of a highly entertaining show and have an audience in his thrall. As a pianist, on the other hand, the cat was already out of the bag about his distinct limitations from a live appearance earlier this month at JazzFM. Musically he is at the level of a pianist who would turn up at a jam session and not get a round of applause. In the live show, his contributions to the music are distinctly rationed, and his other band members are able to cover up his shortcomings very well.
It has been a tonic to see such a diverse range of events so well attended
The core experience of this authentic music, created in the moment, is still to be had in the small clubs, and one of the great things this festival does is to put a temporary marketing umbrella in place for London's incredibly lively and diverse year-round live scene, which mostly happens under the radar in small clubs. The Pizza Express venues are typical. During the festival, these three clubs are very much en parade and will have put on a total of no fewer than 45 gigs by the time the festival ends next Sunday.
On the opening night for the first gig at the Pizza Express Dean Street Jazz Club, the venue welcomed the fine young American pianist Christian Sands with his trio (pictured below by Paul Wood). Sands grew up in Connecticut and was a protégé of the late Dr Billy Taylor, whose main claim to fame was as the composer of the tune "Wish I Knew", also known as the BBC "Film" theme. Sands has been a member of bassist Christian McBride's Trio, and also received the adulation of Wynton Marsalis. He is not quite 30 years old, but has clearly absorbed the playing of the greats, from Art Tatum and Oscar Peterson to McCoy Tyner, Ahmad Jamal and Brad Mehldau. A highlight was the Ray Brown tune "FSR" (for Sonny Rollins) based on "Doxy" which brought to the fore the trio's wonderfully melodic and expressive bassist Yasushi Nakamura, and had the whole trio demonstrating how they can calibrate and sustain a remarkable build of intensity together, and then take it off the boil again.
There were other piano treats to be had on this opening weekend. No fewer than six UK pianists were playing in relay at the subterranean Studio Theatre at The Other Palace in SW1, the venue formerly known as the St James Theatre. They are all top-flight players: Nikki Iles, David Newton, James Pearson, Jason Rebello, Jim Watson and Gareth Williams. Promoter John Billett was an effective master of ceremonies, keeping the mood up in the old Jazz at the Philharmonic style, so this was an occasion to admire these pianists' sense of camaraderie, fellowship and fun, all operating at the top level, yet putting their efforts into collaboration and endless invention.
At the opposite end of the mood-scale was Bill Frisell's solo set at Cadogan Hall. The American guitarist is a master of a slow reflective pace. In his 90-minute set, he would take just a few bars of a tune (like Strayhorn's "Lush Life" or The Beatles' "In My Life"), circle around it to bring out its contours and quirks, and then move on effortlessly somewhere else. Frisell uses a panoply of effects pedals and various kinds of distortion, but the result is that the audience is kept completely involved and attentive. It was the only concert I went to where people took the formal warnings not to use mobile phones to heart.
Circlesongs might be the most involving, collegial, warm, good-humoured gig of the year
The Barbican show Windrush: A Celebration, marking the 70h anniversary, had a constant visual backdrop which was used to create atmosphere and to underscore messages. It was in the form of a revue, with a series of entrances. The excellent band directed/arranged by Jason Yarde created a lively musical backdrop, but in the part of the show that I saw, there was a distinct rise in the level of attention and performance energy when charismatic and hugely experienced veteran calypso performers such as Calypso Rose and Mighty Sparrow took the stage. They provided the highlights.
The festival, a showcase in its own right, also has its showcases. For example, BBC Radio 3 had a two-hour live version of the Jazz Now show. I caught Amir ElSaffar's 17-piece Rivers of Sound Orchestra, and noted that a de-tuned Steinway must be a very rare thing on the BBC's classical music station. The orchestra had some astonishing hidden talent, its engine room including New York jazz heavyweights such as Nasheet Waits on drums and Miles Okazaki on guitar. The Barbican Freestage presented young talent from Italy, notably the group Clock's Pointer Dance from Bergamo, featuring a strong punkish and sassy voice on trombone, Andrea Baronchelli.
My final event of the weekend was a special edition of Bobby McFerrin's Circlesongs (pictured above by John Watson/ jazzcamera.co.uk). This was a rare London appearance for McFerrin, and he had a core group of four American and 12 British singers. They had the Barbican singing along in harmony, bringing in elements of ritual and a lot of call and response. This might be the most involving, collegial, warm, good-humoured gig of the year; and the faithful were properly rewarded at the end with "Don't Worry Be Happy."
There are so many kinds of jazz and music related to it. There are also many audiences, from the contemplative heads-down Frisell devotees through to the sing-along McFerrin admirers. It has been a tonic to see such a diverse range of events so well attended.
Subscribe to theartsdesk.com
Thank you for continuing to read our work on theartsdesk.com. For unlimited access to every article in its entirety, including our archive of more than 10,000 pieces, we're asking for £3.95 per month or £30 per year. We feel it's a very good deal, and hope you do too.
To take an annual subscription now simply click here.
And if you're looking for that extra gift for a friend or family member, why not treat them to a theartsdesk.com gift subscription?