Jazz Voice, Royal Festival Hall |

reviews, news & interviews
Jazz Voice, Royal Festival Hall
Jazz Voice, Royal Festival Hall
Much needed balm for the soul at this year's celebration of song
Saturday, 12 November 2016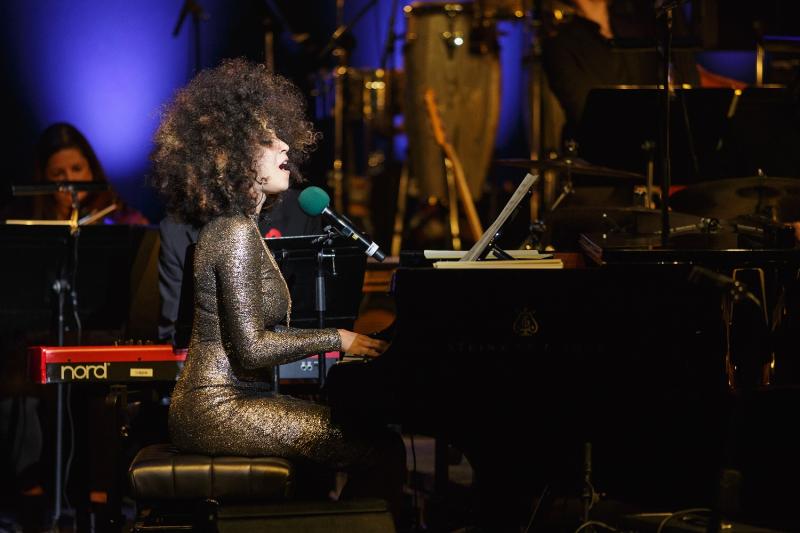 Captivating: US vocalist Kandace Springs
Following the seismic events across the pond earlier this week, an outcome which has left the rest of the world blinking in disbelief, Guy Barker's brilliant arrangements for this year's Jazz Voice offered much needed balm for the soul. Creativity, collective endeavour, community: humanity's finest qualities were in evidence.
Relocating to the Royal Festival Hall this year and hosted by Jay Rayner, this celebration of song announced the opening of the 2016 EFG London Jazz Festival and featured the customary jazz-related anniversaries, birthdays and milestones stretching back from 2016.
Known for his swinging interpretations of jazz standards, prolific US guitarist, vocalist and songwriter John Pizzarelli kicked things off with Paul McCartney's "Let 'Em In" (from Wings at the Speed of Sound, released in 1976), before firing off a fine scat/vocal solo in his second number, "God Only Knows" from the classic Pet Sounds, released in 1966.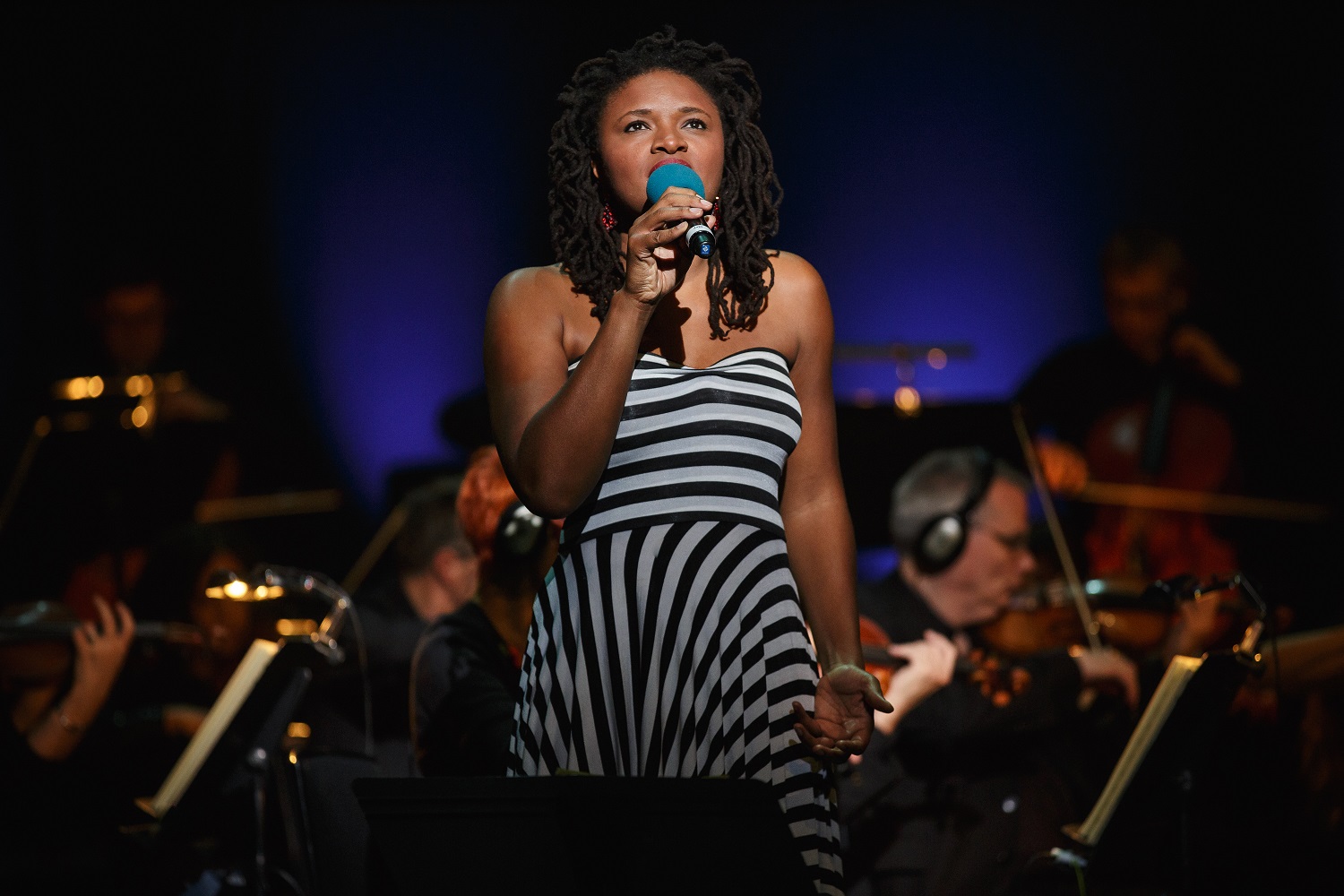 Released earlier this year on Blue Note, Kandace Springs performed the captivating title track of her debut album, Mal Waldron's canonical 'Soul Eyes', returning in the second half for a beguiling interpretation of Ewan MacColl's "The First Time Ever I Saw Your Face". Noted for its eclectic cast of voices, this year's edition welcomed MOBO Award Winner Lady Leshurr, whose freestyle rap "Queen's Speech Ep.4" has been clocking up staggering amounts of views on YouTube. Her take on the reggae anthem "Bam Bam" by dancehall DJ and vocalist Sister Nancy had the audience gamely waving their hands in the air, which reminded me of the Django Bates joke: "I detest audience participation...what do I detest?"
Brooklyn-born, Harlem-based Allan Harris showed why he's a three-time winner of the New York Nightlife Award for 'Outstanding Jazz Vocalist' with a deeply swinging "On The Street Where You Live", which seemed especially suited to his deluxe baritone-tenor voice, plus a similarly glowing reading of "I Wish You Love". Lizz Wright's uniquely expressive voice possesses a kind of redemptive power that goes straight to the heart. Featuring one of Barker's most heart-melting arrangements, Wright's take on the Jimmy Van Heusen/Johnny Burke standard "Like Someone in Love" was the most sublime interpretation of a song I've heard this year. Penned by Mongo Santamaria, the great "Afro Blue" was also terrific, with a fine solo from pianist Dave Newton (Lizz Wright pictured above).
If the almost carol-like tintinnabulations of Jacob Collier's self-penned "Hajanga", from his outstanding debut album In My Room, were a delight, his reharmonised "Danny Boy" – performed entirely solo using his customised vocal harmonizer – was even finer, taking this venerable traditional song on an extraordinarily beautiful harmonic journey (Jacob Collier pictured above).
Vula Malinga, who delighted us at the 2014 edition of Jazz Voice with performances of "Ribbons in the Sky" and "What's Going On", returned with LaSharVu (pictured below) featuring fellow vocal powerhouses LaDonna Harley Peters and Sharlene Hector. Their 1996 medley packed in The Fugees version of "Killing Me Softly" (a monstrous backbeat here supplied by the great Ralph Salmins), Blackstreet's "No Diggity" and Take That's "Back For Good" (released in 1995, winner of Best British Single at the 1996 BRIT Awards). With its intricate layerings, Barker's arrangement of En Vogue's "Don't Let Go" possessed the dramatic heft of a Bond theme, with LaSharVu soaring to ever greater heights at the dramatic key change.
Lauded by none other than Johnny Mandel ("They don't come along very often, but this one's a star"), Polly Gibbons – whose Many Faces of Love was one of the standout vocal albums of 2015 – is a great storyteller. In "Don't Be On The Outside" and the classic Buddy Johnson ballad "Since I Fell For You" she subtly drew you into the song's narrative. Beginning with "Diamonds and Pearls", the final Prince medley came to a rousing finish with all hands on stage for "Purple Rain".
Barker's big orchestral feature paid homage to the music of Miles Davis and John Coltrane (both born in 1926). Sparking off a thousand coruscating shafts of light throughout the exceptional 42-piece London Jazz Festival Orchestra, the Davis/Coltrane mash-up included "Lonnie's Lament", "All Blues", "Giant Steps", "Milestones" and "Blue in Green". A recording of Barker's Jazz Voice orchestral arrangements would be hugely welcomed.