Jazzmeia Horn, EFG London Jazz Festival 2018 review - searching for the unexpected |

reviews, news & interviews
Jazzmeia Horn, EFG London Jazz Festival 2018 review - searching for the unexpected
Jazzmeia Horn, EFG London Jazz Festival 2018 review - searching for the unexpected
Vocalist's high-wire artistry thrills at every turn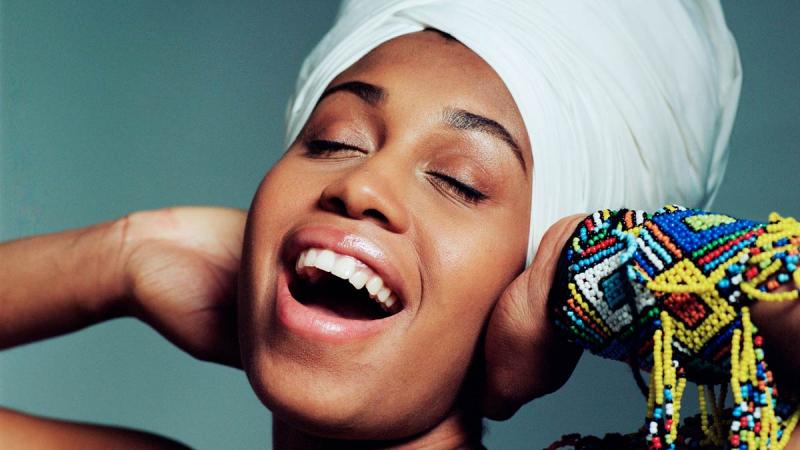 Joyous and fearless: Jazzmeia Horn
Aside from her incredible time feel, exceptional range and consistently beautiful timbre, what was most impressive about Jazzmeia Horn's bravura performance at a sold-out Ronnie Scott's was the sense of joyousness and vitality that coursed through her music-making.
Listening to the singer's phrasing in a blistering, gear-changing account of "Willow Weep For Me", she took more risks during the course of a single chorus than some vocalists do throughout their entire career. And while Horn has always been quick to give her esteemed musical antecedents, vocalists Sarah Vaughan and Betty Carter, their due, the names of Louis Armstrong, Clifford Brown and Roy Hargrove were also irrevocably called to mind as being equally important touchstones.
Horn's never-ending search for the unexpected was a joy to behold
Winner of the 2015 Thelonious Monk Institute International Jazz Competition, the Dallas-born, NYC-based vocalist released one of the singularly most powerful debuts of recent times with her 2017 album A Social Call, for which she earned a Grammy nomination. Hearing her perform some of the album material live, from the way she struck freewheeling scat gold in her thrilling take on Carter's "Tight" to her immaculate legato and finely nuanced ornamentation in the Jimmy Rowles-Norma Winstone classic "The Peacocks (A Timeless Place)" – the latter an intimate piano-vocal duet – Horn's never-ending search for the unexpected was a joy to behold.
The incredibly tight rapport between Horn and her musicians was everywhere in evidence, nowhere more so than a standout interpretation of the Victor Schertzinger/Johnny Mercer-penned standard "I Remember You", which segued in a heartbeat from a dreamy, free time introduction to hard-driving swing, with the vocalist floating over the bar lines and working in a quote from "Have You Met Miss Jones?" for good measure.
Horn's stellar band featured the versatile pianist Victor Gould, a long-standing musical collaborator who has performed with the vocalist ever since her move to New York in 2009, bassist Barry Stephenson, whose fine solo lit up "Sometimes I'm Happy", plus the Detroit-born, NYC-based drummer Henry Conerway III, the latest in a long line of remarkable jazz musicians emanating from the Motor City.
Whether breathing fresh new life into "Night and Day", using her falsetto to soar spectacularly in "What's Going On", or performing breath-taking improvisatory flights on another Carter song "Please Do Something", Horn's fearlessness lifted the soul.
Slated for release in early summer 2019, Horn's follow-up is one of the most hotly anticipated jazz albums of 2019.
Performing breath-taking improvisatory flights, Horn's fearlessness lifted the soul
rating
Explore topics
Share this article