Sweat, Donmar Warehouse review - America at once fractured and fractious |

reviews, news & interviews
Sweat, Donmar Warehouse review - America at once fractured and fractious
Sweat, Donmar Warehouse review - America at once fractured and fractious
Lynn Nottage's Pulitzer Prize-winner emerges even more strongly in London
Thursday, 20 December 2018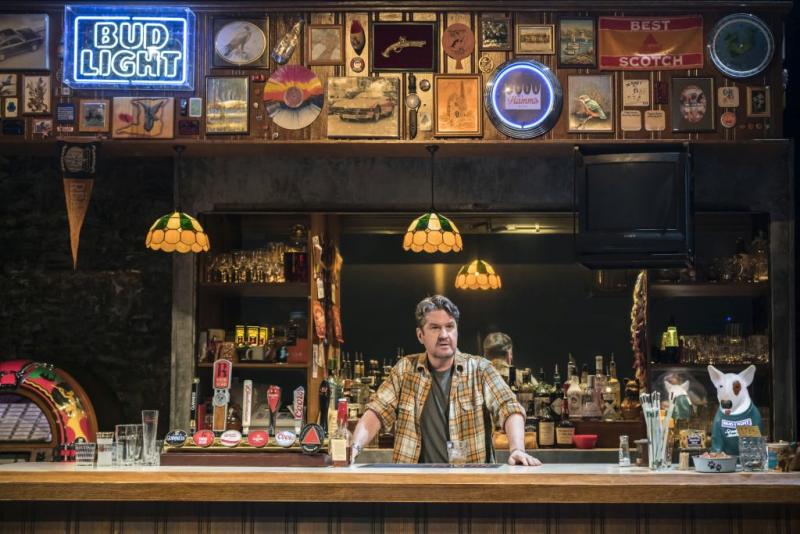 Barman-philosopher: Stuart McQuarrie in 'Sweat'
A tremendous year for American theatre on the London stage is resoundingly capped by Sweat, the Lynn Nottage Pulitzer prize-winner that folds the personal and the political into a collective requiem for a riven country.
But the wounding if sometimes overexplicit writing wouldn't amount to what is yet another feather in the
Donmar
's 2018 cap without an astonishing directing debut at that address of Lynette Linton, who is shortly to take the reins at the Bush. Between Lynton, designer Frankie Bradshaw, and the ensemble cast of one's dreams, Nottage's portrait of a land in divisive freefall could not seem more complete.
All these local assets (and an unbeatable imported one in the return to the London stage after 4-1/2 years of the invaluable Martha Plimpton) are of terrific use to a sterling, deeply felt play that can nonetheless seem a bit structurally gerrymandered – there's a lot of reliance on people's birthdays to push the plot forward – and bald-faced in its message. You half expect Stuart McQuarrie's exquisitely acted barman, Stan, to intone in passing that "attention must be paid," and there's a whiff of Arthur Miller (August Wilson too, for that matter) to some of the generational showdowns that relate to the younger generation's quest for self-improvement – or sometimes not. (Pictured below, Plimpton between Leanne Best and Clare Perkins)
But when the play is at its most natural and fully lived, the evening really soars, buoyed aloft by a collective power absent from the production I saw a few seasons ago Off Broadway, prior to its Tony-nominated Broadway transfer. (It lost to Oslo.) As the most quietly voluble philosopher-barfly since Brendan Coyle in The Weir, Stan gets to observe the shifting fortunes and affections of a Pennsylvania rustbelt community sliding none-too-slowly toward oblivion. These are Trump voters before they had even clocked who 45 would be, here seen swearing off the ascendancy of George W Bush as just another politician who doesn't hear the American heartland.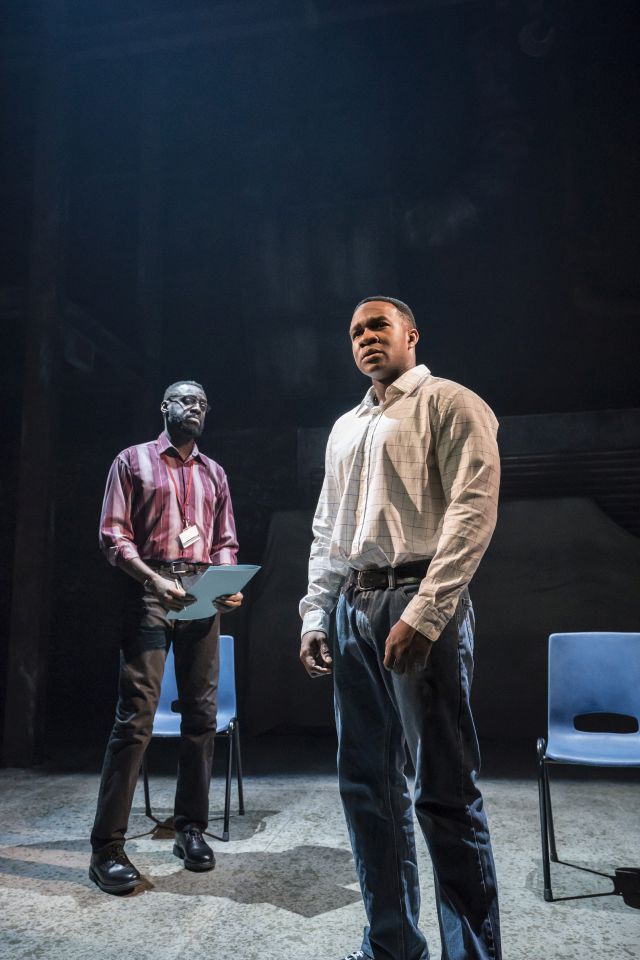 What Nottage both hears and honours are gathering fissures that don't even know themselves, alongside the upending of friendships presumably built to last that can in fact disappear the moment job security and well-being are imperilled. Notwithstanding a clunky framing device set in 2008, the bulk of the play's action rewinds to that decisive year for Dubya, 2000, as it is being warily experienced by the factory-worker barflies whom Stan happily serves, until such time as they turn on one another and ripples of racism and xenophobia come brutally to the surface. The widening chasm is most piercingly felt between besties Cynthia (Clare Perkins, terrific) and the wise-ass, prematurely widowed Tracey (Plimpton in vintage form): Cynthia crosses over into management and is forced to play both sides of an impossible divide once lockouts and layoffs are seen to prevail.
The widening mosaic includes Wil Robinson finding the blighted heart of what could be a terribly stagey role: Brucie, Cynthia's drugs-addled ex as well as father to the aspirational Chris (Osy Ikhile, pictured above right, with Sule Rimi), who is pursuing a fresh career as a teacher away from the environs marked out for him. Chris has a chum in Tracey's readily vengeful son, Jason (Patrick Gibson), whose fears for his family's livelihood result in the scapegoating of the bar's neatly self-aware and articulate Columbian employee, Oscar (Sebastian Viveros, very fine), who regards himself every bit as fully a pillar of this community as the Americans treading financial water around him. (Not for nothing is the N-word employed within the first five minutes; so, too, is the phrase "no sweat", to which this entire play exists as an ironic commentary.)
Linton, as director, detonates the numerous scripted stealth bombs with unerring force. Many of those fall to Tracey, whether she is spreading the fake news that the (unseen) powers-that-be get tax breaks for hiring minorities or is merely remarking "we're not mules", so as to assert her sense of self. (She's markedly less charitable to others and their cultures, deriding Spanish as "gibberish".) But everyone grabs at bursts of self-revelation that more often than not scald, as a community on the verge of extinction clocks the diminished power of the unions and the demands to their workday that lie in wait. Can one therefore look back? "Nostalgia is a disease," says the all-knowing Stan, who one suspects would have a point or two to make about Brexit were he, too, not silenced at the end of Sweat. As to what comes next for such communities, who find equivalents well beyond America? Much of the western world is living with the fallout from that question on a daily basis now.
Sweat at Donmar Warehouse to 26 Jan