Beast on the Moon, Finborough Theatre review - drama of familial displacement packs a quiet punch |

reviews, news & interviews
Beast on the Moon, Finborough Theatre review - drama of familial displacement packs a quiet punch
Beast on the Moon, Finborough Theatre review - drama of familial displacement packs a quiet punch
American play from mid-'90s resonates afresh today
Wednesday, 06 February 2019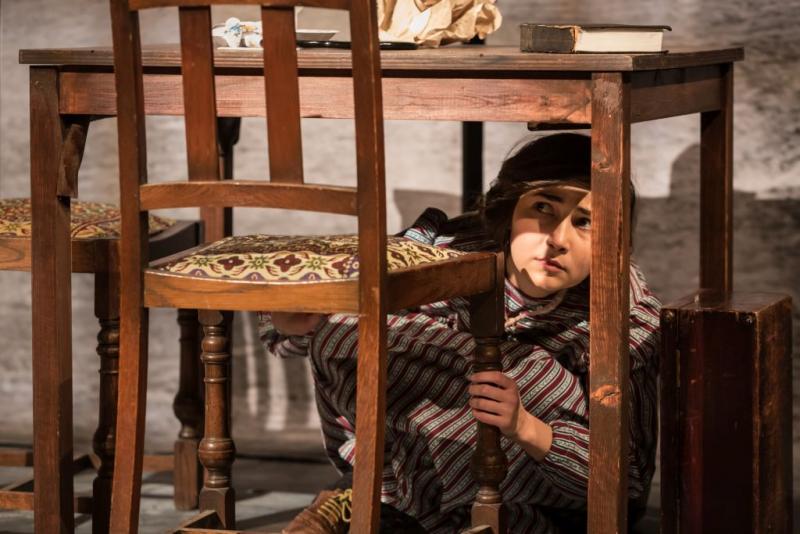 Child bride: Zarima McDermott in 'Beast on the Moon'
In the history of early photography in the Middle East, it was the Armenian Christian traders and their descendents who became the pioneers of the new technology.
Their numbers include the Armenian-Turkish photojournalist Ara
Güler
, "the Eye of
Istanbul
" who died last year and was famous for his signature images of the city. Others found their way to Lebanon, with families fleeing persecution and mass killing amidst the death throes of the Ottoman Empire. Prominent Lebanese-Armenian photographers include Manoug Alemian, born in Hama, Syria, whose land and townscapes record a beautiful mid 20th-century Lebanon not yet wracked by civil war.
Aram, in the American writer Richard Kalinoski's 1995 play Beast on the Moon, newly revived at the Finborough, is one of these Armenian pioneers. His father was the village photographer back home in Turkey; now, Aram plies his trade in Milwaukee, Wisconsin, with increasing success, a camera always to hand. It is 1921 and the fate of his family, both in the pogroms and the massacres in which an estimated 1.5 million people died, is told via the faces cut out of the photograph on the wall. This young newcomer to a new land shows all the symptoms of post-traumatic stress disorder.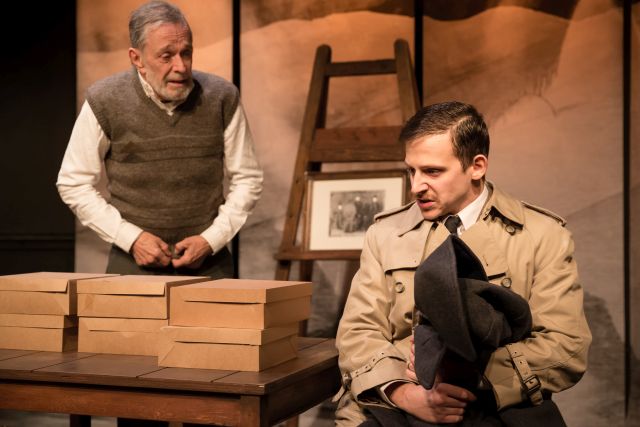 Jelena Budimir's deft production reveals a lovely sepia-tinted set from Sarah Jane Booth giving unto a play that has collected a pocketful of awards and been translated into 20 languages. In some ways, this is old-fashioned playwriting: the story of a marriage in two acts, with questions to be answered and conflicts to be resolved, a blissful clarity of narrative and a beginning, middle, and end. We're dealing with newlyweds in the shadow of savage trauma whose eyes have seen terrible things and who have set out to rebuild, all of which begs the question: can they make it through?
As the play opens, Aram (George Jovanovic, with Hayward B Morse, pictured above) is receiving his child bride Seta (Zarima McDermott) who, like Aram, is Armenian but from Istanbul and has been chosen from photographs of other single survivors. Seta is 15 with the manner of a childish simpleton, but possessed of a wisdom that grows and matures throughout the play: Aram wants her not to hold dolls and to be a woman, and he reads to her hand-picked passages from the Bible in a fierce yet comic desperation to be the young father of the household.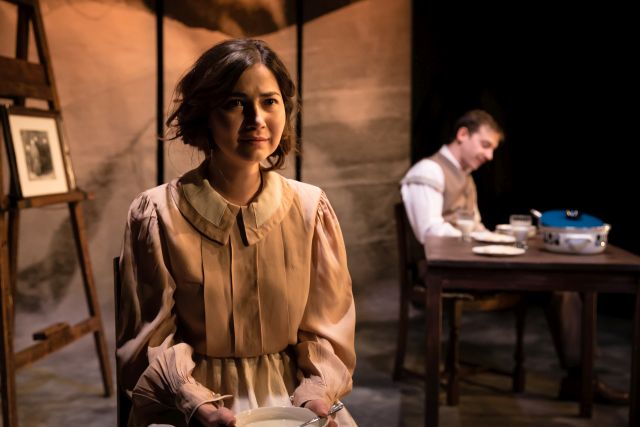 Both Aram and Seta lost their entire families in what is called the Armenian genocide, a term fiercely disputed by Turkey to this day and not as yet recognised by the British or Israeli governments. Their orphaned existence gives the play its horrid universality. Aram and Seta could be Jewish or indeed, today, Syrian and probably tomorrow Yemeni. The Turks bear the brunt of it within Kalinoski's play: when Seta says she has seen a Turk in her angry husband's face, a look of horror comes over him as he realises that he has become an oppressor.
Hayward B Morse provides an excellent anchor as the elderly narrator and amuses as a 12-year-old orphan boy. Jovanovic (with McDermott pictured above) plays the young man desperate to remake what was lost while struggling to find a way to question himself and come out from under his own anger. McDermott moves persuasively from naive émigrée to a burgeoning American Midwesterner who is the one finally to show her husband the way. For all the offstage horror, Beast on the Moon comes laced with charm: a touching and eminently watchable drama.
Read more theatre reviews on theartsdesk