Wild Rose review - how country music can set you free |

reviews, news & interviews
Wild Rose review - how country music can set you free
Wild Rose review - how country music can set you free
Jessie Buckley's starring performance is one from the heart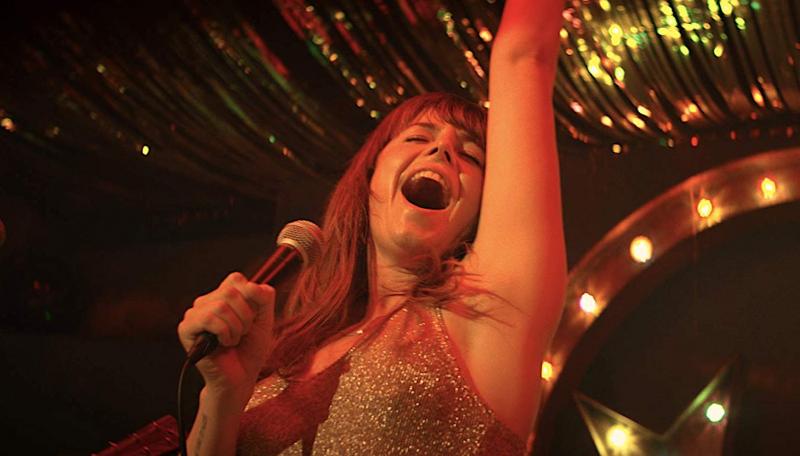 Are you ready for the country? Jessie Buckley as Rose-Lynn Harlan
It was the fabled Nashville songwriter Harlan Howard who commented that country music is "three chords and the truth". Rose-Lynn, the protagonist of Wild Rose, just happens to have the surname Harlan, and she has the "three chords" motto tattooed on her forearm.
Singing country music is the only thing that has meaning for Rose-Lynn, a bossy, brassy 24-year-old Glaswegian single mother fixated on her dream of moving to Nashville and making a career in music. Only snag is, she has managed to blank out the whole motherhood aspect of the equation, and if she's given it any thought at all seems to assume that her mother Marion (a stern and forthright Julie Walters) will sweep up the debris she strews in her wake.
As Tom Harper's film begins, Rose-Lynn (Jessie Buckley) is about to be released from jail after serving a 12-month sentence. She celebrates her freedom by having a quick outdoor shag with an acquaintance named Elliot, before touching base with her two young children, then making a beeline for her favourite old stomping ground, the Glasgow Grand Old Opry.
Here, we gather, she has been in the habit of blowing the bloody doors off with her titanic performances of such country music landmarks as "Born to Run" (the Emmylou Harris one) or Chris Stapleton's "Outlaw State of Mind", with a bit of Patsy Cline on the side. But she doesn't take kindly to the news that her enforced absence has meant that the band has had to recruit a new singer (a micro-role for Craig Parkinson, so fleeting that most of it must have been cut), prompting a petulant, destructive outburst which doesn't bode well for her future prospects.
Scripted by country fan Nicole Taylor, Wild Rose is a fable of hard times, failure and redemption, in which Rose-Lynn has to walk a stony road before she comes to understand what she needs to do and where she truly belongs. It's constructed around its forceful female roles, with Walters superb as the mother who despairs of her daughter's selfish obsession, while also appreciating her burning desire to follow her dreams. There's some unlikely assistance from Susannah (Sophie Okonedo), a benign – saintly, even – middle class woman who doesn't mind that Rose-Lynn is the worst cleaner she's ever employed (she helps herself to Susannah's liquor cupboard, and shoves the vacuum cleaner around while bawling along to the country songs in her headphones). When she learns about Rose-Lynn's musical dreams, she moves heaven and earth to give her a leg up, staging a crowd-funding event and even connecting her with the venerable BBC DJ and country music sage Bob Harris, though Bob's guest appearance is more of a bizarre distraction than a meaningful contribution to the narrative.
But no matter, because the reason you want to see this is Jessie Buckley's tornado of a lead performance. Even since she came second in the BBC's I'd Do Anything talent show in 2008, Buckley has been describing a vivid arc across the heavens, and this performance is guaranteed to bust her out worldwide. She pulls off a skilful balancing act as she portrays Rose-Lynn's anger and ambition, and the empty place inside her which fuels them. She brings it all back home with some stirring and deeply-felt musical performances, powerful enough to set her alongside the Music City icons she idolises. The music really does set her free.