Bake Off: The Professionals, Channel 4 review - farcical but fun |

reviews, news & interviews
Bake Off: The Professionals, Channel 4 review - farcical but fun
Bake Off: The Professionals, Channel 4 review - farcical but fun
Contestants compete to see who can provoke maximum hyperbole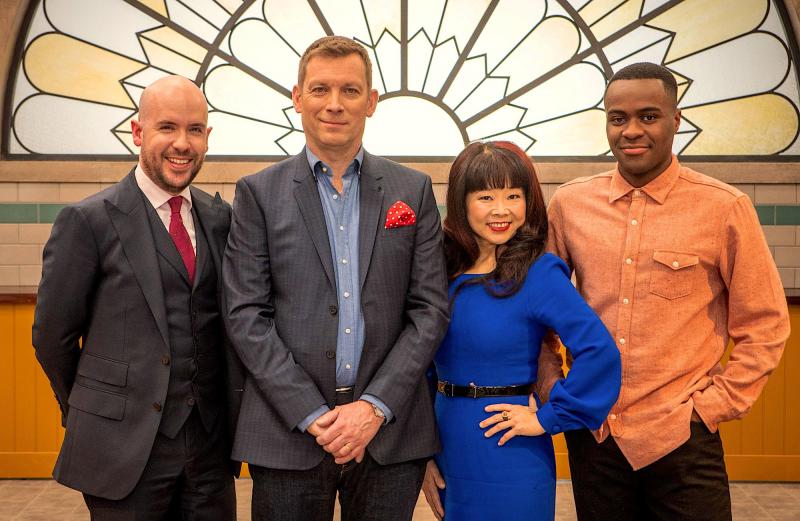 Food fight: from left, Tom Allen, Benoit Blin, Cherry Finden and Liam Charles
TV cooking shows are mostly a pain in the butt. Masterchef, featuring the thuggish Gregg Wallace and John Torode along with India Fisher's excruciatingly arch voiceover, is enough to provoke a massed hunger strike. The BBC's Great British Bake Off may have featured national treasure Mary Berry, but her Miss Marple-ish charm was undermined by the ostentatiously pointless Mel and Sue.
Prue Leith should be running a Victorian workhouse rather than a cookery show.
And so to Channel 4's version of Bake Off, which is at least eccentric and, in finest pastry-making style, lighter than air. The trick with this Bake Off is deciding which are wackier, the bizarre confections dreamed up by the panicking, palpitating chefs, or the judges. Or presenters Tom Allen and Liam Charles for that matter, employed solely to pose about and drop in the occasional condescending one-liner. Allen's most memorable comment in this series two opener concerned some plump, heart-shaped confections, supposedly a "reimagining" of Red Velvet Cake. "Spin them round and they look like arses!" he observed, knowingly. "A lovely thing for the judges to see!"
As blaring musical extracts from Carmen and Peer Gynt turned the emotional atmosphere purple, six pairs of chefs had several culinary mountains to climb. They had to make 24 specimens of Linzer torte – "ze dangeurrr ees sweetness!" warned French judge Benoit Blin – and reinvent the Bakewell tart. It didn't always go well. Poor Daisy, from cake-makers Ange de Sucre, burst into tears when judge-ette Cherish Finden told her "the cherry compote, I did not enjoy eating it at all!" Benoit played good cop: "Everybody's got one bad day. Come on. Allez!"
However, if a chef could tickle Cherry's palate, they might be rewarded with flights of delirium. "It's a spoon of genius for me," she swooned. "Poum! I lift myself up!"
In these perplexing times, it's almost liberating to find people whose lives are wholly consumed by vanilla mousse and beetroot cremeux and creating edible tableaux of Little Red Riding Hood. Even the sky isn't big enough to be the limit to the show's absurd aspirations. As Cherry exhorted the quaking contestants, "It must be big! It must be bold! It must be beautiful!"