Henry Moore at Houghton Hall: Nature and Inspiration review - big views bring new light |

reviews, news & interviews
Henry Moore at Houghton Hall: Nature and Inspiration review - big views bring new light
Henry Moore at Houghton Hall: Nature and Inspiration review - big views bring new light
Works by the British sculptor find new avenues in a superb Norfolk setting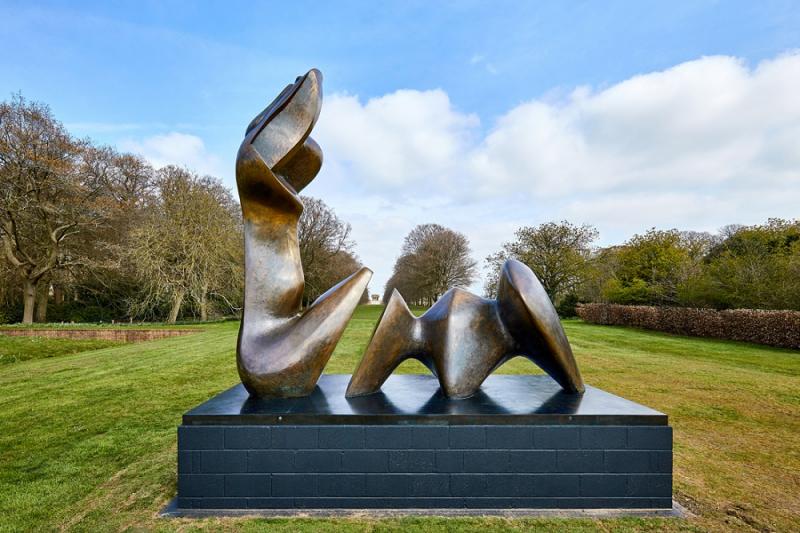 Henry Moore, 'Two Piece Reclining Figure: Cut', 1979-81
Placed in a long and artfully Arcadian vista, earthy bronze subdued against verdant grass and trees, the restless form of Henry Moore's Two Piece Reclining Figure: Cut, 1979-81 (Main picture), both disrupts and is absorbed by its surroundings.
A rampant limb rears snakelike, the energy in its writhing form arrested but not dissipated by a violently efficient cut slicing it in two.
A cut this clean belongs to machinery and cold metal, not to nature, and it is the contrast with the gentle romance of Houghton Hall's 18th century landscaping, complete with its Palladian folly, that draws out the menace in this work. As the clouds shift and the sun emerges, its glinting bulk is transformed into a more playful presence.
Such capricious ambiguity is not chanced upon: Moore believed that the best way to see his work was not in a gallery, but in a landscape of exactly the sort found at Houghton, now one of the country's most important sculpture parks. With exhibitions like this in mind, Moore made fibreglass copies to allow some of his biggest bronzes to travel; the examples seen here, his Large Reclining Figure, 1984, and the hengelike bulk of The Arch, 1963-69 (Pictured below right), lose none of their heft, belying their lightweight materials.
If Moore's work belongs in the landscape, it comes out of it, too, the soft curves and tactile surfaces of weathered bones and sea-washed flints made monumental in his large-scale compositions. His "library of natural forms", a collection of pebbles, bones, shells and driftwood, provided the foundation for his work; an indoor display explores the development of his Spindle Piece, 1968-69, its form refined and balanced, but still recognisably that of a large flint in his collection.
The debris of nature is for the most part banal, and so Moore's response to a gift of an elephant skull in 1968 is no surprise. He set about drawing it at once, and the large collection of etchings he produced – seen here next to the skull itself – show his methodical but enthralled exploration of this alien object. As he moved closer to the skull it revealed a fascinating topography and his describes his excitement at finding in it "so many contrasts of form and shape that I could begin to see in it great deserts and rocky landscapes, big caves in the sides of hills, great pieces of architecture, columns and dungeons." The infinite possibilities of form are Moore's subject, but outside, under the vast and changing skies of Norfolk, they are truly revealed, subtle and dramatic by turns.
If Moore's work belongs in the landscape, it comes out of it, too
rating
Share this article