Thatcher: A Very British Revolution, BBC Two review - demolishing the boys' club |

reviews, news & interviews
Thatcher: A Very British Revolution, BBC Two review - demolishing the boys' club
Thatcher: A Very British Revolution, BBC Two review - demolishing the boys' club
Charting the irresistible rise of Britain's first female Prime Minister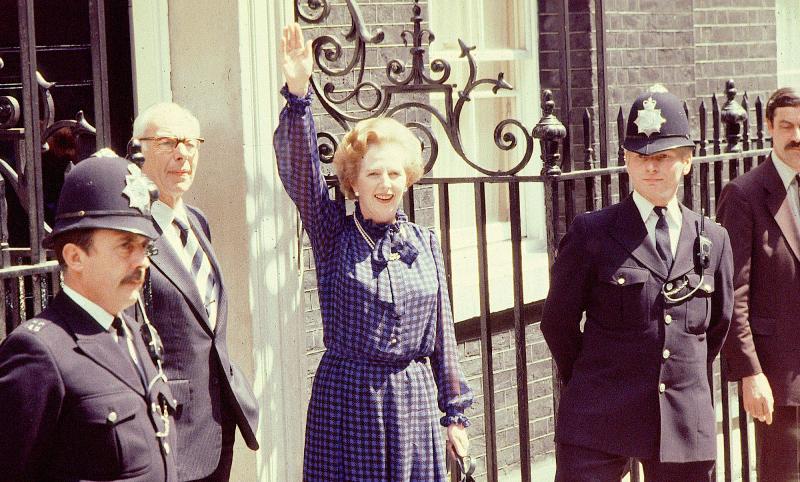 Margaret Thatcher in Downing Street, after winning the June 1983 general election
Mrs Thatcher was Britain's first female
Prime Minister
, Conservative to boot, and regardless of gender her years of leadership were among the most forceful and controversial ever. And it may be just days – May ends in June, as one headline put it – before the second Conservative female Prime Minister bows out amidst Brexit chaos and the potential implosion of the Conservative Party as a capable political force.
In this first episode, Making Margaret, we heard from a roll call of aged politicos. Kenneth Clarke, the most-quoted interviewee, told us she relished the battle and taking on her enemies; and we had the moment when she told us that the lady's not for turning. This led into a wholly absorbing montage of vintage film, television interviews and broadcast speech, interspersed with interviews with the survivors of the Thatcher years.
That voice: careful, prissy, clear, maddening, at times curiously affecting. She was to tell us that she was leading a battle for a Britain free of class conflict. Michael Heseltine, searching for the right adjective, settled for "dictatorial", his distaste still evident. Lord Tebbit adduced that truly great figures are referred to by their surnames, from Wellington to Churchill to Thatcher. Kenneth Clarke was bemused throughout, and described Thatcher as a bizarre character, one of the most unlikely human beings he had ever met, a highly intelligent workaholic, whilst she herself said then that she did not foresee any woman as a Prime Minister in her lifetime. Kenneth Baker was commonsensical, and emphasised her Grantham roots and her attachment to her father.
The most improbable vignette came from the only female interviewee, Shirley Williams, as she recounted coming upon Thatcher taking time out from night-time sittings to iron her husband's shirts in the Ladies Room in the House of Commons. In surprising female solidarity, she told Williams that they should not let the male members of parliament get the better of them. There were surprises all along the way. In 1971, Mrs Thatcher, "milk snatcher", became a national cause when as Education Secretary she cut free milk for the under-sevens. Male members in the House, usually so polite, suggested that the Conservatives should Ditch the Bitch. Prime Minister Edward Heath (pictured above) wanted to sack her, but it would not have looked great to purge the Cabinet of its only woman.
In 1973, there was trade union turmoil and the winter of discontent, and Heath was ousted in the election of 1974. The following year Thatcher decided to stand for the Conservative leadership, and Airey Neave approached Norman Tebbit to help with backing her. Clarke (still bemused) revealed that Margaret Thatcher was one of the glorious accidents of history: if Willie Whitelaw had stood on the first leadership ballot she would never have been elected. In this fascinating kaleidoscope of opinions, Labour's Neil Kinnock told us that under Mrs Thatcher, the Conservatives became for the first time an ideological party.
For the 1979 general election, against a backdrop of a falling pound and British industry in decline, publicist Gordon Reece promoted the Thatcher factor, assisting with speechwriting and voice training and embracing the epithet coined by the Russians, "The Iron Lady". Maurice Saatchi told us Mrs Thatcher was fully aware of the adversarial nature of politics – hit first, hit hard, and keep on hitting. She stood, she said, because of her absolute passion for Britain, and could not bear to see a Britain in decline.
Neil Kinnock told us that under Mrs Thatcher the Conservatives became for the first time an ideological party
rating
Explore topics
Share this article