The Hunt, Almeida Theatre review - tense Scandinoirland drama |

reviews, news & interviews
The Hunt, Almeida Theatre review - tense Scandinoirland drama
The Hunt, Almeida Theatre review - tense Scandinoirland drama
Striking stage version of Thomas Vinterberg and Tobias Lindholm's 2012 film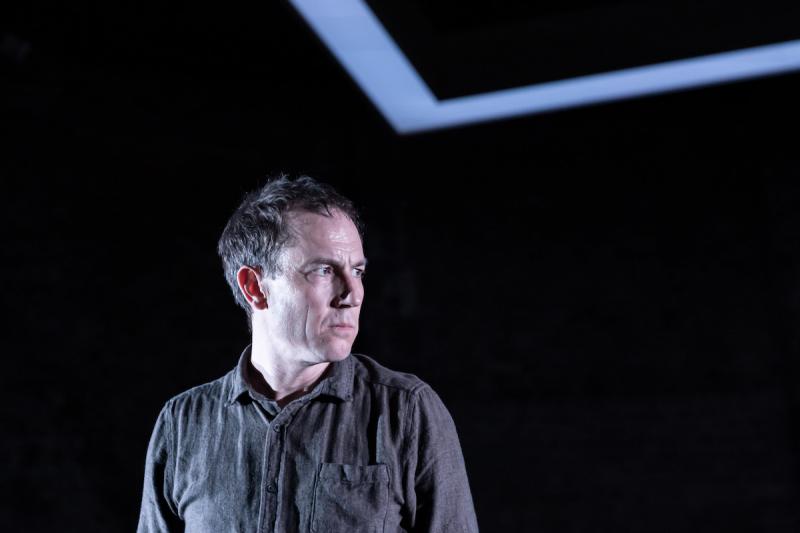 The accused: Tobias Menzies in 'The Hunt'.
For a while, child abuse has been banished from our stages. After all, there is a limit, surely, to how much pain audiences can be put through.
Now, however, the subject is back, thanks to the
Almeida Theatre
's new stage
adaptation
of the 2012 Danish film thriller
Jagten
, by Dogme 95's Thomas Vinterberg and Tobias Lindholm, and which memorably starred Mads Mikkelsen. The plot is about a male teacher who becomes the target of mass hysteria after being wrongly accused of sexually abusing a child in his infants school class, and this version by David Farr effectively turns the screw on our emotions.
Set in a close-knit small-town community, the story concerns Lucas, a divorcee with a 15-year-old son, Marcus, who takes up a job at a kindergarten when he loses his job when his city secondary school closes. At first all goes well, and Lucas is popular with both Hilde the head and the parents, until Clara, a six-year-old pupil and daughter of Lucas's best friend Theo, develops a crush on him. When she gives him a heart and kisses him, Lucas tells her off, and she responds by fabricating an allegation of abuse. As a result the community, led by Theo and his wife Mikala, turns on him, and the metaphorical manhunt begins.
With its echoes of Lillian Hellman's The Children's Hour and Arthur Miller's The Crucible, and its dark view of what both disappointed kids and suspicious adults are capable of, this picture of small-town life seems to echo our contemporary anxieties even more than the film originally did. Because the adults believe the accusations of not only Clara, but of the other copycat children as well, there is an atmosphere of increasing hysteria that builds up. Lucas becomes a real and metaphorical Enemy of the People, as if he was a Remainer in a staunchly Leave area. His sense of isolation comes across most strongly in his relationships with Theo, Mikala and Marcus.
Farr's adaptation ditches Lucas's Russian girlfriend Nadja, which has the effect of making him more of a suspect loner, the classic adult man who keeps himself to himself. It also embraces the idea of male bonding by showing the men of the town at their ritual drinking sessions in the hunting lodge, and how these countryside hunters are examples of a kind of group toxic masculinity. In Rupert Goold's powerfully dark and darkly powerful production there are images of man-stags and minotaur-like animals lurking in the forests of the night. Anyone who goes hunting in this society is likely to come unstuck.
At the heart of the play is the idea that even your nearest and dearest might be strangers. If Clara's accusation is clearly the result of her domestic unhappiness, with a scatty mother and a drunken father, the detail of what she says is shocking to the adults. How can children, who are innocent, know about these things? At the same time, Lucas's estranged wife claims that she does not really know him, and Theo and Mikala have also become mysteries to each other. When one character asks rhetorically that "don't we all put on an act?", you just know that bad stuff will happen.
Like the original film, Farr's storytelling emphasizes the fact that Lucas is innocent from the beginning and thus deprives the story of any ambiguity, and it's odd that Lucas doesn't tell his accusers what actually happened with Clara until the second half of the play. But if you accept this, then the piece's tension does rise and designer Es Devlin's square wooden stage is dominated by an expressionistic glass shed (pictured above) which reflects light and whose claustrophobic interior can effectively be a cold school room, a hot lodge or a crowded church. This intensity is increased by Adam Cork's music, which gives the male bonding scenes a genuinely frightening fierceness.
The acting is thoroughly convincing. Both parts of the play are introduced by Michele Austin's Hilde, who makes her school announcements direct to the audience, while Tobias Menzies's Lucas has a perfect mixture of saintly patience and inner angst. At times, sincerity is written all over his features. Similarly, Justin Salinger's grizzled and angry Theo and Poppy Miller's needy and vulnerable Mikala are very well matched, while Taya Tower, who makes her stage debut, is perfect as Clara and George Nearn Stuart plays her six-year-old friend Peter with enormous energy. This is an emotionally strong and lucid account of a troubling story.
Farr's storytelling emphasizes the fact that Lucas is innocent and thus deprives the story of any ambiguity
rating
Explore topics
Share this article