Edinburgh Fringe 2019 reviews: Joanne McNally/ The Crown Dual/ Maisie Adam/ James McNicholas/ Titania McGrath |

reviews, news & interviews
Edinburgh Fringe 2019 reviews: Joanne McNally/ The Crown Dual/ Maisie Adam/ James McNicholas/ Titania McGrath
Edinburgh Fringe 2019 reviews: Joanne McNally/ The Crown Dual/ Maisie Adam/ James McNicholas/ Titania McGrath
More from the world's biggest and best arts festival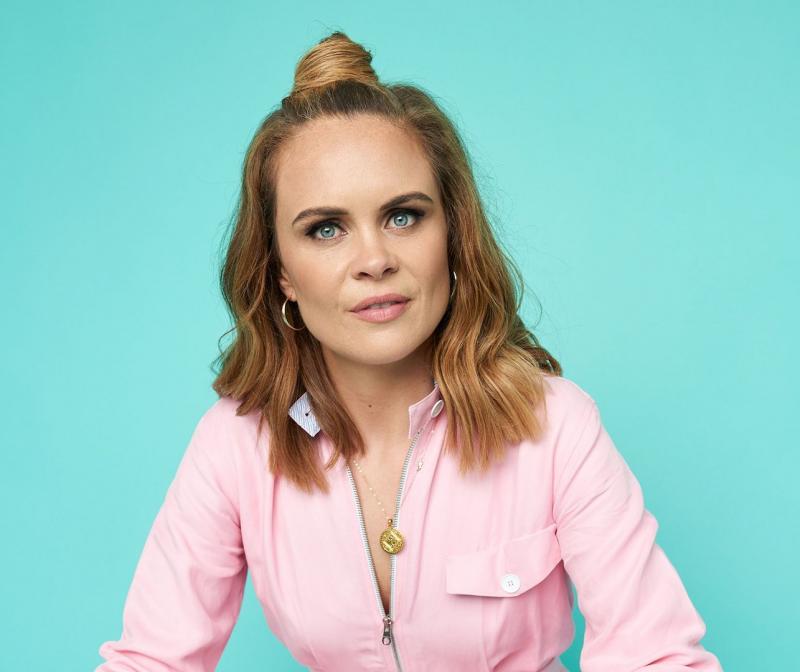 Joanne McNally's show is fast-paced and frequently filthy
Joanne McNally Assembly George Square ★★★★
The area Joanne McNally treads (actually stomps might be a better word, given her fantastically high-energy performance) in The Prosecco Express is not new – she's 36 and wondering if she should settle down and have children, or would that mean settling for less – but the Irish comic makes it her own.
McNally tells us often filthy stories about her friends, married and single, with whom she drinks far too much Prosecco but whose lives give her food for thought. She a natural storyteller and there are some tall stories, but she knows how to mix those in with authentic experience; even the comments about finding a rich man to marry – enough to make any self-respecting feminist groan – are delivered with acerbic Dublin charm.
The jokes come thick and fast – McNally says she doesn't like twentysomethings because she can "hear heir eggs fizzing" – but there are plenty of insights here too, not least about the men in her life. I would have liked to hear more about the toxic long-term relationship she references – maybe that's next year's show – but it leads to some likeable material about returning to the parental home as an adult and being consigned to the attic. As her mum tells her, the bedrooms are for guests.
McNally does a lot of crowd work and is a hugely likeable presence on stage as she delivers her high-octane set.
Until 26 August
The Crown Dual Gilded Balloon Patter Hoose ★★★
Beth Buckingham (Rosie Holt) is an actress with a look of the young Queen about her, so of course she sent her audition tape to the makers of Netflix's successful The Crown series.
At least she gave the tape to her useless agent, the smooth Stan Diamond (Brendan Murphy). He forgot to send it, so has now organised this showcase for the Netflix executive he says is in attendance – actually a member of the audience, one of a few jokily corralled to play minor roles.
The duo race through the Queen's early life (as portrayed by Claire Foy, so cue some insider jokes) before she ascends the throne, while Murphy plays the Duke of Edinburgh, Peter Townsend and Princess Margaret.
Daniel Clarkson's spoof has plenty of jokes (some them real groaners) and visual gags. It's performed with great energy by Holt and Murphy, and directed with aplomb by Owen Lewis. A Fringe treat.
Until 26 August
Maisie Adam Gilded Balloon Teviot ★★★★
Hang Fire is Maisie Adam's second Fringe show and it's a cracker. She has various police mugshots displayed on stage behind her – including those of Mick Jagger and Hugh Grant – and she weaves a most original tale whose connecting thread is that these individuals have transgressed in some way. Should we judge them, and if so, how harshly?
Adam, an infectiously smiley performer, connects these seemingly disparate characters by relating them to her life, her family and her childhood in the North of England. Her mum, a Catholic punk, sounds like a good laugh and her dad says very little, and they are both dedicated Rolling Stones fans.
The comic describes her happy schooldays, too, and gets great mileage out of a story concerning a teenage New Year's Eve house party when her parent were away, and which she lied about when confronted by her mum. Adam's get-out clause, supplied by her grandmother, is a hoot.
The reveal, when it arrives, comes as a surprise; Adam has stealthily – and with some big laughs along the way – plotted her story, going down highways and byways and disguising her real destination, and she neatly upends any judgments we have made. This is a well constructed show with a high gag count.
Until 26 August
James McNicholas Pleasance Courtyard ★★★★
What an unexpected joy this is: a comedy written and performed by actor James McNicholas (who also appears with sketch group BEASTS) that blends his rather more famous grandfather's story with his own, and tries to find connections between two seemingly very different men. It's funny, interesting and – unusually for this genre – doesn't have a trace of mawkishness.
The Boxer starts with McNicholas dressed in a boxer's gym gear, appearing as his maternal grandfather, Terry Downes, a world champion middleweight of the 1960s. He came from a massive west London family, and was nicknamed the "Paddington Express" for his aggressive boxing style. He might have led a rather different life of ducking and diving if he hadn't been directed to a boxing club by a teacher who saw how useful he was with his fists in the playground.
McNicholas tells the late boxer's story, which covers two continents and a world belt, and intersperses it with his anecdotes from his own very different middle-class upbringing in deepest suburbia and what growing up in Terry Downes' shadow meant. McNicholas's grandmother Barb – Terry's widow – who is very much alive and kicking, features prominently and provides several of the show's many laughs.
Until 25 August
Titania McGrath Pleasance Courtyard ★★
Titania McGrath, for the uninitiated, is the Twitter creation of Andrew Doyle (who also co-writes spoof news reporter Jonathan Pie); she is the voice of the "woke" generation, with an opinion about everything and a censorious judgement at the ready.
Her Twitter description is "Activist. Healer. Radical intersectionalist poet. Selfless and brave. Buy my book". She is, however, hypersensitive to criticism and as thick as mince.
Doyle's gender – or heteronormative societal construct, as McGrath might put it – prevents him from presenting Mxnifesto, this live version of his Twitter avatar, so the role is taken by actress Alice Marshall.
McGrath is launching the manifesto for her new party, Shame UK: compulsory veganism and banning free speech figure prominently. She recites dreadful slam poetry while dropping truth bombs about climate change and racial discrimination. She even disses the god that is Pam Ayres for being "a white rapper guilty of cultural appropriation", and tells us that she self-identifies as black. McGrath is "hay-racial", as the pollen count plays havoc with her colouring for a few months of the year.
There's the occasional slam-dunk piece of satire: suggesting that the only way to prevent fascist parties being elected is to create a one-party state shows nicely the internal logic of the idiot McGrath is; her intersectional Baftas are a hoot, as is the hideously long list of alternative pronouns.
But the show is disappointingly uneven and there's a lot that fails to land. The problem with taking something that works beautifully in 280 characters – short, snappy, to the point, and with killer payoffs – on to stage for an hour, is that much of its impact is lost. And making McGrath's narrative that she is an overprivileged trustafarian who skis in the French Alps every year is just broad-brush caricature.
While I may agree with much of Doyle's sentiments when it comes to woke folk wanging on about things they don't entirely grasp, they are a really easy target. And when satirising them moves dangerously close to "it's political correctness gone mad" territory, it becomes mere hackery.
Until 25 August
The jokes come thick and fast but there are plenty of insights too
Explore topics
Share this article