Into the Night: Cabarets and Clubs in Modern Art, Barbican review - great theme, disappointing show |

reviews, news & interviews
Into the Night: Cabarets and Clubs in Modern Art, Barbican review - great theme, disappointing show
Into the Night: Cabarets and Clubs in Modern Art, Barbican review - great theme, disappointing show
Artists's clubs - a vibrant topic dryly realised
Recreation at the Barbican of the bar at Cabaret Fledermaus, designed by Josef Hoffmann
The Barbican's latest offering – a look at the clubs and cabarets set up by artists mainly in the early years of the 20th century – is a brilliant theme for an exhibition.
Established as alternatives to
galleries and museums
, places like the Chat Noir in Paris, Cabaret Voltaire in Zurich and Bal Tic Tac in Rome were hotbeds of creative exploration where members exhibited work, explored ideas and experimented with radical new art forms.
If artist's studios are spaces primarily for solo achievement, where great artworks are produced and reputations made, these clubs were social spaces that fostered collaboration. The intention was to have fun, exchange ideas and change attitudes. The artists danced, sang, produced plays and puppet shows, turned themselves into living sculptures or recited nonsense poetry. Performance art was born, and a new form of political and cultural protest created.
Each gallery is devoted to a single club except when it comes to Berlin. In the 1920s and '30s, the night club scene there became so frenetic that the government plastered the city with posters warning "Berlin stop and think, you are dancing with death". George Grosz, Jeanne Mammen (pictured right: Bar, c. 1930 by Jeanne Mammen), Rudolf Schlichter and Max Beckmann recorded the nocturnal shenanigans in wonderfully acerbic paintings and graphics that are the highlights of the show. Valeska Gert appears on film performing expressionist solos in which she enacted uncouth behaviour. "Because I didn't like solid citizens," she is quoted as saying, "I danced those whom they despised – whores, procuresses, down-and-outs and degenerates."
Precious little footage exists, though, of such.performances designed to get up the noses of "solid citizens", whom the artists scorned and held responsible for the horrors of World War I. Of course, for anyone trying to recreate the ambiance and ethos of the clubs, this creates real problems. The curators have done sterling work, however, in bringing existing material together. Sketches, designs, prints, watercolours, paintings and occasional snippets of film give some idea of the aesthetics of each venue.
The main surprise is the substantial effort that went into setting up and running many of the clubs. Far from being pop-up venues, places like the Cabaret Fledermaus in Vienna and L'Aubette in Strasbourg were architect-designed establishments intended to last. In 1907, members of the Wiener Werkstätte (Vienna Workshop), transformed the basement of a residential building into Cabaret Fledermaus. They lined the walls with 7,000 brightly coloured tiles portraying animals, birds, plants and people as well as abstract patterns while Josef Hoffmann designed everything from carpets, chairs, vases, ashtrays and pepper mills to the distinctive metal pins worn by the waiters. Ambitious productions like Oscar Kokoschka's play The Speckled Egg, performed on the opening night, were publicised with eye-catching posters and accompanied by beautifully designed programmes. (Pictured below left: poster for the Cabaret Fledermaus,1907 by Bertold Löffler)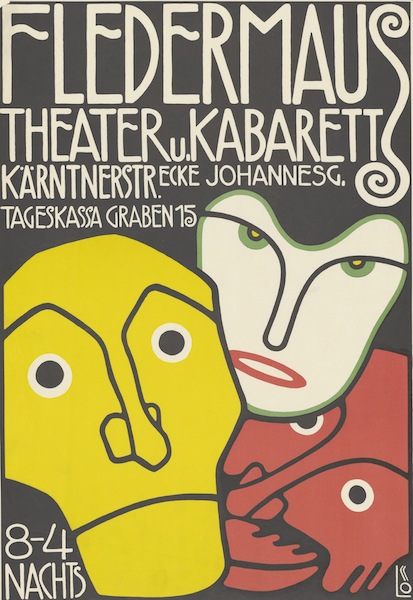 This dazzling space has been recreated at the Barbican (main picture) next door to the dance hall-come-cinema designed by modernist architect Theo van Doesburg for L'Aubette in Strasbourg. In 1928, along with Sophie-Taeuber and Jean Arp, who had been involved in the Cabaret Voltaire, he converted a military barracks into a vibrant cultural centre complete with ballrooms, restaurants, bars, a tea room and cabaret. The walls and ceilings of the ballroom were covered with diagonal slabs of abstract colour which, along with films projected onto the wall, created a sense of constant dynamic shift that was deliberately unsettling.
These recreations are extremely impressive, but they are also empty shells. People are attracted to clubs mainly by the atmosphere, the very thing you can't capture with silent objects and architectural settings. Audiences were drawn in hordes to the Cabaret Voltaire in Zurich on whose tiny stage anarchy reigned. They came to be shocked, amused or outraged, but the exhibition captures none of this excitement. A couple of masks and a few minutes' footage of Tristan Tzara, Richard Huelsenbeck and Marcel Janco declaiming nonsense and Hugo Ball reciting a sound poem don't begin to convey the provocative atmosphere that brought so many punters flocking. To provide further glimpses of the experiments on offer, the curators might have included Kurt Schwitter's Urs Sonata, Luigi Russolo's Futurist sound organs and another Hugo Ball sound poem, all of which are available, even if they were recorded elsewhere.
Without more, desperately needed animation, the exhibition feels like a book on the walls – worthy but essentially lifeless.
The artists danced, sang, produced plays and puppet shows, turned themselves into living sculptures or recited nonsense poetry. Performance art was born
rating
Explore topics
Share this article