Reissue CDs Weekly: Dip - Ḣ-Camp Meets Lo-Fi |

reviews, news & interviews
Reissue CDs Weekly: Dip - Ḣ-Camp Meets Lo-Fi
Reissue CDs Weekly: Dip - Ḣ-Camp Meets Lo-Fi
Collaboration between former Sugarcube and the evolving Jóhann Jóhannsson subverts expectations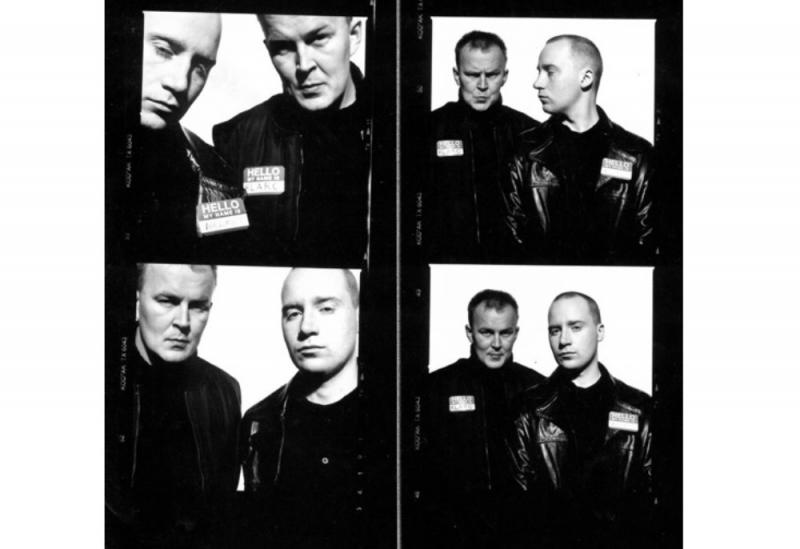 United as Dip: Sigtryggur Baldursson (left in the right frames) and Jóhann Jóhannsson
The temptation with the 20th anniversary reissue of Ḣ-Camp Meets Lo-Fi (Explosion Picture Score) is to look for traces of what came earlier and pointers towards what would come in Iceland's music. The album was credited to Dip, a collaboration between former Sugarcubes drummer Sigtryggur Baldursson and the on-the-up Jóhann Jóhannsson.
The latter soon went on form Apparat Organ Quintet and instigate the arts collective Kitchen Motors. By the time of his 2018 death, he was internationally known for his soundtrack music for Sicario, The Theory of Everything and more, and solo works such as Orphée and orchestral compositions including The Miners' Hymns.
Up to when Ḣ-Camp Meets Lo-Fi was originally issued in June 1999, Jóhann had passed though Daisy Hill Puppy Farm, Ham, Olympia and Unun: all various forms of rock band. With Dip, he was credited with keyboards and programming as he had been a year earlier for the Naturally album by former Reptile singer Magga Stina. He was moving away from rock, and Dip was integral to the shift.
With Sugarcubes, Sigtryggur's relationship with what could be called rock was always ambiguous as the band defined their own standpoint. These days, his music slots more comfortably into jazz. In 1997, before the release of Ḣ-Camp Meets Lo-Fi, he lived in Madison, Wisconsin. There, he had his own studio where he recorded CDs of his drum patterns, used by musical tech companies to create digital loops for use in recordings by others. It is this process which led to the basis of recording of the album: Sigtryggur created rhythms and Jóhann elaborated on them.
After this, vocalists were brought in: Magga Stina, Sara Guðmundsdóttir (who later worked with Marc Almond), Sigur Rós's Jónsi (credited as Frakkur), the soprano Ása Júníusdottir and Emilia Torrini. Further instrumentalists included guitarist Pétur Hallgrímsson (subsequently a regular player with John Grant) and the veteran percussionist Steingrímur Guðmundsson. The album was issued by Smekkleysa, co-founded by Sugarcubes and the then-recent new home of Sigur Rós.
All of which invites another temptation: to see the sole Dip album as a distillation or refraction of aspects of Iceland's music scene.
It could be this by dint of who was behind it and on it, but the core ethos is avowedly internationalist. "Come Out", sung forcefully by Emilia Torrini, is a cousin of Propellerheads' international 1997 hit "History Repeating". "Love in the Time of Science", also with Emilia, is slower, again filmic and nods towards trip-hop. "Skyscraper Heart", sung by Jónsi, shares the affinity with trip-hop but the jazzy, beat-driven workouts "Problematique" and "To Safely Sail, Past the Bar" are in the Italian crime soundtrack bag.
What was originally released on CD has been resequenced and trimmed for vinyl
Contrast these with the also jazzy "10% More Free" (sung by Sara Guðmundsdóttir) and "Trampoline" (sung by Magga Stina) which are Icelandic in the manner it's thought of in the Sugarcubes/Björk way, and the result is an album conforming with and subverting expectations.
For its reissue, what was originally released on CD only has been resequenced and trimmed for vinyl: "Mind in a Vice" and "Munich Apocalypse" are excised. No matter, as the new Ḣ-Camp Meets Lo-Fi (Explosion Picture Score) works as a two-sided album with the necessary ebb and flow.
As to whether it has traces of what came earlier, there are the intermittent flashes of Sugarcubes-ness. And as a pointer towards what came later for Jóhann Jóhannsson, there's the album's inherent affiliation with soundtrack music but stylistically – no. Instead, what's revealed is that the future Academy Award, BAFTA and Grammy nominee and Golden Globe winner was still finding his feet.
Next week: 50th Anniversary reissue of The Kinks's Arthur Or The Decline and Fall of the British Empire
Jóhann Jóhannsson was still finding his feet with Dip
Share this article