The Mask of Orpheus, English National Opera review - amorphous excess |

reviews, news & interviews
The Mask of Orpheus, English National Opera review - amorphous excess
The Mask of Orpheus, English National Opera review - amorphous excess
Daniel Kramer's camp carnival defuses any focus in Birtwistle's bruising score
Saturday, 19 October 2019
Peter Hoare and Alfa Marks surrounded by multiple Eurydices
Advance publicity overstated the case for The Mask of Orpheus. "Iconic"? Only to academics and acolytes, for British audiences haven't had a chance to see a production since ENO's world premiere run in 1986. "Masterpiece"?
Sitting there after the second interval 33 years ago, surrounded by empty seats long vacated (by fellow critics, shame on them, among others), and facing a third act with a sense of fatigue, I hardly thought so then. And though I can hear the virtues more clearly now, the dead directorial hand of Daniel Kramer has turned an already complex, sometimes obscure layering of multiple myths and ritual repetition into amoebic dysentery.
Respect, though, for Birtwistle's long and punishing score as well as its valiant performers. Certainly its persistence is important for the history of opera, if not (arguably) for opera. Slice into any part of the overripe fruit and the multicoloured mottling is impressive. Striking clarinet parts, rising to screams, bending lines and growling, turbulent brass have become a Birtwistle hallmark - too repetitiously so, some might argue. Yet while you have to admire a composer so persistent in his non-linear arguments, The Mask of Orpheus came, in 1986, as a gelatinous disappointment after the specific music Birtwistle had written for Peter Hall's groundbreaking, multimasked National Theatre production of The Oresteia.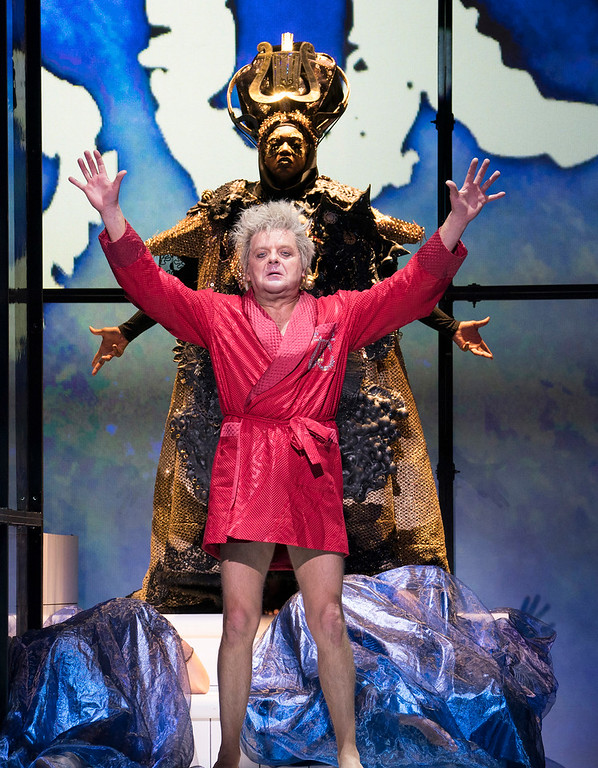 Both approaches to Greek myth seemed to celebrate it for its apartness, its primitive roots, rather than what it has to tell us today. Which is fine when spoken word dictates the pace. Here, as in Gawain, vocal lines mostly seem plastered at random over a thick instrumental paste which seems to have no interest in telling a clear story. Add to that the electronic interludes of the outer acts and the one towards the end of the seminal second, evolved by Birtwistle and Barry Anderson at Paris's Institute for Research and Co-Ordination of Acoustics and Music (IRCAM), and the interchange and interplay of orchestra and recording hold just about enough interest over three long hours.
Add Kramer to the mix, though, and the multiple stories with their action replays, which need absolute rigour, get smothered in what's supposed to be a savage parade but looks, thanks to costume designer Daniel Lismore's glittering excess, more like a Swarovski-themed runway pageant in RuPaul's Drag Race (which is not to denigrate Lismore; Ru's American queens can be magisterial in their invention). Orpheus 1 is an old rock star - that idea seems to get lost later on - clambering out of a bath like a raddled Eddie Izzard to turn into Danny La Rue (pictured above with Claron McFadden), though every praise to Peter Hoare for stamping his vivid vocal identity upon a taxingf role created by the late, great Philip Langridge. The supporting men are just clowns: Kramer seems to be replaying the Birwistle opera with which he had some success, Punch and Judy.
It eventually transpires that Kramer is going for a Day of the Dead pageant, cued perhaps by Damien Hirst's glitter-encrusted skull. What do we get to understand? That the relationship of three Orpheuses and three Eurydices (Claire Barnett-Jones pictured right) - here sometimes more - has been an abusive one, that the woman gets finally to enact her vengeance on the man. Kramer respects the repetitions, giving us something to hold on to. Don't ask where the babies, bits of which get put through a blender in Act Two, come into it. There are flashes of recognition in the other tales being told as a glass box glides across the stage - that must be Venus Anadyomene with her shell-covered pudenda, that Adonis with a boar tusk, though the rest are anyone's guess - and the choreography, by Barnaby Booth, works well with the difficulty of Birtwistle's subterranean rhythmic drive.
But the big botch is the crucial second act, where Orpheus faces the 17 arches of Hades and is supposed to lose Eurydice again and again. Peter Zinovieff's text is loose, but not lazy. Kramer takes the sound and fury to signify whatever you want them to, and while the outlines of a real face sometimes emerge in the score - the smokiness of a rare saxophone solo in amongst the wind, brass and percussion, the ghost of a real dance, the desolate calm after the storm - they're not to be found onstage.
You realise here why the flat, non-directional vocal amplification is necessary, but it simply adds to the assault. Nevertheless Hoare, the vocal Eurydices - Marta Fontanals-Simmons (pictured above) and very promising Claire Barnett-Jones - and the mythic Andrews Sisters (Charlotte Shaw, Katie Coventry and Katie Stevenson) transcend the coarse miking. Claron McFadden does what she can with a ludicrous coloratura shriek-fest, fortunately boundaried as Ariel in Adès's The Tempest was not. The aerialists and dancers are beguiling to watch, while Martyn Brabbins and James Henshaw serve the valiant conducting honours. It's an impressive feat to have pulled off, but to what ends I'm still not sure. Kramer is now about to leave the building, his place to be taken by Annilese Miskimmon, who has a good track record in administration but barely more success on the production front. ENO stumbles on, but its performers keep yielding gold regardless; they always have and they always will.