Pose, Series 2, BBC Two review - satisfying return for one of TV's most triumphant dramas |

reviews, news & interviews
Pose, Series 2, BBC Two review - satisfying return for one of TV's most triumphant dramas
Pose, Series 2, BBC Two review - satisfying return for one of TV's most triumphant dramas
Ryan Murphy's excellent series about 1980s ball culture is getting grimmer, but it's still a whole lot of fun
Saturday, 26 October 2019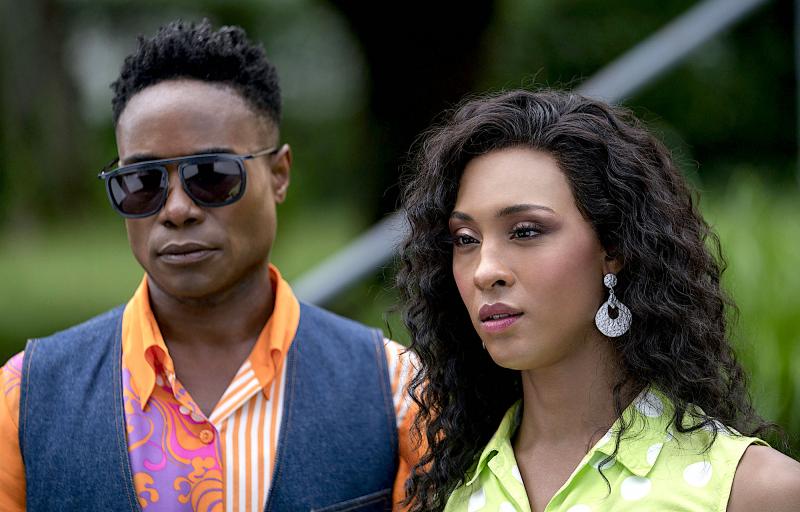 Sombre but uplifting: Pray Tell (Billy Porter) and Blanca (MJ Rodriguez)
Pose offers something that is really rare in the TV world: it's a show that manages to be both darkly sombre and completely uplifting.
The
drama
, which is about
New York City
's 1980s ball culture, focuses on the lives of trans women and gay men competing for glory in the ballroom while fighting for their lives on the streets.
The first series was intoxicating. It was fast-moving, beautifully shot, and more camp than the Met Gala. It introduced us to a sprawling cast of talented trans actors. It told a nuanced and harrowing story about the love and loss of a community torn apart by HIV. Pose's second series, premiering on BBC Two, looks like it will be as warm, as sad, and as excellent as the first.
This series begins on a very dark note. Blanca (MJ Rodriguez) and Pray Tell (Billy Porter) visit the unmarked grave of Pray's ex, who has died with HIV in his mid-twenties. Soon after, Blanca learns that her own condition has worsened, and her diagnosis is reclassified as AIDS. Angel (Indya Moore) enters a modelling competition in a bid to get out of sex work, and Pray attends his first ACT UP rally. He then marshals everyone to a protest. These sober scenes play out to a soundtrack of Madonna — "Vogue" is the hit of the summer and, as the Nineties commence, there are glimmers of hope for greater community acceptance. And despite all the dark content, there are still glamorous costumes and bitchy takedowns and all the big-hearted fun for which the show is best known.


Pose continues to be anchored by its actors' moving performances and its characters' utter likeability. As Pray, Porter amps up the politics while exhibiting the same empathy and panache he displayed in the first series. As Angel, Moore steals many scenes, with their unfair combination of being easy to root for as well as mesmerisingly beautiful.

There was one slightly stilted moment — an outburst by Elektra (Dominique Jackson, pictured above), who has been given one of the most erratic character arcs. But moments like these remind us that Pose dares to celebrate things that are often maligned by mainstream culture. One of those things is melodrama. Elektra brings it with force, and is a foil to the show's simpler, more serious moments.

Something about this season feels even fresher than the first. Absent is last series' focus on suburbia, which contributed to its Mad Men-like quality. But this absence is not a bad thing. With this second series, and with a third in the works, Pose is developing a striking and singular identity — it is getting harder to describe it through reference to any other show. Here's hoping that this series continues to celebrate that distinctiveness. Pose is an electrifying, unstinting representation of a community coming out of the shadows. Tonight's return was a pleasure to watch.