God's Dice, Soho Theatre review - overlong and overblown |

reviews, news & interviews
God's Dice, Soho Theatre review - overlong and overblown
God's Dice, Soho Theatre review - overlong and overblown
David Baddiel's debut play tackles a big issue
Alan Davies plays a quantum physicist teaching at a provincial university
David Baddiel is a very fine comic, and over the past few years has become an acclaimed author of children's books. So I'm genuinely sad to say that his debut play at Soho Theatre really isn't very good.
God's Dice
does have its moments, for sure, and some laughs, but at two hours, 15 minutes it's massively overlong and over blown.
Baddiel has set himself a big task by tackling a big issue – the interface of science and religion. Alan Davies plays Henry, a quantum physicist teaching at a provincial university, whose certainty about the world is shaken when Edie (Leila Mimmack), a young Christian student, asks why all the wondrous things he describes could not be the work of God.
To the consternation of his rationalist wife, Virginia (Alexandra Gilbreath, pictured below), who has written several books debunking patriarchal religious belief, Henry then starts writing a book with Edie, which posits mathematical explanations for the Bible's miracles. Their friend, would-be lothario Tim (Nitin Ganatra), like them a middle-aged academic, is envious of the time Henry spends with Edie, and is convinced Henry must, like him, want to sleep with her.
This sets things up for all sorts of conflict, then – intellectual, personal, political, academic – but Baddiel doesn't inject any narrative drive, and the characters are merely mouthpieces for ideological debates and the occasional good joke. Watching a scientific lecture from 1964, Henry tells Tim he is checking it's OK to show it to today's students; Tim agrees, saying scornfully that the academic "may have misgendered a proton".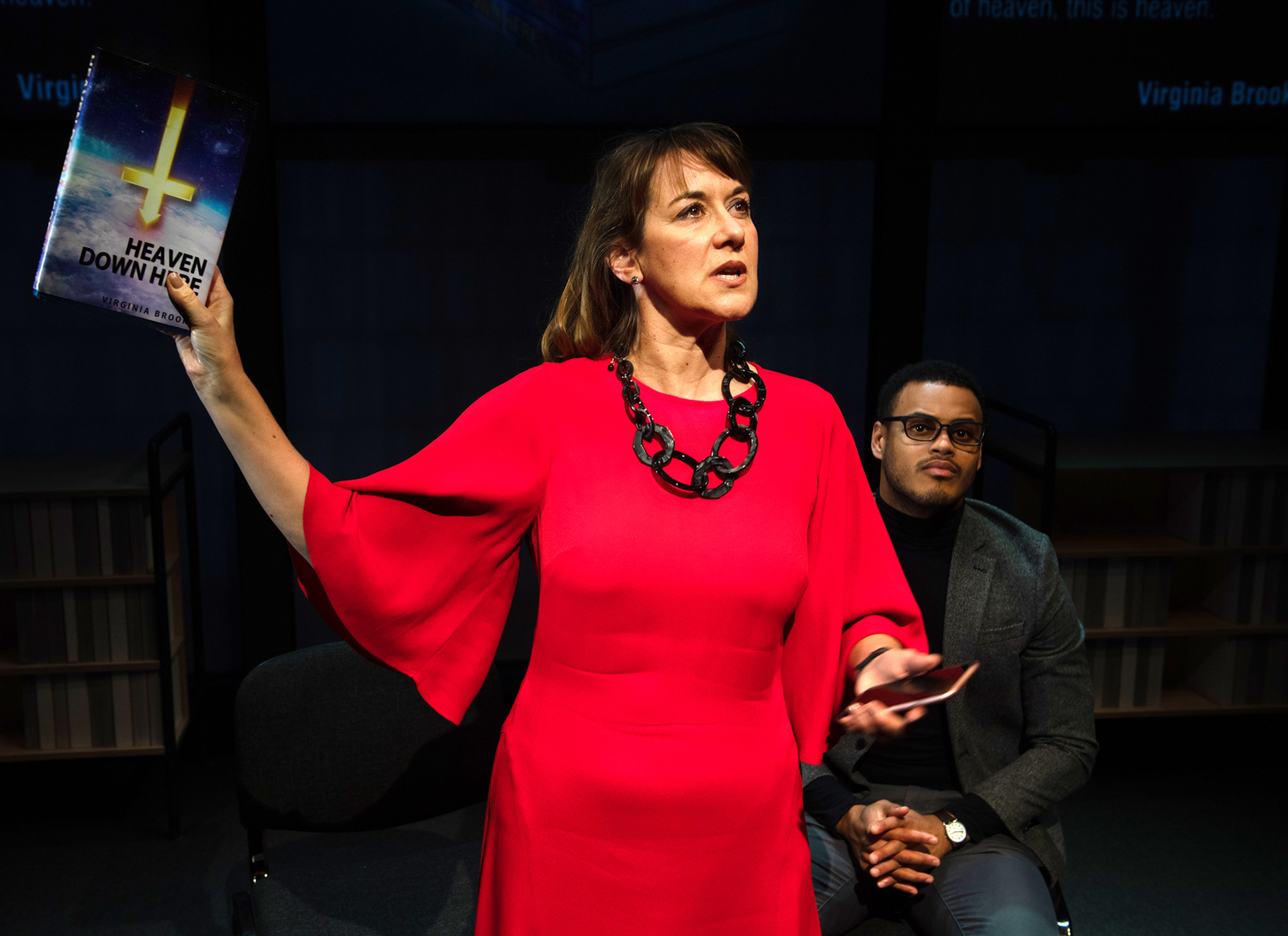 The scientific discussions are fun (the religious ones less so) but the characters don't ring true; Edie is particularly unbelievable as she moves from one cliché to another – of star student to demonic culleader. And the notion that Henry's book will be taken up as the new gospel just seems silly.
As we move – slowly – towards the daft denouement, Baddiel throws in even more ideas, about student wokeness, online hate, stale marriages and the male midlife crisis. The play implodes under the weight of them.
The cast give it their all but matters aren't helped by James Grieve's ponderous direction. This might have made a cracking one-hour play about rational versus religious belief but sadly when it finally ends it comes as a welcome redemption.
God's Dice at Soho Theatre until 30 November

As we move – slowly – towards the daft denouement, Baddiel throws in even more ideas
rating
Explore topics
Share this article