Dido, Maida Vale Studios review - old hits bring unresolved irony |

reviews, news & interviews
Dido, Maida Vale Studios review - old hits bring unresolved irony
Dido, Maida Vale Studios review - old hits bring unresolved irony
Percussionist Jody Linscott was a star in the backing band
Tuesday, 10 December 2019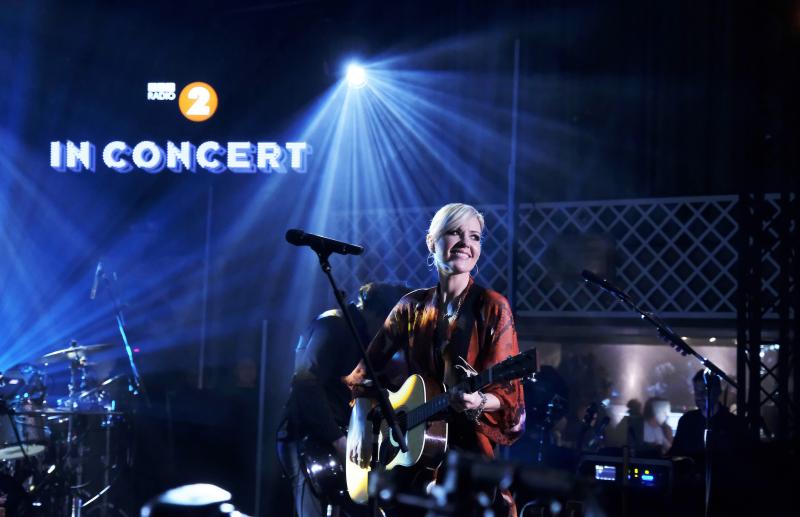 Dido - 'that distinctive voice has left its imprint on public consciousness'
She's back. Dido stopped touring in 2004 and stayed away from it for 15 years. But since starting again in March of this year, she has gone at it with gusto and performed well over 50 concerts, with last night's Maida Vale session for the series BBC Radio 2 In Concert, introduced by Jo Whiley, her last-but-one of 2019. And she will be setting off again next summer.
Dido racked up sales of over 40 million with the albums from the 1999-2004 period, so these songs and above all that distinctive voice have left their imprint on public consciousness. With the benefit of two decades of hindsight, Clive Davis's prescience in knowing and insisting, from having heard just one track by her, that he wanted that voice on the Arista label, should surely be seen as a stroke of genius.
Her back catalogue stayed front-of-mind into the streaming era as well: her biggest hits, "Thank You" from No Angel (1999) and "White Flag" from Life for Rent (2003) have had well over 100 million Spotify plays each. And therein lies a certain anachronism. Dido's aura, particularly now, is of confidence, good health and well-being, and yet these are songs of inexperience and jejuneness. "Thank You" is now introduced with a knowing grin as "a little song I wrote in the bath". I heard one, possibly typical member of last night's audience saying that the gig had taken her straight back to her teenage years. And perhaps that is the appeal for that particular demographic: Dido's songs and her cheerful on-stage demeanour tend to channel the impression that suffering and depression have invariably been done and dusted.
There is an anachronism here, and it bring questions with it. The lyric "Nothing I have is truly mine" from the song "Life for Rent", intoned by a (presumably) materially extremely well-off and contented 40-something now has a post-truth ring to it. And "See You When You're 40", intended at the time of its writing to be construed as a brush-off and insult, now makes no sense at all. Although she didn't perform it last night, the song forms an intrinsic part of the almost unvarying standard touring set list that she and her band have been performing this year. Yes, her songs are now out there, and it is too late to iron out their ironies.
And the music? Last night's set was an exposition of the craft and the science of Dido's chosen form, the sub-four-minute single. The electronic dance music influence allows an extension of the opening riff to settle in more and to get under the skin. The first sections of the song often have insistent dominant pedal waiting to be released and resolved, and that creates a sense of building anticipation each time as one waits for each tune's main melodic hook to be revealed and then driven home.
The songs from the new album Still on My Mind feel more of an extension of familiar tropes rather than an obvious development. That is particularly the case for Si Hulbert's song "Give You Up" which takes both the upward scoop into falsetto and the teasing, nagging interval of the rising minor sixth from "Thank You" and proceeds to cement them earwormishly in the mind. There is, however, a different, purer dance vibe to the song "My Boy" which is from Dido's project with her brother Rollo, R Plus.
One genuine star in the backing band whose contribution to the live show was consistently joyous and invaluable last night is Massachussets-born percussionist Jody Linscott (photo left by Patrick Španko). Her variety of timbre and touch and the depth and variety to the groove were remarkable. And her brief excursion into Cuban cross-beats with a hint of the Santería was a highlight of the set.
The Maida Vale session is available on BBC Sounds, and the show was also filmed for transmission on BBCFour television on 15 December at 12.05am