Eva Meijer: Animal Languages review - do you talk crow? |

reviews, news & interviews
Eva Meijer: Animal Languages review - do you talk crow?
Eva Meijer: Animal Languages review - do you talk crow?
Engrossing and accessible overview of the animal world's secret conversations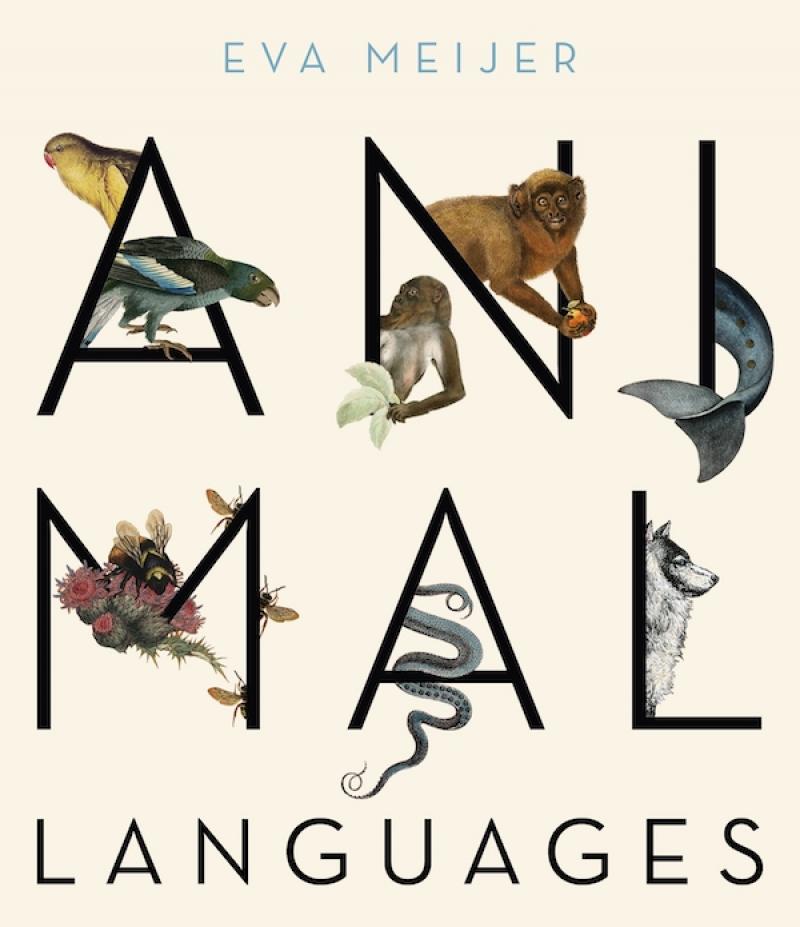 They're everywhere! You just need to listen
Animal intelligence has come to the fore as an essential and fashionable subject for study. Dolphins, elephants, bees, prairie dogs, gannets, whales, baboons, wolves, parrots, bats – not mention lance-tailed manakins and grey mouse lemurs – are just a few of our fellow creatures whose social behaviour is the subject of this pithy, elegant book.
Although her book is dedicated to a number of animal companions, Eva Meijer does not approve of pets. Yet as any pet owner or farmer knows, groups of dogs, cats, cows, pigs and chickens can communicate. We acknowledge animal emotion, and recognise what appears to be grief, affection, altruism and empathy. But behind the wealth of incidents and episodes Meijer relates is another more difficult question: What is language? Does it imply concepts, memories, topics beyond the conveyance of information, something more than announcements such as "beware the predator!" and "here is food"?
Everything living it seems has ways of – and reasons for – communicating. Warnings, fights, assistance, mating – all of these depend upon language of some sort – but what, exactly, is being said? Are they exchanging information, expressing emotion? Is there a syntax, a grammar, a language? Body language, sense of smell, hearing and sight, even changing skin colour are crucial for communication the animal world, in which humans also feature. The range of communicative methods, which is wide, comes under scrutiny. The reef squid and the remarkably clever octopus communicate using the colour patterns of their skin. Wolves, we learn, howl and sing longer and louder to those in the pack with whom they have the closest relationships. Humpback whales combine short and long phrases into melodies, repeated in different keys; their song may be made up of as few as six elements to as many as four hundred. Male humpback whales sing for six months of the year and sing new ones each year.
Eva Meijer is not a behavioural scientist conducting experiments. She prefers to describe herself as a novelist, poet and songwriter who also teaches a university course on animal philosophy. In Animal Languages she has called upon all the latest research. This spaciously printed and beautifully designed short book contains a hefty bibliography. She quotes from the Greeks to remind us of our millennia-old relationships with our fellow earthly inhabitants and refers us to the human study of animals from Darwin onwards.
She writes in a pleasingly accessible manner and concentrates on what might be considered eavesdropping. The languages are not secret – we just don't pay proper attention. Her seven chapters – from 'Speaking in Human Languages' to her sharp conclusion, 'Why We Need to Talk with the Animals' – are on the surface a readable compendium of charming and startling stories of animal communication insofar as humans can understand the conversation. Most are based on scientific experiments. Meijer points out the profound flaw that as humans, we are one species trying to figure out relationships and connections in others. What do we understand and what do animals understand? The conversations aren't in the least secret, else they would not be conversations. Some sounds animals make cannot even be heard by the human ear; it is only recently that scientists were able to hear how whales sing. Novel methods often have to be devised in order to hear properly, so to speak. And of course, as with us humans, there is body language. Even in closely allied European cultures, humans greet each other with handshakes, hugs, kisses, gestures.
Meijer's conclusions are striking in their simplicity and awesome in their implications. She suggests that philosophers should turn from thinking about animals to thinking with them. We need to do more than observe. We need to challenge the hierarchy that puts humans so firmly at the top – from where we dominate and destroy. (This is also within our own interest, she implies.) Her main conclusion is forthright: animals have been speaking all along, now we should listen. It is we who have been deaf, in more ways than one. Animal Languages will make readers understand encounters with cockroaches, spiders to the domestic cat in very different ways.
Eva Meijer's book is a fine addition to the growing literature about the complexities of animal life that includes publications by primatologist Frans de Waal and Reaktion Books' marvellous series of individual studies which take on the crow, the cat, the owl and the polar bear among other subjects. With luck, these and other publications will lead to an increase in understanding and empathy on our part for our fellow animals, domestic and wild, and contribute in a major way to our shared well-being.