Celtic Connections 2020, Glasgow review - fine feast of Scottish music |

reviews, news & interviews
Celtic Connections 2020, Glasgow review - fine feast of Scottish music
Celtic Connections 2020, Glasgow review - fine feast of Scottish music
Global traditions come together in Scotland's annual musical melting pot
Colonel Mustard and the Dijon Five at the Old Fruitmarket, Glasgow
Celtic Connections, Scotland's annual festival of folk, world and fusion music, has been brightening up dreich Glasgow Januaries since its inception in 1994. Originally proposed partly as a way to fill a scheduling gap in Glasgow Royal Concert Hall's post-Christmas period, Celtic Connections is now a major event in Scotland's cultural calendar.
2020's festival incorporates over 300 events across multiple venues throughout the Glasgow. Programmed by Artistic Director Donald Shaw - a founding member of the folk supergroup Capercaillie - the festival sees artists from across the globe come together in celebration of their myriad musical traditions.
Scottish fiddler Duncan Chisholm (pictured below by Gaelle Beri) - a Celtic Connections veteran, having played at every festival to date - played with a rich yet light tone, sympathetically accompanied by Innes Watson on guitar, in an intimate performance in Glasgow City Halls' recital room. His intricate ornamentation was wonderfully effective, with Watson's guitar playing almost as an echo to Chisholm's fiddle. Both players' synchronicity was spot on, as they raced through rhythmic shifts in various medleys of tunes. "A Precious Place"- originally written by Donald Shaw, but arranged and put into triple time by Chisholm - is inspired by Sandwood Bay in Sutherland, the place Chisholm's 2018 album takes its title from. Chisholm explained the ancient Celts believed this to be a "thin" place - where the gap between earth and heaven is that little bit smaller. Chisholm played the lilting melody with a smooth, flowing line, with simple but effective accompaniment from Watson on guitar.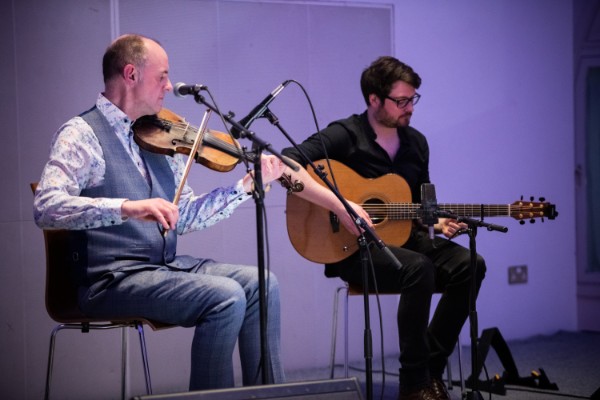 A jazz funk fusion band might not be the most obvious group to play at a celtic music festival, though influences from the Scottish folk tradition can be heard throughout the music of Fat Suit (members pictured below) - Scotland's answer to Snarky Puppy, who launched their new album, Waifs and Strays at Drygate Brewery. As a prelude to launching the album, the band performed a few songs with some of their friends and fellow artists, joined on backing vocals by female three-piece Little Acres. Guitarist, singer and songwriter Zoe Graham's darkish vocals were matched perfectly with the band's rich sound, and singer-songwriter Angus Munro's witty ballads were delivered with spirit and style. The stand out artist from this first set though was Glaswegian singer-songwriter Kitti, who gave a superb performance of her latest single "Chasing the Crowd". Her rich, sultry vocals were perfectly punctuated by Fat Suit's brass - if you closed your eyes you'd be forgiven for forgetting Amy Winehouse ever left us, and it was a shame she only had time to perform one song.
The second part of their gig saw the band play the new album in its entirety. This is a fabulously talented collection of players, whose appreciation for each others' musicianship was evident. From the punchy syncopations of "Brum doing a Wheelie" to the more contemplative 'Lunar Milk' the level of music-making on display here was incredible, with some outstanding solos. The mash up of musical traditions involved (where else can you see a Scottish fiddle share a stage with a Moog synthesizer?!) was something quite special, especially when the band were joined for the first time by American harpist Rachel Clemente, whose composition, "Countryside Quiet", appears on the album. Having discovered a love of Scottish music through events organised by the Scottish Harp Society of America and the Ohio Scottish Arts School, Clemente later came to study traditional Scottish harp at the Royal Conservatoire of Scotland. Fat Suit guitarist Dorian Cloudsley's arrangement of her work captures its ethereal beauty, but matches it with Fat Suit's trademark panache.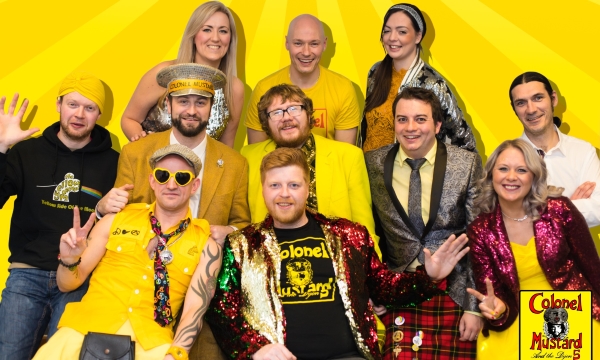 A spectacle which must be seen to be believed is the bright, bold brassiness of Colonel Mustard and the Dijon Five (pictured above) whose "Yellow Movement" is slowly sweeping the country, evangelising a gospel of peace, love and mustard. Frontman Colonel John Thomas McMustard (possibly not his real name) proclaimed to the crowd "put your five fingers in the air for the Dijon Five!", although it's a little unclear to whom he is referring, as there's at least twelve of them on stage, including a surprisingly good three-piece horn section, ladies in toadstool hats and a Bez type character who plays maracas, crowd surfs, and generally whips up an already exhilarated crowd into even more of a frenzy. After a few tracks from their 2014 debut album, titled "Party To Make Music To Party To Make Music To Party To part one", the band got the 1300 strong crowd involved in the reggae-inspired "Cross the Road", the Colonel himself directing the audience from one side of the hall to the other with an actual lollipop. The whole thing's bonkers, and it's impossible not to love it. With a post show DJ set from radio 6 DJ Amy Lamé, who now counts herself as a fan, the future certainly looks bright for the Colonel and his gang.