Hunters, Amazon Prime review - bringing God's justice to Nazis in America |

reviews, news & interviews
Hunters, Amazon Prime review - bringing God's justice to Nazis in America
Hunters, Amazon Prime review - bringing God's justice to Nazis in America
Al Pacino's commanding performance anchors this unusual hybrid
Saturday, 22 February 2020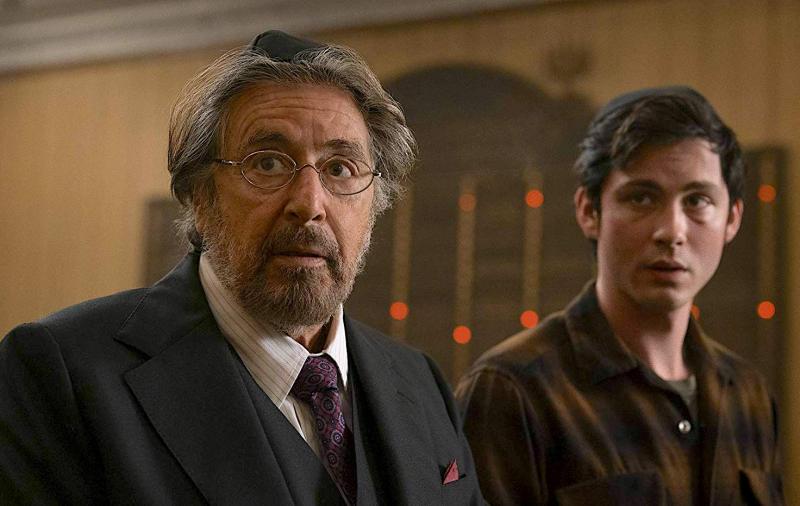 Al Pacino as Meyer Offerman, Logan Lerman as Jonah Heidelbaum
Apparently network executives initially reacted with alarm to the premise of Hunters, Amazon's new big-ticket series chiefly (though by no means entirely) notable for hosting Al Pacino's first full-scale television role.
Its story of Jewish Nazi-hunters tracking down
Nazis
living in the
USA
in the 1970s is told with cartoon-ish brio, treating borderline-taboo subject matter with throwaway insouciance. Comparisons with Quentin Tarantino's buccaneering approach to good taste and historical reality have already been made, and they're not too wide of the mark.
Creator David Weil throws down the gauntlet with the opening scene of the first episode. A young woman arrives at a barbeque at a lavish house with lush gardens and an ocean view. Introduced to her host, Biff Simpson (the monstrously creepy Dylan Baker), she disrupts the good vibes of the occasion by shrieking that she recognises Simpson as the mass-murderer known as The Butcher. He responds by pulling a gun and massacring all his guests. "Only the dead know the end of war," he says (in German).
Baker, it transpires, is part of a network of Nazi agents planning nothing less than the creation of a Fourth Reich, under the steely leadership of The Colonel (Lena Olin). We're led into this through the introduction of Jonah Heidelbaum (Logan Lerman), a young man from Brooklyn who lives with his grandmother (an Auschwitz survivor), hangs with his buddies on the boardwalk, and supplements his income from working at a comic shop with some amateurish drug-dealing. His vaguely pointless life is suddenly rebooted when his grandmother is murdered by a masked gunman.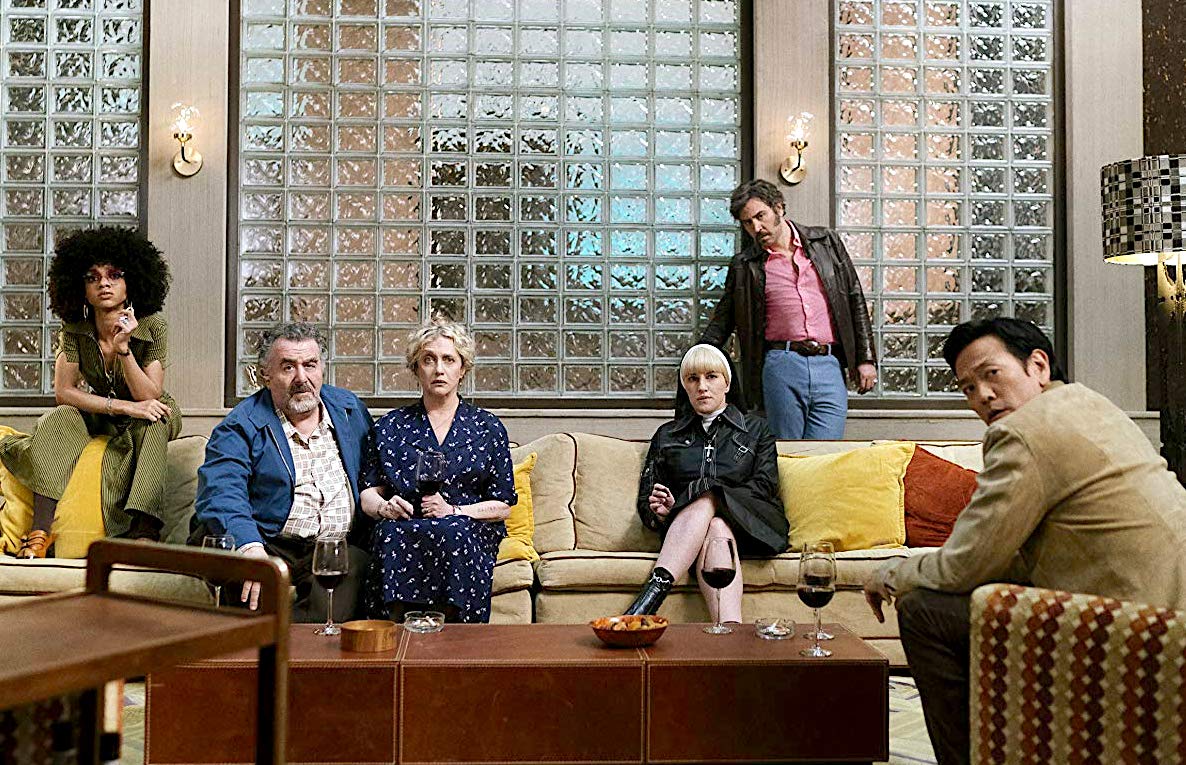 At her funeral he meets Meyer Offerman, a wealthy and seemingly benign old friend of the deceased (this is a compelling and committed performance by Pacino, giving Hunters the solid anchor it needs to balance its wilder flights elsewhere). It's when Jonah undertakes his own fumbling attempt to track down grandma's killer that Offerman is prompted to show his hand as New York City's premier Nazi-tracker. He allows Jonah to join his select, if eccentric, squad of vigilantes (pictured above) – which includes elderly couple Murray and Mindy, superfly girl Roxy in an Afro and pink shades, icily English nun Sister Harriet and Asian enforcer Joe – as they set about identifying and liquidating the spawn of Hitler who are living among them. The plan is to "bring God's justice to their doorstep," as Offerman puts it.
The crew's progress is a mix of thriller-ish tension, brutality and farce. Sometime it's like watching The A-Team, with its cringey camp humour (often from Josh Radnor's cheesy Lonny Flash), but then we'll be plunged back in time to hideous scenes from Auschwitz. The production team have given themselves some creative licence with startling interludes like the one where camp guard Heinz Richter stages chess tournaments using Jewish inmates as pieces, forced to kill each opponent they take off the board. The Amazon hypertext explains that this didn't actually happen, but is used to illustrate a broader truth about the Holocaust.
Jokey fake TV commercials play up the Hunters' activities as a kind of Dirty Dozen, and the plethora of pop culture references (Star Wars, snatches of Bob Seger and the Velvet Underground, a disco routine to "Stayin' Alive", cover girl Farrah Fawcett) nudge us towards seeing the Hunters as an offshoot of the Marvel Comics universe. Yet this is also a platform for large, troubling ideas, like the way the US authorities turned a blind eye to Nazis in the Home of the Free – the cops aren't interested in the Hunters' investigations, and the character of NASA scientist Gretl Fischer is there to remind us of Werner von Braun and the thousands of Nazi rocket boffins eagerly scooped up by the Americans in 1945 – while full weight is afforded to the suffering of Holocaust victims. "The greatest single gift of the Jewish people is our capacity to remember," Offerman tells Jonah. Hunters is a strange hybrid, and not all of it works, but it's daring and it's different.
It's also a platform for large, troubling ideas, like the way the US authorities turned a blind eye to Nazis in the Home of the Free
rating
Explore topics
Share this article