Classical CDs Weekly: Christopher Gunning, Joe Meek, Tesla Quartet |

reviews, news & interviews
Classical CDs Weekly: Christopher Gunning, Joe Meek, Tesla Quartet
Classical CDs Weekly: Christopher Gunning, Joe Meek, Tesla Quartet
British symphonies, post-war electronica and a disc of clarinet quintets
Alexander Fiterstein and the Tesla Quartet: more joy than desolation
Christopher Gunning: Symphonies 2, 10 & 12 BBC National Orchestra of Wales/Kenneth Woods (Signum)
You've probably heard Christopher Gunning's music without realising it: he's been a prolific film and television composer for decades. A pupil of both Edmund Rubbra and of Richard Rodney Bennett, he's best known for the insidiously catchy theme for ITV's long-running Poirot series. Three of Gunning's 12 symphonies are included here, written between 2003 and 2018. Whereas many contemporary film composers specialise in short, colourful bursts of descriptive music, Gunning knows how to organise and structure his ideas. Think Herrmann rather than Elfman. You sense this within seconds of 2016's single-movement Symphony No. 10 beginning, the expressive, wandering string melody surely a nod to the start of Mahler's final symphony. Waiting for this slow theme to land, to find its feet, is thrilling, and hearing how Gunning develops it over 21 minutes is both moving and entertaining. He clearly knows his Sibelius 7th (check out the closing bars), and he's mastered the art of the seamless transition, the symphony's various sections perfectly knitted together. It's a real find, Gunning's broadly tonal style both distinctive and appealing. Kenneth Woods and the BBC National Orchestra of Wales audibly believe in the work: the performance is excellent.
Symphony No. 2 is a brooding three-movement work. Again, there's a superb opening, the stygian bass clarinet theme forcing the music into life. The theme's loud reprise at the end of the symphony is one of those moments where you feel like cheering with delight. Yes, it's borderline corny, but managed so well. In Gunning's words, No. 12 came from his desire "to write something more direct, even melodic… the textures are mostly clear and uncomplicated." There's a poignant second movement inspired by a friend's funeral, tubular bells tolling as the symphony ebbs away. It's beautiful, the nods to Walton and Arnold never obscuring Gunning's own voice. Do investigate.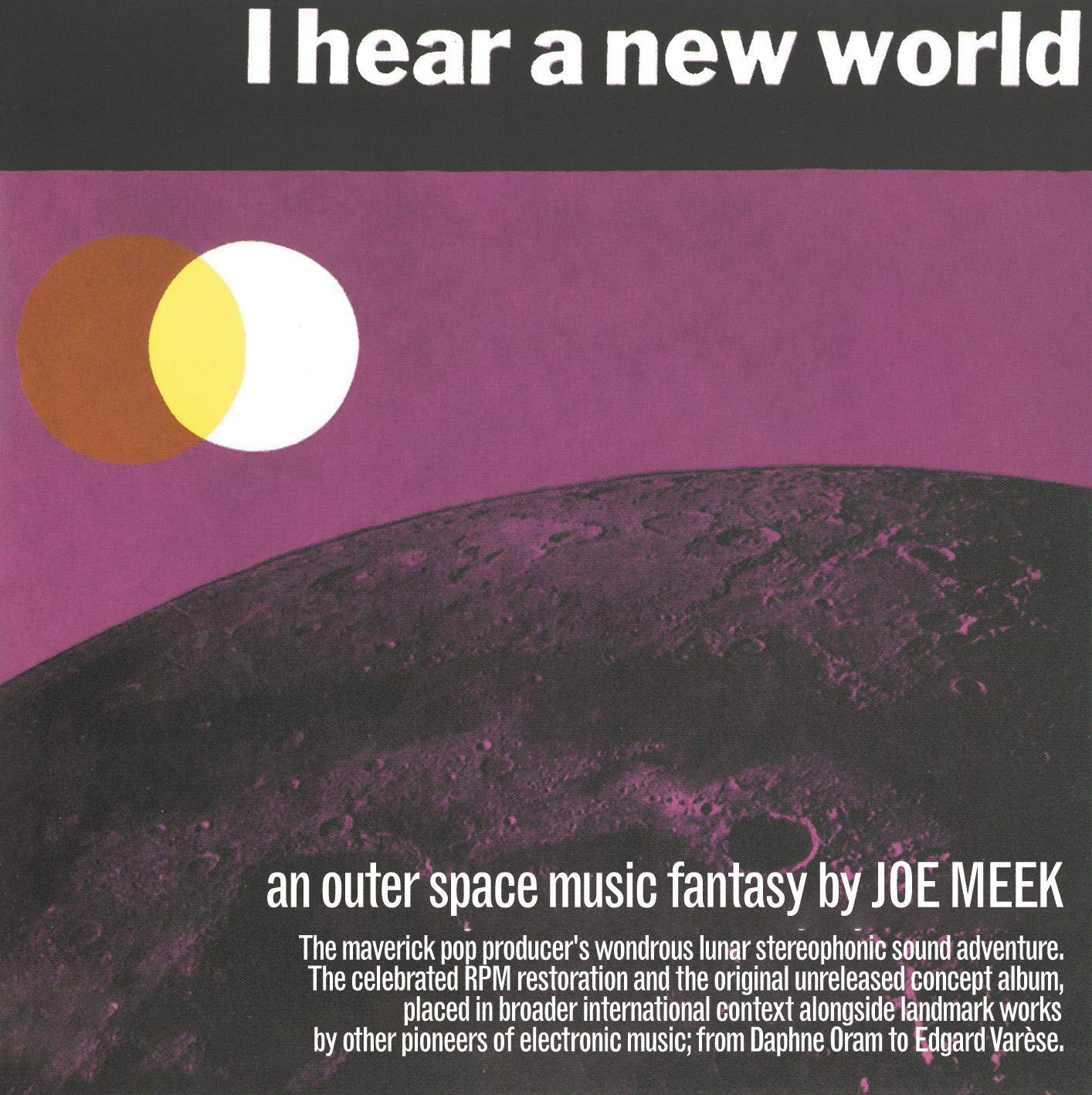 Joe Meek: I Hear a New World (ÉL Records)
Maverick record producer Joe Meek's deeply strange concept album I Hear a New World is a nutty curio. Only four of its 12 tracks were originally released, a limited edition EP appearing in May 1960. This box set includes two versions: a 1991 restoration and a transfer of a white label pre-release LP, both in decent remasterings. Meek's fondness for speeded up vocals is grating, but there's some fantastically offbeat music here – imagine a standard skiffle combo with outré effects, the composer's stated intention "to create a picture in music of what could be up there in outer space". The miracle is that Meek, working from a home-made studio above a Holloway Road leather goods shop, was producing sounds not a million miles from those produced by leading lights in the European post-war avant-garde. Tape loops and home-made compressors were used, along with more prosaic techniques, like blowing bubbles with straws, tapping milk bottles and draining water from a sink. Some parts are like Varèse's Poème Électronique with goofy tunes thrown in. Try "Magnetic Field", its 90 seconds of electro-weirdness morphing into a stretch of catchy guitar pop.
This budget-price reissue scores by placing the Meek alongside two disc of music from other, better known exponents of early electronica. Boulez's two études from the early 1950s have curio value but aren't a whole lot of fun to listen to; Messiaen's Timbres Durées is more colourful and eventful. As is the Studie No. 1 by Stockhausen. Milhaud's La rivière endormie distorts a prerecorded radio play. Other examples come from Varèse, Xenakis, Cage and Maderna. Not for everyday listening, perhaps, but diverting. More fun are some snippets created in the BBC Radiophonic Workshop by the great Delia Darbyshire, and a catchy collaboration between producer George Martin and Maddalena Fagandini.
Joy & Desolation Tesla Quartet, with Alexander Fiterstein (clarinet) (Orchid Classics)
We've clarinettist Anton Stadler to thank for three of Mozart's late masterpieces, his playing inspiring the concerto, Kegelstatt Trio and the sublime Clarinet Quintet. More autumnal music is difficult to imagine, the whole work an irresistible study in mellow woodiness. It receives a nicely intimate performance from Alexander Fiterstein and the Tesla Quartet here, Fiterstein's hushed delivery in the slow movement heartstopping. Bittersweet corners abound in late Mozart but this team don't linger on them, their reading refreshingly upbeat and positive. The last movement's variation sequence is brilliantly characterised, with a nicely affable payoff. Superb then, and fascinating to compare the work with Finzi's Five Bagatelles, heard here in an idiomatic arrangement for clarinet and string quartet. Finzi complained that the pieces "got better notices than my decent stuff", though these miniatures are marvels of concision and understatement. Fiterstein is again impressive, never more so than in the lovely Romance.
The couplings are more recent: John Corigliano's Soliloquy is a spare, elegiac tribute to his late father, a long-serving leader of Bernstein's New York Philharmonic. Violinist Michelle Lie shines in Corigliano's high, exposed melodic writing. And lus in Bello by the Argentinean composer Carolina Heredia is a visceral response to recent events in Venezuela. Fiterstein and the Teslas tackle both works as if they own them, the playing alarmingly intense.
Gunning knows how to organise and structure his ideas. Think Herrmann rather than Elfman
Explore topics
Share this article