First Person: CEO Stephen Maddock on the City of Birmingham Symphony Orchestra's strange centenary year |

reviews, news & interviews
First Person: CEO Stephen Maddock on the City of Birmingham Symphony Orchestra's strange centenary year
First Person: CEO Stephen Maddock on the City of Birmingham Symphony Orchestra's strange centenary year
From a live Mahler 'Symphony of a Thousand' to working at home
The CBSO's Mahler 8 took place only a few months ago, but in another world
This year was supposed to be so very different. For the best part of the last decade we have been planning a series of major events to take place in 2020 to mark the centenary of the City of Birmingham Symphony Orchestra.
Having often commented on how remarkable it was that this institution should have been started by civic leaders in the wake of the First World War and the Spanish flu pandemic, the last thing I expected was that the worst pandemic since then would wipe out most of our centenary activities.
In fact, it could have been even worse for us. The first of our five planned overseas tours this year was due to start on Thursday 12 March, taking in 10 concerts in seven different European cities. Throughout February we were watching the news anxiously, especially as we were due to end the tour by travelling in and out of Italy where COVID-19 had been wreaking so much damage. Even as we began the week of 9 March, all 10 concerts were still in place. But then they tumbled, a few at a time, within the space of just 48 hours, meaning that by the end of our final pre-tour concert in Birmingham on Tuesday 10 March, it was pretty clear that the orchestra might not be playing again anywhere in the world for what could end up being several months. Despite this disappointment, my overwhelming feeling that week was one of relief: that we would not find ourselves trapped in a hotel for a fortnight's quarantine, or worse still suffering an outbreak of the virus within the orchestra itself. (Stephen Maddock OBE pictured below, courtesy of CBSO).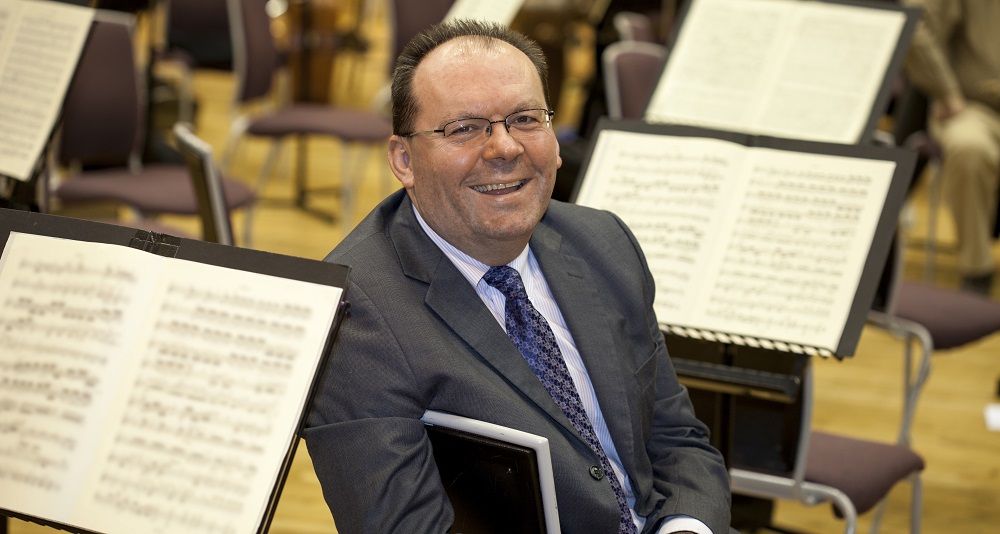 So for the last month the whole CBSO team – more than 100 musicians and staff – have all been working, or furloughed, at home. The very thing that we exist to do, to bring people together through inspiring musical performances, experienced together, has suddenly come to represent the thing of which society is most afraid. Looking back three months to the way in which we began our centenary year, with two sold out performances of Mahler's Eighth Symphony, the "Symphony of a Thousand", feels like looking back on another vanished world altogether.
For the first time in my life, I have my evenings and weekends to myself – no rehearsals, no music making of my own, and no concerts or other events to attend. It's a very strange feeling. And it is forcing our whole sector to think in very creative ways about how we can make connections with each other even though we dare not leave our homes. CBSO musicians have been creating and sharing their own content (though on a voluntary basis and via their own channels because of the guidelines of the government's furlough scheme), and our wonderful amateur chorus – around 10 per cent of whom actually work in the NHS – have just recorded a moving multitrack version of "Somewhere Over the Rainbow". This is being used to highlight our campaign to say thank you to those NHS workers who are quite literally keeping the UK alive – and to whom we have just promised 5,000 free tickets once we get back to giving concerts.
And of course we are all looking forward – in the first instance to being allowed to reconnect with each other in person, then to being back at work outside the home, and finally to be back giving concerts, using the great gift of live music to enhance and change people's lives. Like lots of us in the arts, I am sure that our world will be changed dramatically, at least for a while and possibly forever. Working through the logistics of social distancing on stage, and in our concert halls, and trying to second guess the different ways in which governments around the world might manage the gradual relaxation of the current lockdowns, is an exercise in parallel-universe thinking that would baffle even Stephen Hawking and Christopher Nolan.
But I am convinced that our appetite for getting together en masse, for celebrating in each other's company our common humanity and the fact that we are still alive, will soon assert itself once it is safe to be performing again. Personally I cannot wait for that day to be here. And we will still be celebrating our centenary, don't you worry. If you have spent ages planning a big birthday party, then fall ill the week before, you don't cancel the celebration altogether; you postpone it to a date when you can have an even BIGGER party...
We have just promised 5,000 free tickets to NHS workers once we get back to giving concerts
Explore topics
Share this article