Piranhas review - riding with the teenage gangs of Naples |

reviews, news & interviews
Piranhas review - riding with the teenage gangs of Naples
Piranhas review - riding with the teenage gangs of Naples
Adaptation of Roberto Saviano novel explores crime as a hereditary condition
Nicola and his gang go looking for trouble
Roberto Saviano's book Gomorrah shone a blinding light on the Camorra crime clans of Naples, and spun off an acclaimed film and equally admired TV series.
This film
version
of his 2016 novel
La paranza dei bambini
("The Children's Gang") isn't in the same league as either of those, but its account of the way criminality is a kind of hereditary condition in some areas of Naples still packs a punch.
Star of the show is 15-year-old Nicola (Francisco di Napoli), leader of one of the teenage gangs who scrap it out around town (the opening scene features a balletic fight in a shopping mall, with the winners carrying off the giant ceremonial Christmas tree). Fans of Gomorrah will be familiar with the underlying theme, of children from families living under the shadow of the threats and protection rackets of organised crime trying to break into the criminal big time, since it's the only route to a better life they've ever been aware of. Already, Nicola's younger brother is champing at the bit to grab a piece of the glitzy criminal action.
Nicola's mother runs a dry cleaning business, and when he witnesses her being shaken down for money by a couple of brutish mobsters it makes him determined to do something about it. He approaches the Striano brothers, who still live in the palatial home bought by their kingpin father Tonino. But he's now dead, and the brothers don't want to get back in the game.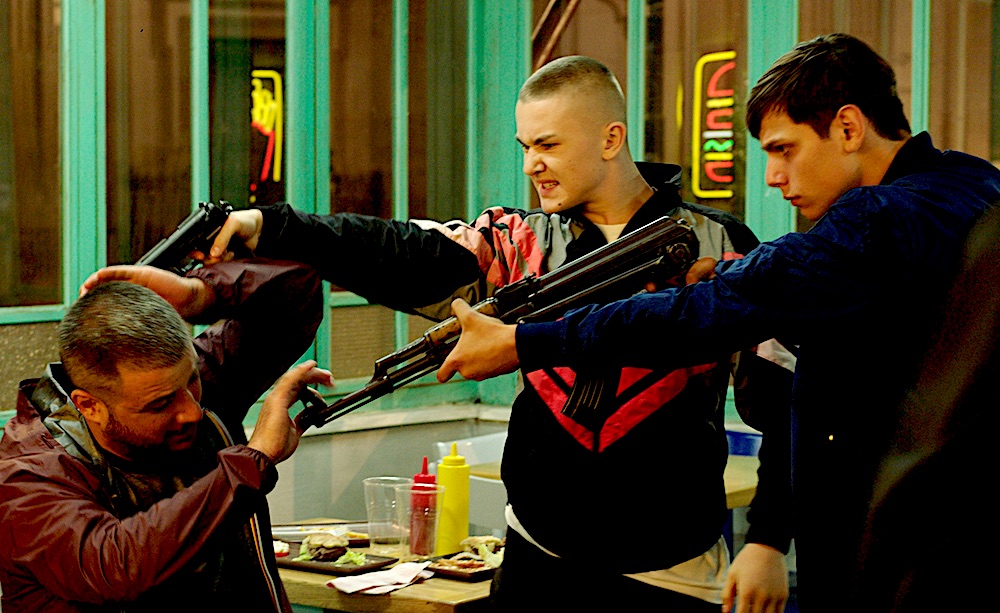 Nicola and his gang are obsessed with fashion and bling, but when they carry out a clumsy raid on a jeweller's shop they're quickly tracked down by Lino Sarnataro's gang who rule this particular piece of turf. After getting slapped around a bit, Nicola's boys end up selling drugs for them. But Nicola is thinking bigger, and having sized up the weaknesses of his employers, persuades the Strianos that they should team up and wipe out the opposition. When Nicola boldly fronts up to the ageing crime boss Don Vittorio and persuades him to equip his adolescent troupe with automatic weapons, the stage is set.
The trajectory of the narrative isn't hard to predict, and Piranhas suffers from the somewhat one-dimensional characterisations of Nicola and his gang, though director Claudio Giovannesi (who worked on the Gomorrah TV series) likes to let his camera linger over the planes and contours of di Napoli's male-modelish face. He makes a perfect pairing with his doll-like girlfriend Letizia (Viviana Aprea), and his androgynous mystique is emphasised in the scene where he dresses as a woman to carry out a hit.
The streets and alleys of Naples are dripping with history and atmosphere, and driver's-eye sequences of Nicola's gang hurtling around the city on mopeds headily evoke their brash live-for-today attitude. Set-piece scenes of a blowsy mobster wedding and Nicola's gang bragging and taunting their rivals in flashy nightclubs speak volumes about their lives and mentality. Piranhas isn't a classic, but it's worth a visit.
Piranhas is available on iTunes, Amazon, Sky, Virgin, Google Play and CHILI