theartsdesk Q&A: Record label New Heavy Sounds |

reviews, news & interviews
theartsdesk Q&A: Record label New Heavy Sounds
theartsdesk Q&A: Record label New Heavy Sounds
Co-founder Ged Murphy sheds light on the world of Britain's most original heavy rock independent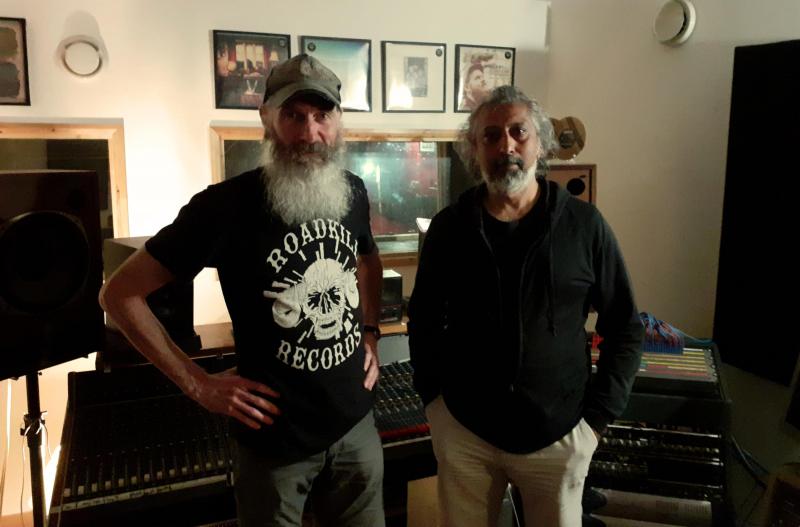 The men behind New Heavy Sounds: Paul Cox and Ged Murphy
New Heavy Sounds is one of Britain's most exciting and undersung labels. Founded in 2011, they have consistently released music that boasts innovation, imagination and a strong female presence. The added sweetener is that this comes attached to sheer guitar-slingin' power of the kind heavy rockers, from the 1970s to the present, have always relished.
Styling themselves in favour of "anything with dirty, big riffs and attitude," their output has one foot in the
metal
camp but aspirations beyond it. The two men behind New Heavy Sounds, Ged Murphy and Paul Cox, avoid gimmicks and hype and let music do the talking. Theirs is a roster that ignores conventions and stretches genre boundaries. It includes Afro-centric energy merchants Vôdûn, doom explorers Limb, noisy, all-female Japanese duo Blacklab, Lancashire riff-punks Sky Valley Mistress, moody sludgers Grave Lines and, especially, Wrexham space rock originals Mammoth Weed Wizard Bastard. Ged Murphy, as easy-going as his label's music is not, tells us more…
THOMAS H GREEN: Tell us a bit about your background.
GED MURPHY: I'm a film editor and was with the BBC for many years. I still work for them freelance. I was in a band in the Nineties called The Honey Smugglers, a baggy, psychedelic, indie-dance band. We used to play with people like Blur, Suede, Dodgy and all that [their single "Listen" made waves in 1990]. Paul used to run Too Pure Records, he discovered PJ Harvey and Stereolab, put out PJ Harvey's first album. He's the brother of Steve Cox, the keyboard player in The Honey Smugglers, so I've known Paul for many years. We've stayed in touch. We've been in various bands. When I was made redundant by the BBC, I used some of my redundancy money to start the label, something I'd always wanted to do and Paul had that label experience.
How did it begin?
We started the label in 2011. We signed Black Moth, first off. We were originally going to put out our own music but then thought, "Oh well, we might as well do it properly." We happened to be sent a Black Moth track they'd recorded, "Spit Out Your Teeth", and put it out as a single. We were putting on a gig at the time and we invited them and they were, indeed, great. They put us on the map a little bit.
Below: Listen to "Spit Out Your Teeth" by Black Moth
What was Paul doing when New Heavy Sounds started?
Paul sold Too Pure to Beggars Banquet ages ago [1997], he was a founding member of Artrocker magazine, he'd been doing that on and off but was doing it less. He also teaches cycling. We were both in a band together. We'd been in Fraff, a post-punk band in the late-Nineties, and then we started playing heavy stuff. That was good fun but we weren't getting anywhere. The heavy music thing came to me because I was working on a documentary series called The Seven Ages of Rock for the BBC. I did a couple of episodes, one about art rock, one about heavy metal. They had all these interviews with Sabbath and Metallica and Iron Maiden. I used to like metal back in the Eighties and I thought, "This is so much better than indie music!" Everyone was really unpretentious, kind of down to earth, funny. I fell back in love with heavy music and started looking for bands in that vein.
How much time do you spend on the label?
It's just us two running it. The internet's a wonderful thing! It's a bedroom label with board room ambitions. NHS is a catchy acronym. We added the words New Heavy Sounds afterwards. "Bad Robot Man" was the first release, by XM-3A, which was us. We thought, "We'll do some crazy shit and put it out ourselves," then once we signed Black Moth, that kind of took over from our musical ambitions.
How has COVID-19 affected New Heavy Sounds?
It's been a bit of a game-changer for a lot of us really, but I think it's really hit bands the most. An example for us is Sky Valley Mistress. They had a tour lined up, and a slot as main support with [late-Eighties/early-Nineties psyche-rockers] Thee Hypnotics on the day the album was due to come out. Then, on the week of its release, we all went into lockdown, and everything went belly up. It was a total blow for them and meant some much-needed revenue and vital exposure had disappeared. Who knows when things will be back to normal. For the label it's been mixed, not having our bands out there promoting stuff live may have lost us some sales, but having said that mail order has been strong and that has increased. We've released three albums during lockdown and they've all done OK - including Sky Valley Mistress - which is a relief. We now are having to invest in more online content such as videos, and putting a bit more of our resources into online promotion, just got to keep getting the word out there, but I can't wait for the live scene to up and running again.
Below: Watch recent Sky Valley Mistress acoustic session
The label definitely has its own sound: to generalise, there's possibly a female singer, very heavy, often sludgy riffs, and unobvious-sounding metal?
You've actually encapsulated it very well. It's interesting, the female vocalist thing, pretty much of all our bands have some female members, a lot have female singers, although it's not a prerequisite! We've always loved the combination of female vocals and heavy riffs. When we started there were a few about, but there seems to be a lot more now.
A lot of it is quite marijuana… bong music!
[Laughs] How many bands in the stoner scene have got the word "bong" in? That's part of it. We get a lot of demos – there's a lot of bong music out there. Mammoth Weed Wizard Bastard make it explicit.
Below: Watch the video for "The Spaceships of Ezekiel" by Mammoth Weed Wizard Bastard
Their sound is extraordinary…
They're an interesting one. Paul didn't like the name at first, whereas I thought that's a good one, it'll get people talking. When they sent us their first thing, it was largely instrumental, then the singing starts, and it's kind of shoegaze singing with these huge riffs. I'd not really heard that before. I don't know how they stumbled on that sound. I think they had some riffs and Jessica [Ball] was their friend so they got her in and - whoomph! - that pricks your ears up. They've gone a bit more cosmic since. They're into UFOs and space rock and that sort of thing. They were quite an unusual proposition. They don't tour very much, unfortunately.
What are the runs of physical product for each album?
We generally have 500 vinyl and 1000 CDs, depending on the band. Cargo, our distributor, said they could up that to about 1000 vinyl now because they've managed to flog a few. We have a bit of a name now. We hope people will think, "Oh, it's on New Heavy Sounds, it'll be worth listening to," like you had with Creation Records back in the day. Mammoth Weed are doing very well, we've pressed up quite a few… but not mega-amounts. The money that comes in we put into the next release. That's what it's for. We don't make any money ourselves, we just plough it into the label. We recently put out the new album by Cold In Berlin, and signed another band from Blackburn, a stoner rock band with an amazing singer, very young, Sky Valley Mistress. Their new album's out now and is really good.
Below: Watch the video for "The Power" by Cold in Berlin
I Googled Cold In Berlin and they seemed to exist a few years ago then disappear.
They have been around. They took a little break. Maya, the singer, sang on the [hefty prog rock outfit] Transmaniacon album [The Strange World of Suzie Pellett, a concept outing, also featuring Lydia Lunch], so we got to know them going into their fourth album. It sounds great, gothic, doomy, she sings a little like Siouxsie Sioux,
What kinds of exposure are available for your music?
A package tour would be fun, but logistically I don't know how easy it would be as the bands are all over the place. We have talked about it. Paul is very good with putting gigs together but we've never had the time. Festivals can be difficult. Download would seem obvious but it's controlled by Live Nation. Getting on their radar is kind of hard for our bands. We sign bands whether they have 20 social media likes or 5000; makes no odds if we like the music. Our job is to get them noticed more. I am sure a few of them will progress up the ladder, do the festivals...
Below: Watch the video of "Survival Knife" by Limb
What about synch rights, placing music in films, TV and adverts?
That's difficult because heavy music is too... well, too heavy for most TV and films. We had a couple of tracks in an indie film called Lean On Pete which was fab and unexpected, a track each by our bands Limb and Cut Yourself In Half, not loads of money but the bands like it and it's funny. A lot of heavy music could be played on BBC 6Music but it just doesn't, it's all indie and oldies, isn't it.
It's weird with metal; like dance music, the media hives it off and doesn't review it like all other genres.There's a cultural misunderstanding of some sort.
Absolutely right and this country is the birth place of heavy metal. The mainstream just ignores it. Publications like The Guardian go for the indie, imagining their target audience and presenting it as cooler stuff. A lot of people think metal's not cool or its silly, but it's a thriving scene. People involved are very protective, actually, but I'd like to hear more of it on mainstream radio. The frequencies of heavy guitars are such that you can't have them with your dinner party, because it would drive everyone mad. It's music that forces you to listen and participate.
Below: Watch the video for "Insanity" by Blacklab
How do you discover bands?
Sometimes people send us demos - Mammoth Weed, for example – but mostly they come recommended by someone who says, "Check this out," something they've seen at a gig. We saw all our bands live before signing them apart from Mammoth Weed. We signed them without seeing them, then saw them, at their first ever gig, and they were great, playing some place in Wrexham, so loud the lighting rig fell down.
Black Lab's albums are great, really extreme.
They are. We'd never signed a band from overseas before and we came across them. They're only a two-piece but are such a cracking band. In fact, we were very excited this year because they were due to play at Desertfest which would have been the first time they'd have played outside Japan. They had a great slot, flights booked, then COVID put the kybosh on it which was a real downer, they were so disappointed. However hopefully they'll do the 2021 fest … fingers crossed. Vôdûn are wild too. You should see them play live. They are brilliant, a totally unusual vibe, like no-one else, African vibes, voodoo rhythms, and metal, all in one. They are really doing something else. They should be on Later… but getting anyone to latch onto them, especially the BBC, is hard.
Below: Watch the video or "Rituals" by Vôdûn
I like that Ex People album, Bird, from 2017. It has a whole original take on Seventies-style blues-rock.
That was one of our favourite albums we ever put out, but sadly the band called it a day for various personal reasons. I think they could have done really well as they have that slight indie element to them.
Tell us a bit about some of your other bands – Grave Lines, Cut Yourself In Half, Limb…
Grave Lines are fantastic. There was a band called Throne we signed but they split up before they put out an album. Their drummer, Julia Cooper, went on to be in Grave Lines and sent me their album. Wow! The vocals are something else. Jake [Harding] is a fantastic singer. Cut Yourself In Half were our second ever signing, They were great. Haphazard live, prone to accidents and amp breakages, but great songwriters. Unfortunately, they all fell out with each other and are not together anymore. Limb are still together. They started out as a real sludge band but now have a spacier edge. They're recording another album for us which I'm sure will be heavy but completely different. It might have a lot more synths on it. Black Moth, that's a sad one. They got licensed to Spinefarm, which is owned by Universal, so they were our first band that's crossed over to a major. However they have taken a hiatus for various reasons, we hope they'll be back, though, at some stage.
Below: Watch the video for "The Nihilist Engine" by Grave Lines
But you have more than enough new signings to balance out the losses, right?
Yes, the new stuff keeps coming. This year we signed our second overseas band, Embr, from Birmingham, Alabama. They got in touch because they were big Black Moth fans. Their album is a fabulously melodic mix of doom, stoner, grunge and alt rock, Of course they also have an awesome female vocalist in Crystal Bigelow. They sent us a completed album and we said, "Yes, we're going to do this." We also just signed another band, called Mountain Caller, and they are a bit different for us in that they are an instrumental three piece, playing prog-infused post-metal and doom. Their album is such a great listen, a real journey too, twists and turns, highs and lows and very melodic. The band are great musicians to boot, so we are very excited to drop their record later this year.
Do you have a particular way of pushing new acts on the label?
In terms of promotion, Simon Glacken of For The Lost PR is a big part of the team. He's been fantastic, been with us since we started, he's done an excellent job. He understands the music, and has helped us get the name out there. For all three of us, it's about the love of it, on every level. Major labels don't invest in new acts any more, they wait for them to get a bit bigger themselves and then snap them up. Without labels like us investing in new talent, how's the music scene going to grow?
Below: Watch the lyric video for "Eyes Like Knives" by Embr
The mainstream just ignores it
Share this article