BBC Proms live online: Jonathan Scott review - the organ as orchestra |

reviews, news & interviews
BBC Proms live online: Jonathan Scott review - the organ as orchestra
BBC Proms live online: Jonathan Scott review - the organ as orchestra
We may not feel the vibrations at home, but nimble camerawork enriches the experience
Jonathan Scott 'does' all the instruments
"Did you bring any Bach?" was not a question to ask of Jonathan Scott before he launched into his jaw-dropping Prom on the Royal Albert Hall's 1871 Henry Willis organ – the largest in the world at the time. augmented in its 2002-4 overhaul to 9,999 pipes.
What Stokowski did for the Toccata and Fugue in D minor Moore achieved, in reverse as it were, for four orchestral classics in a feat of stamina live on Saturday evening.
Circumstantial swings and roundabouts in this fairground turn were plentiful: what you lost from not being there to hear the hall shake and reverberate you gained from the nifty camerawork on hands and feet. In personable conversation with presented Georgia Mann, Scott (pictured below with the bust of Heny Wood) told us he'd spent between midnight and 4am preparing the stops so that he didn't have to pull them out in the performance, and that we would witness all four consoles/keyboards in operation at once – fingers of each hand sustaining chords, thumbs playing the melody.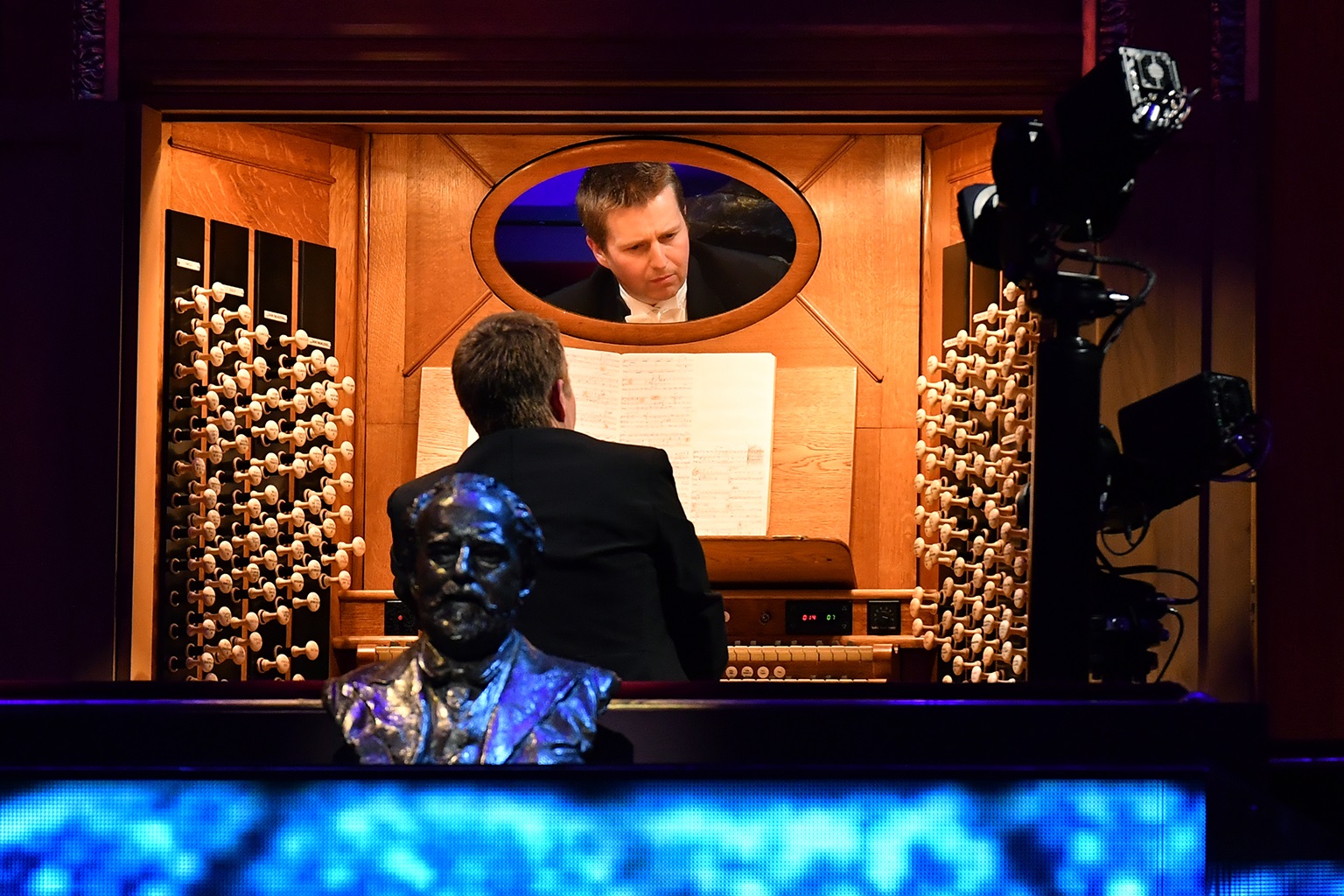 All of which would have been rewarding in itself, but there was more than just gimmickry and gimcrackery in the substance. It started with three atonal blurps to represent the incantatory side-drum of Rossini's Overture to The Thieving Magpie before the funfair lits got under way. The Intermezzo from Mascagni's Cavelleria rusticana sounded a bit too lugubrious; the organ can't really stand in for singing violins. But there was wacky brilliance in what Scott unleashed on Dukas's The Sorcerer's Appentice, the opening washes sounding more like the outer reaches of Holst's The Planets, the romp of Goethe's (and later Disney's) out of control objects just holding water, the climactic incantation before the quiet ending overwhelming. Preferable to the original, as Mann asserted? No, but illuminating in parts, and always entertaining.
If there's a drawback of transcriptions for organ, it's that the pieces somehow feel rather longer than the originals, and that was especially true of Saint-Saëns' Third ("Organ") Symphony. But then doesn't everyone get impatient to reach the finale's high jinks even in the original, where the actual organ role is nothing like as virtuosic as the orchestral demands? Scott seemed to leave no stop unpulled (in advance, that is), and then after all that had to talk again, seemingly unflappable, as the results were announced of the people's choice for encore. No surprises for guessing which of the three was preferred: Elgar's "Nimrod" from the "Enigma" Variations held sway over the "Largo al factotum" of Rossini's Figaro and Tchaikovsky's Sleeping Beauty Waltz. At least in one of his loveliest inspirations - a tribute to a German (A J Jaeger) based on music by a German (the slow movement of Beethoven's "Pathétique" Sonata) - Elgar never had to contend with inappropriate words for nationalists to shout about.
There was wacky brilliance in what Scott unleashed on Dukas's 'The Sorcerer's Appentice'
rating
Explore topics
Share this article