South West Four Live, Electric Brixton online review - the dance goes on? |

reviews, news & interviews
South West Four Live, Electric Brixton online review - the dance goes on?
South West Four Live, Electric Brixton online review - the dance goes on?
Clapham Common rave retrenches to your living room
Tuesday, 01 September 2020
Ambivalent machismo and soft regret: Ghetts
If two dozen DJs spin tunes and no one's there, did a rave really happen? There is plenty of time for such questions during the 25 hours of livestreams substituting for SW4's annual bank holiday party on Clapham Common.
It's a benefit for the Mind
mental health
charity, and the illegal raves springing up unstoppably across the country show visceral physical and mental needs social distancing can't meet. Feeling your sweaty body and breath move close with others in fuggy air is potentially dangerous, but an unforgettable frisson. More than most Covid-crippled activities, it's also digitally impossible.
Mostly shot live prior to streaming at Brixton's cavernous Electric venue, other home-filmed sets are the dance equivalent of politicians' awkward Zoom interviews. Instead of Union Jack mugs and scrupulously screened bookshelves, Dash Berlin's Dutch trance DJ Jeffrey Sutorius is framed behind rows of vinyl, which he rifles through but of course never plays. Simon Patterson grins from a tower block balcony, and Infected Mushroom seemingly beams in from a desert island. Dash Berlin are also a musical highlight, a penchant for cheesy 1980s AOR sentiment, drifty E reveries and choppy House organ vamps climaxing with his version of Bryan Adams' "Heaven". Mouthing along to his own tunes and sheepishly putting his hands in the air, Sutorius also typifies the introspectively anonymous music geeks rave has lifted to stardom. Having to carry sets by force of screen personality leaves many here charmingly exposed.
Kanine lets shuddering synth lines do his talking, showing the variety of a drum & bass genre which began as a skittering, manic Nineties version of bebop, and is here slower, heavier, and inflected by shards of vocal yearning, like a complex, sometimes troubling chemical trip.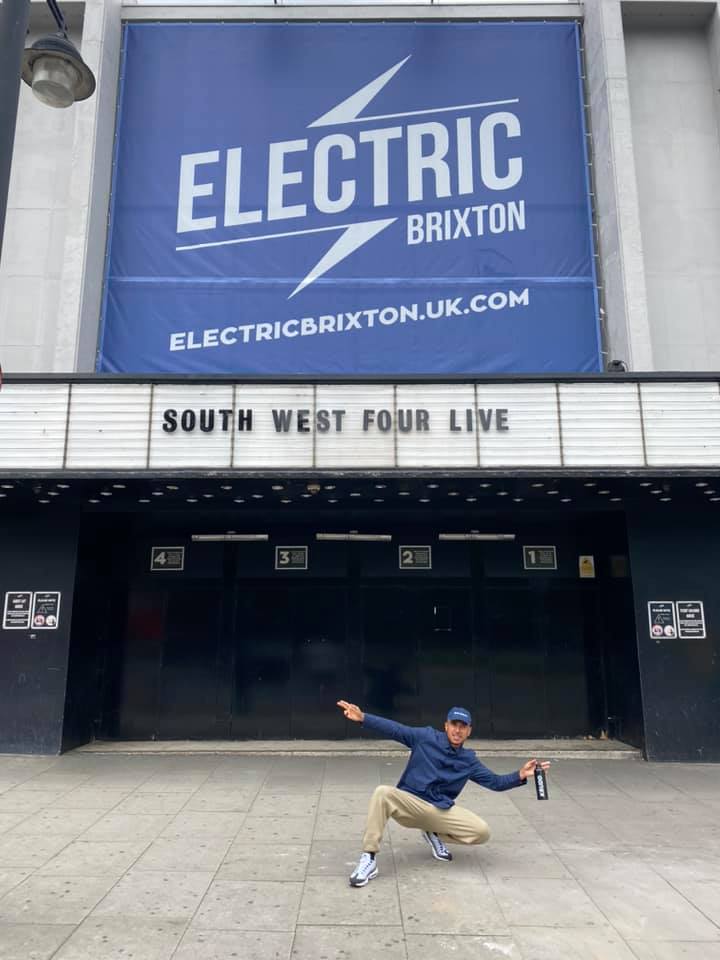 Tall Paul intercuts his Electric set with footage of a filled venue and previous festivals, beaming in historic atmosphere. Nottingham MC Bru-C, pictured right, can't be bothered, noting the Electric may be officially sold out, "but really and truly you're at home with your Aunt Julie drinking a cup of tea". In a Saturday night sequence of grime rappers, Bru-C is amused by playing to "about seven people in the room", and shows impish linguistic and emotional resource. "Make Time For Yourself" was written at lockdown's start and could be a Mind anthem, recommending the healing power of country walks and self-love, and the strengthening aspects of mental blows: "You need a breakdown to experience recovery."
Ghetts follows, his flow's staccato, slippery emphasis intriguing as much as his raps' ambivalent machismo, delivering "Mozambique"'s tale of coke deals and gun violence with soft regret. An inevitable failure in a way, this weekender on your phone is an impressively delivered reminder of one aspect of our fitful musical slumber.
Ghetts delivers 'Mozambique''s tale of coke deals and gun violence with soft regret
rating
Explore topics
Share this article