Quarter Life Crisis, Bridge Theatre review – slender and superficial |

reviews, news & interviews
Quarter Life Crisis, Bridge Theatre review – slender and superficial
Quarter Life Crisis, Bridge Theatre review – slender and superficial
Return of one-woman show about growing up is disappointingly thin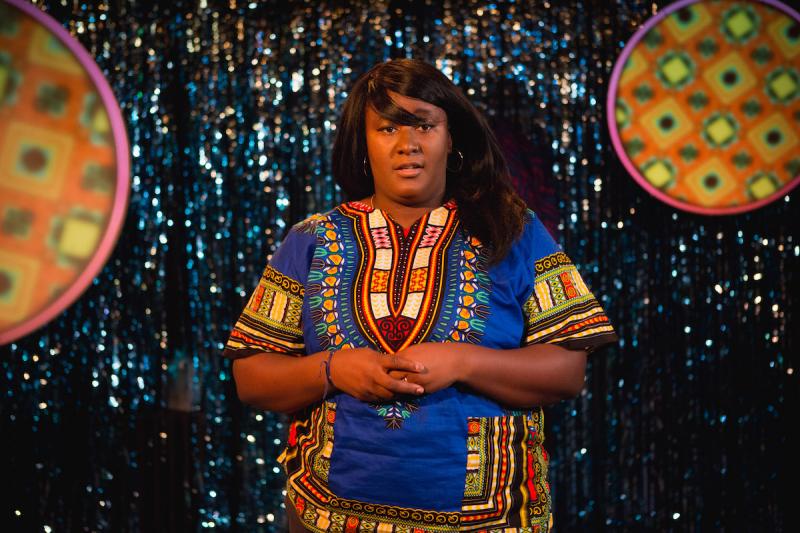 Growing pains: Yolanda Mercy in 'Quarter Life Crisis'.
Success smells sweet. The Bridge Theatre's pioneering season of one-person plays continues with sell-out performances of David Hare's Beat the Devil and Fuel's production of Inua Ellams's An Evening with an Immigrant, with both having their runs extended.
And, next month, this venue is also venturing out beyond the M25: two of Alan Bennett's
Talking Heads
– Imelda Staunton in
A Lady of Letters
and Maxine Peake in
Miss Fozzard Finds Her Feet
– will visit Sheffield Theatres and Leeds Playhouse (where Rochenda Sandall will also perform Bennett's
Outside Dog
). Meanwhile, back at base, last week saw another opening.
This time it is Yolanda Mercy's turn, with a revival of her one-woman play Quarter Life Crisis, which was seen at the Soho Theatre and the Edinburgh Fringe in 2017 and 2018, and has been adapted for radio and broadcast on BBC Radio 1xtra. Originally developed by Ovalhouse, the solo show is about a 25-year-old millennial woman's anxieties as she faces the prospect of becoming an adult. Given Mercy's heritage it is also billed as an exploration of her London-born character's Nigerian background, of personal identity. But if all this sounds a bit worthy, the show is actually a comedy. Sadly, it is also a disappointing let down.
Mercy's character is Alicia Adewale, who lives with her mum in Deptford. Although she is well educated and has an MA, she is working in short-term retail jobs and is anxious about confronting the reality of growing up: one day, she will need to get a proper job, a mortgage and maybe marriage. Arrrgh. At the moment, however, she just loves to party and her carefree lifestyle in her endz, but as she realizes that her 16-25 railcard is about to expire she can see that the good times are definitely time limited. Yes, this is her quarter life crisis. In the meantime, she has a Tinder date, her cousin's wedding and a reunion with her absent father.
Mercy's writing has an economical vigour and there are passages of vividly rhythmical poetry which contrast with her stand-up comic routines, involving some rather awkward audience participation. As a performer, she is much more comfortable in the intimacy of smaller venues than in the large open spaces of the socially distanced Bridge Theatre, which is not really designed for a chatty rapport between performer and audiences. That said, the piece itself – with its running time of less than 50 minutes – feels very slender and superficial. A lot of subjects – the dual identity of Nigeria Britons, lack of black students in higher education and the death of grandparents as a symbolic renewal – are mentioned, but none is really explored in depth.
Directed by Jade Lewis, with help from dramaturg Jules Haworth, Mercy is a warm enough performer and clearly relishes her one-liners, although there are oddly few really good laughs in this comedy. She mimics the other characters – her mum, her cousin and a Tinder date – but never really digs deep enough into the importance of Alicia's father or of her Nigerian heritage. Her quick changes of costume are backed with appealing videos which, along with some snatches of dance music, suggest a bigger, better and more developed show than the one we actually get. You leave the theatre with a distinct feeling of being short-changed.
A lot of subjects are mentioned, none are really explored in depth
rating
Explore topics
Share this article