Out West, Lyric Hammersmith review – not quite a hat trick |

reviews, news & interviews
Out West, Lyric Hammersmith review – not quite a hat trick
Out West, Lyric Hammersmith review – not quite a hat trick
Ambitious triptych examines the themes of Empire, race and parenthood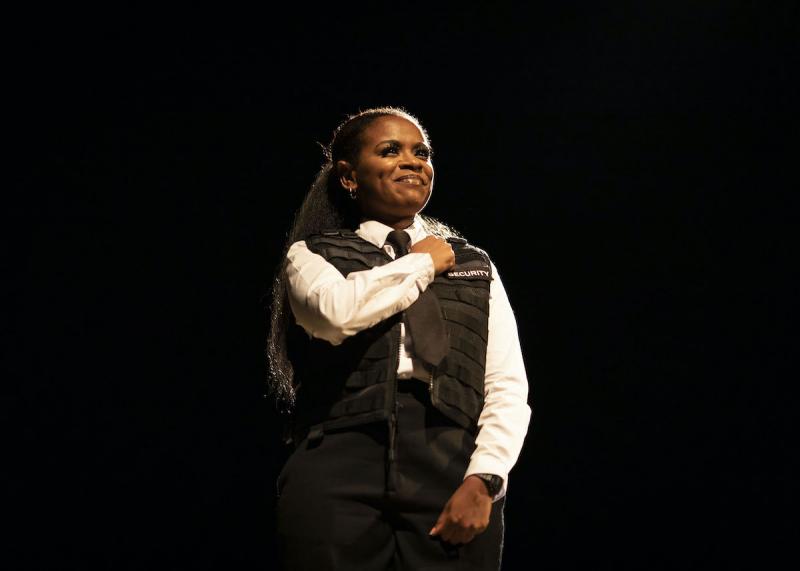 Securely confident: Ayesha Antoine in 'Out West'.
It is an index of the ambition of some venues that they are not only reopening their doors, but also staging plays that remind us of the talents of our best writers and actors. Although the stage monologue has recently been almost as infectious as the Delta variant, and as tiresome, the Lyric Hammersmith offers three for the price of one in its reopening programme.
Set in West
London
, this triple bill of monologues examines the legacy of Empire, the tensions of racism and the pleasures, and pains, of parenthood. Although each playlet is distinct, somehow, lurking underneath the surface, or just around the corner, is the experience of the pandemic lockdown, with its feelings of isolation and questions about the meaning of life.
Tanika Gupta's The Overseas Student is a brief historical biography of Mohandas Gandhi, who came to London as a teenager in 1888, studying to become a lawyer at the Inner Temple. Lonely, excruciatingly shy, and unable to find his voice, his upper-class background gains him access to the very best houses, but he is unable to connect with most of their inhabitants. Because he is a committed vegetarian, he cannot eat most meals and it is touching to see how his Barons Court landlady's discovery of a vegetarian restaurant in Farringdon changes his life, as does his meeting with Annie Besant, the socialist and women's rights activist.
It is very touching to see Gandhi before he was Mahatma, as a gauche student struggling with his identity and with his idea of England. On the boat to Tilbury, he is reprimanded by a smart ship's officer for being on the wrong deck — the one "reserved for European passengers only" — and he says, with a mix of admiration and irony that "it is a joy" to be reprimanded by the courteous English. Gradually, his view of the British Empire changes as he educates himself and experiences more casual racism. But the greatest struggle in his existence is the tension between his religious belief and his sexual longings. This overseas student is consumed with guilt.
In Simon Stephens's Blue Water and Cold and Fresh, which he wrote in collaboration with black actor Emmanuella Cole, Jack, a white history teacher married to Jennifer, a black head of year, decides, during lockdown last summer, to go on a personal psycho-urbanistic trip to visit all of the places in Hammersmith where his father used to live. His lonely walk triggers memories of his past and of his love for Jennifer, arguments he had with his father about Empire and slavery, the way that history is solidified in pub names and street names, until the final — shocking — revelation of the reason that he never spoke to his father during the last years of the older man's life. Stephens explores white privilege, mixed marriage and masculinity with his customary confidence, although his example of racism in the family is predictably nasty.
By contrast, Roy Williams's Go Girl has a much more positive, less ruminative, tone. His monologue is spoken by Donna, a 30-year-old black Westfield shopping centre security guard who is the single mother of 14-year-old Tiana. She looks back to the radiant day on which she was selected to sing when Michele Obama visited her school, and compares the hopes of that time with the narrower horizons and parental anxieties she feels now. Williams is brilliantly perceptive, showing how Donna is antagonized by a classmate, Danielle, whose photographs of the schoolgirls won a competition and launched her career as a "visual artist". As Donna says, "Visual? She is a blasted photographer man."

Danielle's pictures of Donna and her school friends were titled The Lost Girls, suggesting that they were "nothing but freaks from a council estate". Now, years later, Donna gets her revenge at this betrayal during a zoom class reunion, and then has to deal with her daughter Tiana, who she suspects might get pregnant, thus repeating her own early teen motherhood. This maternal anxiety is feelingly articulated and, in a wonderful twist, turned on its head as Tiana proves that she is so much more than her mother expected. Both of them then perform an act of social and personal responsibility that more than justifies the piece's title.
But although these three monologues do talk to each other a bit, they don't really work as a coherent show. While Gupta's play is fascinating and moving, it feels more like a documentary than a drama, and her Gandhi too often tells us, instead of showing us, that he is shy and tongue-tied. Stephens's enjoyably messy monologue is a deeply felt account of having an alcoholic father, but his Jack has an unconvincing tendency to idealise his wife and child, which strikes me as emotionally dishonest. Nor is he averse to banality. Best of all is Williams's portrait of the sassy Donna and her conflicting feelings as a mother, but even this thrillingly characterized and often hilarious monologue could be longer, and could go deeper. It's not an original insight I know, but Donna deserves a play all to herself.

Out West is directed by the Lyric's artistic director Rachel O'Riordan and Diane Page, and they get superb performances from all three actors. Esh Alladi, who already played the older Gandhi in Gupta's Lions and Tigers, gives a supple performance which does perfect justice to his character's sensuous feelings and religious vows. Tom Mothersdale's Jack (pictured above) is fully engaged with Stephens's idiosyncratic script, showing us the burns of masculinity as well as the joy of parenthood. And Ayesha Antoine's Donna is feisty, fulsome and delights in her mimicry of teen gestures. Soutra Gilmour's set, whose wooden stairs and cubes are used to convey cruel confinement as well as optimistic ascendency, works well and is well used. The show offers some acute observations, and moving moments, but the constraints of the format only makes me eager to see full-length plays by all three writers.
Although these three monologues do talk to each other a bit, they don't really work as a coherent show
rating
Explore topics
Share this article