The Other Lamb review - a surreal portrait of an abusive cult |

reviews, news & interviews
The Other Lamb review - a surreal portrait of an abusive cult
The Other Lamb review - a surreal portrait of an abusive cult
Beautiful but dull: Malgorzata Szumowska's English-language debut lacks substance
Saturday, 17 October 2020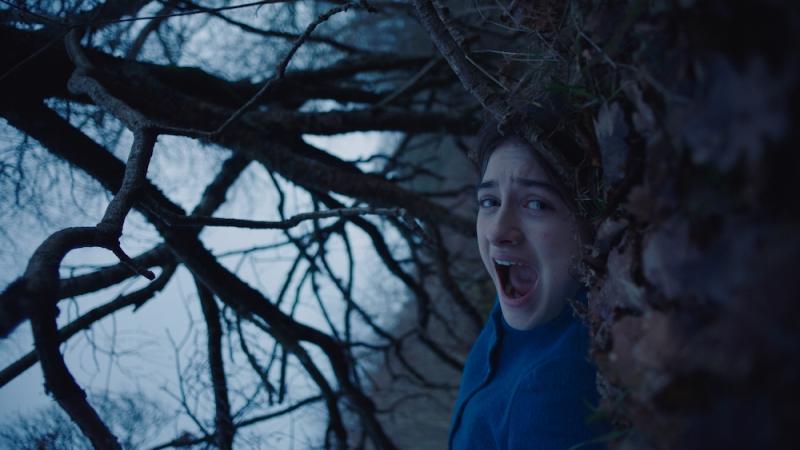 Wailing in the woods: rebellious lamb Selah (Raffey Cassidy)
"Thank you, Shepherd, for allowing us to be your wives. Come down upon me and fill me with yourself." Collective ecstasy – and a lot of wool – is the order of the day in this cult led by Michael, aka Shepherd (Michiel Huisman; Game of Thrones; The Haunting of Hill House), a handsome, bearded chap who looks soft and likeable but has a sadistic Jesus complex.
He is surrounded by adoring
women
(there's a whiff of
The Handmaid's Tale
in evidence) wearing coloured robes: red for wives, blue for daughters. If he's the father of these daughters, things are even darker than they seem.
Polish director Malgorzata Szumowska's first English-language film (previous features include Elles, starring Juliet Binoche, in 2011, and In the Name Of, 2013) with a screenplay by Australian writer Catherine S McMullen, is beautiful but tedious. Shot in Ireland in County Wicklow by Michal Englert, it's visually stunning, with dramatic waterfalls, wild forests with sunlight glinting through, boundless mountain vistas and attractive sheep. And a fierce looking ram. The trick is to stare him down.
But there's no back story, no explanation for the fact that this sizeable flock of American women with their hair in braids, living in poverty and bedding down communally on, of course, sheepskins, are in thrall to a creepy young man who likes to test a gag-reflex as part of foreplay and talks in a quasi-biblical way. "I have grievous news," he tells them after the police – a brief glimpse of the flashing lights of the modern world, though it's irritatingly unclear what era we're in – warn him that he and his band of acolytes must move on.
The outside world will destroy us, he explains, but of course he's the destroyer. He favours pubescent girls; older women are often discarded and punished, that is, if they don't die in childbirth. "He calls me a broken thing," says one baleful woman (Denise Gough; Colette) known as the cursed wife – she's the only one with short unbraided hair – warning Selah (an impressively natural Raffey Cassidy; Tomorrowland; The Killing of the Sacred Deer), whose own mother has died mysteriously, that this will happen to her in due course. "Why do you stay?" asks Selah. We'd all like to know the answer to that. "I've been here so long I don't know who I am any more," is all the cursed wife can offer.
The preoccupation with menstrual blood wears thin. Predictably, once you start menstruating you're unclean and have to go to a dark hut and eat scraps, equipped with only clumps of lambswool to clean off the blood. Selah gets her period for the first time when she's been entrusted with the sacred duty of helping a ewe give birth, but she falls asleep in the sun. Shepherd (Michiel Huisman, pictured above) doesn't punish her; he keeps telling her she's just like her mother. Very sinister.
The bloody lamb is not a pretty sight, and Selah seems to be sent over the edge by it, though it's not clear if her Carrie-style stabbing frenzy is a hallucination. Plenty of prophetic dreams follow. Rivalries among wives and daughters abound, but there's an insubstantial feel to these supposedly intense emotions. If this is a parable about masculinity and power, it doesn't come off. Flashbacks to previous lives would have lent substance and insight – Martha Marcy May Marlene, (2011) for example, explores the fascinating reasons behind the cult mentality and its rituals, grounding it firmly in the present, in a way that you long for here.
Selah has a strength and fierceness, as well as a beautiful ethereal quality, that leads her to oppose Michael, though her scepticism sets in agonisingly slowly. The bleak wintry trek to find a new home brings things to a head for her, when one woman is forced, brutally, to give birth along the way. It's no surprise that baby boys aren't welcome – there can only be one ram in the flock. When they finally find their Eden, it's beside a lake surrounded by mountains. Plenty of baptism opportunities present themselves to Shepherd but re-birth is not always forthcoming. A burly policeman – such a relief to see some cops again – sums up a ghastly final scene: "Well, this is fucked." Yes, indeed.
The Other Lamb is released on

MUBI and in select cinemas throughout October