'Having to establish a real conversation with the audience is a good challenge': Raffaello Morales on a possible musical future |

reviews, news & interviews
'Having to establish a real conversation with the audience is a good challenge': Raffaello Morales on a possible musical future
'Having to establish a real conversation with the audience is a good challenge': Raffaello Morales on a possible musical future
Pioneer of a rare 2020 success story, the Fidelio Orchestra Cafe, on adapting to change
Thursday, 31 December 2020
Raffaello Morales on the staircase of the Fidelio Orchestra Cafe listening to a recital
As this most remarkable year prepares to enter the history books, most of us who are part of the music industry have come to realise that the western world is desperately looking for solutions to an emergency of unprecedented dimensions in post-war times, and that music is not widely perceived to provide a
ny. As unemployment rises and GDPs tumble across most advanced economies, concert halls sparsely populated with socially distanced orchestras and audiences end up being seen at most as a first-world problem of a nostalgic elite.
Most governments have consistently demonstrated how little interested they are in keeping the performance world alive as a matter of priority. Musicians - and artists in general - are considered higher-order contributions to a society in desperate need of direct solutions to its most pressing problems. As a matter of fact, as much as we like saying that we live in an advanced world, we do everything possible to prove that our needs are extremely basic.
Even admitting that concerts, opera, ballet or theatre potentially contribute to the spread of the virus more than other human activities deemed "essential", this way of thinking about life is as uninspiring as it is historically ill-informed. The arts have always provided the most effective channel for human creativity to overcome crisis and grief, to shape paths out of hopes and two draw progress out of imagination. The great tragedy of the 20th century has been that of trusting only in science and technology to solve the riddle of human progress. Although it is often true that science can provide an answer, most questions around progress are indeed of a moral nature. We are so used to looking for answers that we seem to have lost the capacity of asking ourselves questions. (Pictured below by Nick Rutter: Morales conducting 23 string players in Strauss's Metamorphosen at the Fidelio Orchestra Cafe.)
And this is why these days we only wait to hear about the vaccine that will solve all our problems at once, the magic wand that will finally allow us to go back to where we were until mid-March 2020. The world has the moral duty not to want to go back to where things were before the virus hit. Rather, we need to find new ways, adapt and most importantly, work out a sustainable model for the arts in our societies.
However daunting this task might sound, it is time we face the true problem that music has in the western world and look for effective solutions that are as imaginative as daring. The problem, we know it all too well, is the lack of audience for a human activity that represents a valuable enrichment to anybody on this planet. For decades we have been struggling to make new friends among the new generations and new social strata, despite the efforts of virtually all major institutions to develop approachable and accessible formats for those with little interest in music. This has happened, in my opinion, not because of something intrinsically wrong with music for what the new generations want, but through an unwitting tendency of the classical music world to patronise rather than to inspire.
For it is precisely the power of inspiration that makes musicians so unique, in my view, to provide an invaluable contribution to societies at large. Inspiration is that process that makes somebody, a musician for example, connect to somebody else, an audience member, and creates a universal bond between them, a bond based on the two separate individual experiences. (Pictured below by William Marset in the first of several other success-story images from 2020: chamber music in Battersea Park Bandstand).
As it happens, audiences have been all but neglected while the system has concentrated on the supply side of things, using an ill-structured and morally questionable meritocratic model that turns the quest for beauty and truth into a competitive race for a blurred target in which success and money are the only objective measure. As our societies have become more unequal, we have taken every step to ensure that demand for music would be more and more confined to a gradually restricted elite, incidentally the only one that would continue paying for it. Timid attempts at filling the audience void that has been growing systematically have been made by generating artificial demand simply via competitive pricing - de facto devaluing the product for the sake of accessibility - assuming that governments would continue to subsidise the arts as a moribund yet valuable legacy product.
Now that the world is upside down and our oiled, full-steam commercial model has ground to halt, musicians, the only real creators in the industry, have been completely abandoned to their fate while being deprived of a platform to carry out their burning urge to inspire. This is tragic, clearly, but it is also, I think, where the good news lies..
This desire to inspire others, to share our creative efforts with as many people as possible, doesn't die because of rules and regulations constraining our business as usual. The power of inspiration makes us overcome obstacles and difficulties by working out ways to defy the rule or the daft constraint. Art is and always has been inherently provocative and on the edge, a force of challenge to the status quo. This is what has always made art great and fundamental to the progress of humanity. This is what the arts need to continue doing. Was Beethoven not fighting against his time, forcing the individual to break free from the burden of form and tradition? Did Michelangelo not spend most of his life mightily wriggling in a tempest of erotic and anti-progressive constraint, against which he conjured up his genius to accomplish his greatest marmoreal achievements? Did Shostakovich not devise an exceptional language of truth disguised with lies for this bare force of inspiration burning inside him? (Pictured below by Martin Savage:: Northern Chords Festival Day in Newcastle.)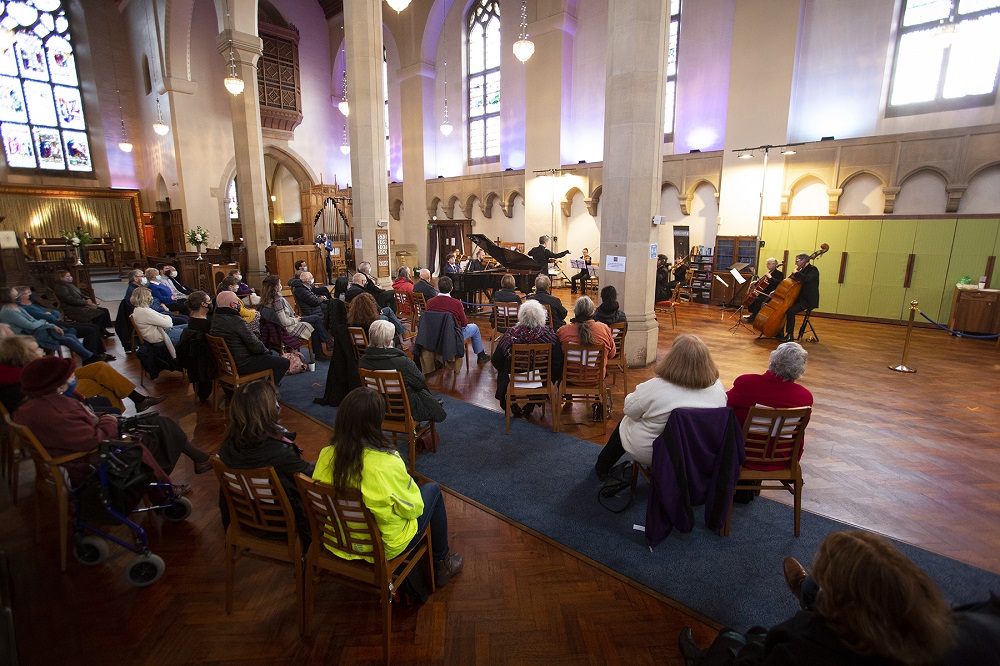 Regimes have tried to subdue the arts and turn them into propaganda precisely because they were aware of what danger rests in the power of human emotions. What is going on in the western world of today is different, of course: the arts are seen as entertainment, a consumption product that can make us better, in small doses. But at the time of crisis the priority is that of getting "the economy up and running again", safeguarding "essential working", whether smart or not. As artists our imperative is to show with facts that art is indeed a priority if we want to imagine a future where human agency will still count. Creativity and the sharing of individual endeavours within a community are the ultimate signature of true humanity.
The next year will be possibly even more challenging for us, having to deal with growing uncertainty around the viability of our profession and an economic crisis that is yet to strike with full force. We must focus on our true mission, that of connecting with people and connecting them with each other. We must focus on wanting people to want us, by making them understand how crucial we can be to their lives. We must focus on building bridges between cultural voids with humility and sense of purpose. To do so we need to be bold in creating the right communication models that won't alienate audiences, while maintaining the integrity of our art. In a world where everything is for sale and value is declined along purely commercial standards, this integrity is the only recipe to rescue people from the abyss of a cultural catastrophe. (Pictured below by Cottia Thorowgood: Pavel Kolesnikov and Samson Tsoy in a Bold Tendencies event in Peckham Multi-Storey Car Park.)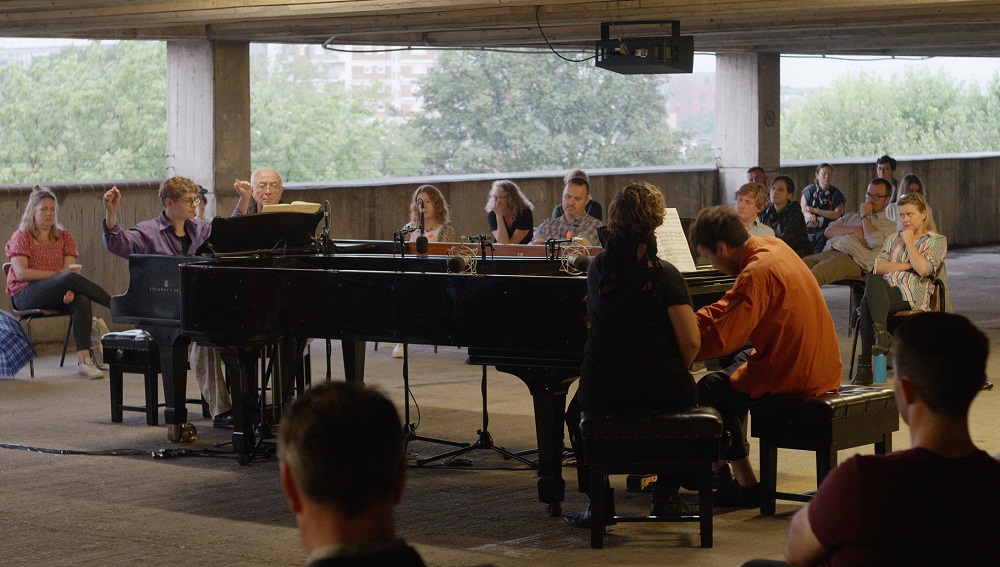 But as musicians we should be creative, inventive and adaptable. We should not be afraid of change, of not being able to do things as we used to do them before. The challenge of having to establish a real conversation with the audience is a very good one. That goal would lead to a more sustainable model for music in society.
Our role is that of challenging everybody to imagine a world that doesn't exist except deep inside us. But it is precisely this honest look at our interior life that has the power to make reality worth contemplating: let's not be scared of letting our imagination create reality for everybody.
This crisis provides a huge opportunity to reconnect with audiences and to use the power of inspiration and the use of our imagination to affirm how relevant it is to look at man as a creator rather than a simple user or consumer. As musicians, I don't think any of us dream of a world made of artists alone, but we dream of a world in which artists can be beneficial to societies in such a way that for the rest of history it will still be relevant to talk about civilisation.
We are so used to looking for answers that we seem to have lost the capacity of asking ourselves questions
Explore topics
Share this article