Reunion: An Evening with English National Ballet review - back on stage and fabulous |

reviews, news & interviews
Reunion: An Evening with English National Ballet review - back on stage and fabulous
Reunion: An Evening with English National Ballet review - back on stage and fabulous
ENB releases all that pent-up energy in its first live showing in 17 months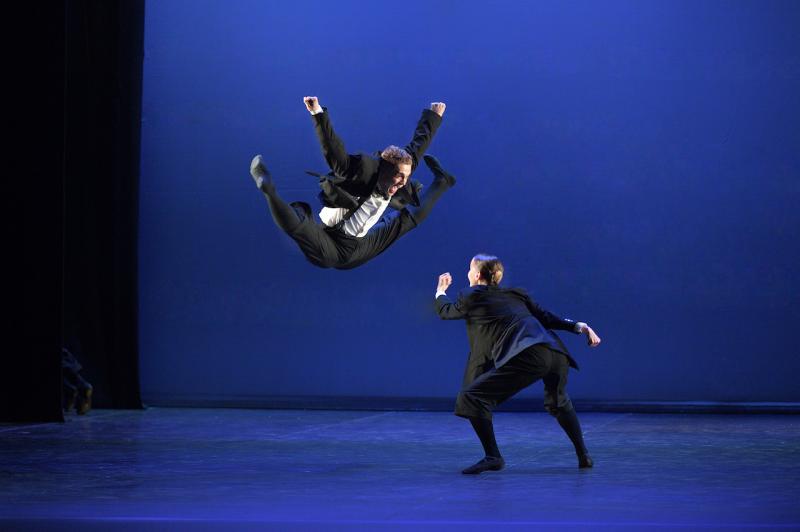 Pleased to see you: Rhys Antoni Yeomans flies high in 'Jolly Folly', one of five new works in ENB's 'Reunion'
You could hardly call this back to normal at London's premier dance house. For a start, there was too much red plush visible in the stalls, not all of it the result of COVID-safe spacing.
There were prefatory onstage speeches and a filmed thank you from Tamaro Rojo, the artistic director who must have suffered a thousand deaths over the past year – at least up to the point
English National Ballet
was singled out to receive £3 million from the government's Culture Recovery Fund. Applause and cheers erupted at every mention of dancers or musicians or those more often under-thanked technicians, drowning out the announcements about keeping mobile phones off and masks on until you'd left the building.
The programme was hardly usual either. Five 15-minute works, commissioned to be staged last autumn but initially put out as short dance films, shot under lockdown by young directors from advertising and cinema (and still available online). While choreography regularly makes the journey from stage to screen, the reverse does not. The visible remnant of that process in the live season at Sadler's Wells is the scraps of interview with key dancers and the choreographers, screened in place of a printed programme note. Illuminating, fresh and charming, it's a thing that could catch on.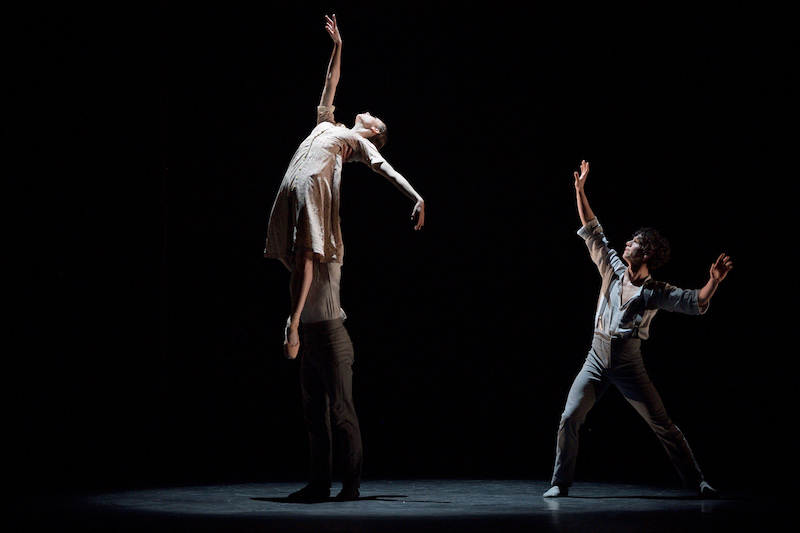 Some of the works fared better on stage, some better on film. Yuri Possokhov's quartet, Senseless Kindness (pictured above), was just as obcure, narratively speaking, either way. It's a big ask to distil a big novel such as Vasily Grossman's Life and Fate, about a Russian family caught up in the Second World War, into a wordless quarter of an hour. But the ballet's extreme fluctuations of passion, tenderness and rage – tracking the moods of Shostakovich's wonderfully acid Piano Trio No 1 played from the pit – were compelling without one's having to know who was doing what to whom and why.
Sidi Larbi Cherkaoui's Laid in Earth, a postscript to the story of Dido and Aeneas, again for four dancers, lost much of its mystery in translation to the stage. On film, the ballet's merging of the Underworld with life on earth is signalled by the encrustation of every surface, including human skin, by fungal decay. At a distance, if those details were there, they failed to register, and the sensuous choreography (Erina Takahashi, pictured below as Dido, with James Streeter as Aeneas, one could only presume) looked stranded amid too much space. Given that Roman myth is hardly common currency these days, wouldn't it have been a good idea to name the characters? I had to guess that the dancer in black scampering on his knees was Cerberus, the three-headed dog, but he could equally have been the Sorceress. It's not un-cool to offer basic information to the audience – it's a no-brainer.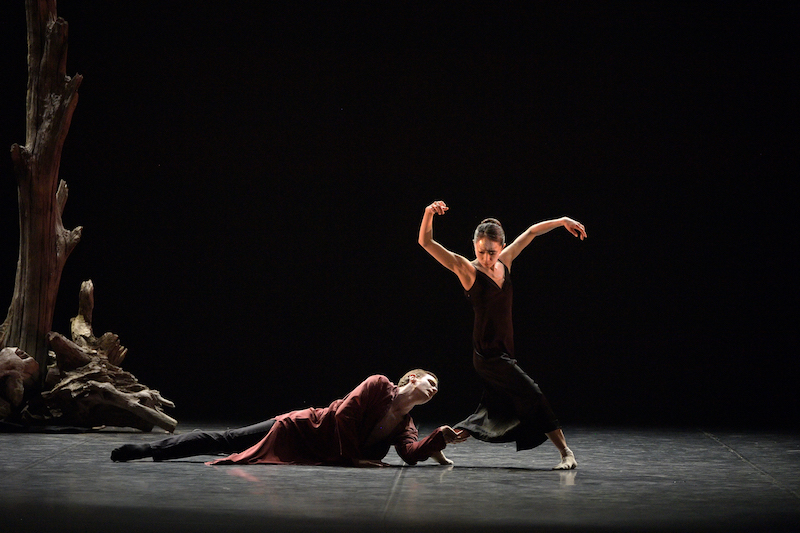 There could be no misunderstanding the sheer kinetic joy of Stina Quagebeur's Take Five Blues. Made for a larger group, it takes its cue from Nigel Kennedy's fiddle extemporising on the Paul Desmond standard to push classroom ballet steps into jazz territory, while keeping the women on pointe. Taking a Broadway-chorus loping gait as its base step, the choreography draws on individual strengths to brilliant effect, including multiple fun jumps for the boys and a diamond-sharp set of fouetté turns for Shiori Kase which, had she performed the same in a production of Swan Lake, would have earned its own round of applause. The dancers are all clearly having a ball in this one, and it's infectious.
Russell Maliphant's Echoes effectively reduces the blood pressure in what could equally have been titled L'Après-midi d'un bouddhiste zen (perhaps better that it wasn't, though). In other hands, these slow, fluid moves – giving the strange and beautiful impression of the upright human body flowing horizontally – would be soporific, but here the intensity and precision of that flow, and the ever-changing sculptural light effects of video artist Panagiotis Tomaras, rendered me alert to every nuance. I didn't want it to stop.
Last but very definitely not least comes Jolly Folly, by 24-year-old Arielle Smith – a talent whose mentoring by Matthew Bourne (she was his Young Associate Choreographer on Romeo + Juliet, no less) looks to be bearing valuable fruit already. Inspired by the Little Tramp persona of Charlie Chaplin, and driven by the Klazz Brothers' Afro-Cuban covers of classical lollipops, this is another of those pieces whose energy needs to be allowed to let rip live. Boy, does it go at a lick! Not only is Smith's stream of comedic invention impressive, but she shows uncannily mature skill in using clothing to amplify her effects. The flap of all those oversized black DJs is integral to every step.
Yes, of course, it's a marvellous feeling to be back in a theatre auditorium, but frankly I'd have queued to see a piano-playing cat if it was live on stage. What's more gratifying by far is to the find the stage aflame with work like this, and performers in such fine shape.
While choreography regularly makes the journey from stage to screen, the reverse does not
rating
Explore topics
Share this article