Constellations, Vaudeville Theatre review - a starry revival |

reviews, news & interviews
Constellations, Vaudeville Theatre review - a starry revival
Constellations, Vaudeville Theatre review - a starry revival
Atim and Jeremiah flare bright, Wanamaker and Capaldi burn slow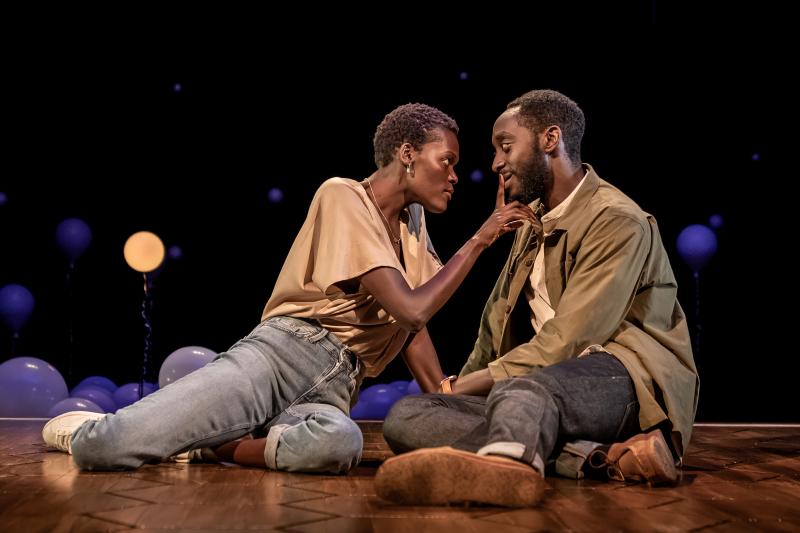 Bouncing on the edge of poetry: Sheila Atim and Ivanno Jeremiah in Constellations
A cosmologist and a beekeeper walk into a barbecue. Or a wedding. The beekeeper is in a relationship, or married, or just out of a relationship, or married again. The cosmologist shares the secret of the universe with him: it's impossible to lick the tip of your own elbow, because if you did, you would gain immortality. Somehow, the line works – sometimes.
Constellations is a play told in fractures. Scenes crack apart and remake themselves constantly, a series of possible versions of the romance of Marianne (quantum theory enthusiast) and Roland (bee enthusiast). Written by Nick Payne, it was first put on at the Royal Court in 2012, with Rafe Spall and Sally Hawkins in the two roles and Michael Longhurst at the helm. Longhurst is directing again at the Vaudeville Theatre, but this isn't just a straightforward two-hander anymore. Like the story, the cast has split, four couples overlapping throughout the summer: white and black, gay and straight, in their thirties and their sixties. Sheila Atim and Ivanno Jeremiah burst onstage for the first press performance, followed by Zoe Wanamaker and Peter Capaldi (pictured below) at a more sedate, though no less moving, pace.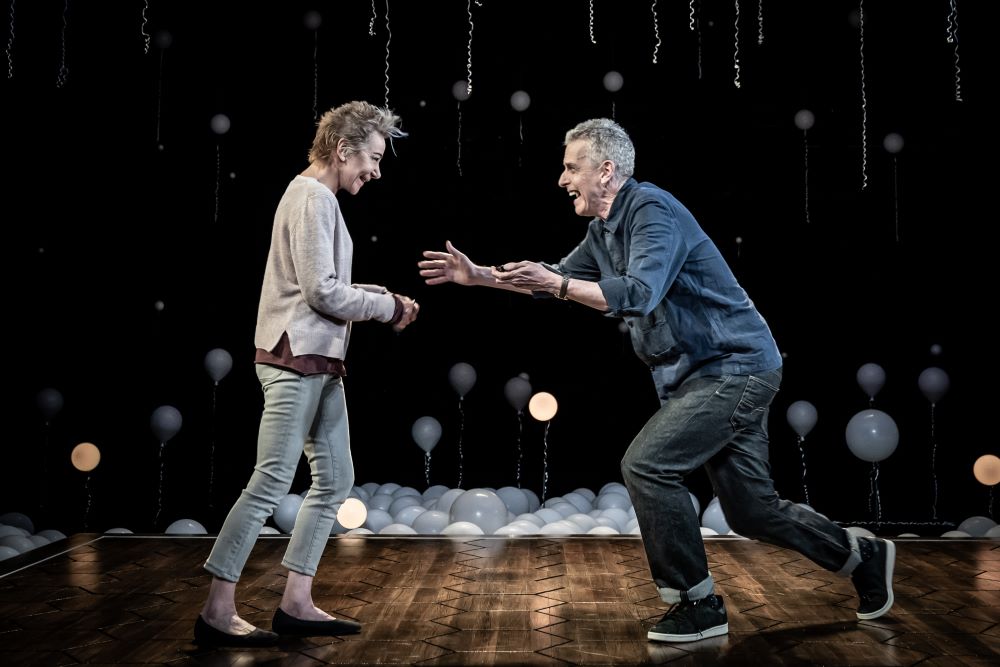 Atim is the standout of the four, zipping around Tom Scutt's otherworldly set like an electric current. Initially, it's unclear whether Jeremiah will be able to match her brilliance (whether anyone could, actually), but he quickly finds his feet. Together they buoy the weak points of Payne's script, their delivery constantly bouncing on the edge of poetry. The circumstances of the actors' lives inevitably change how the lines land: Roland's anecdote about his flat being raided by the police because a neighbour thought he was storing drugs instead of honey gains extra poignancy when told by a black man.
Wanamaker and Capaldi burn softer, slower, more measured. Capaldi draws laughs effortlessly, his Roland hiding his terror behind his twinkly charm. Wanamaker dims her natural presence (no mean feat), withdraws her Marianne even before her diagnosis of brain cancer, protecting Roland and us at the same time. Atim (pictured below left) is barely 30, which should make Marianne's illness more tragic, in theory. But feelings don't care about theory, and Wanamaker's struggle to find the words she can't reach is no less difficult to watch because she's older than Atim.
This new format fits the play so well it's surprising somebody hasn't tried it before. Four separate casts are more convenient for Covid reasons, obviously, but they also bring the central conceit more firmly to the fore: sentences are repeated in different configurations, emotions and situations twisting over each other. Constellations gives the feeling of an acting exercise where you're thrown a line and told to deliver it as many different ways as you can. Like general relativity and quantum mechanics, the play provides multiple answers to the same question: what happens when two people meet? "If you never want to see me again," Marianne tells Roland, over and over, "then you never have to see me again." But he does want to, of course, even when she's choosing euthanasia over spending a little more time with him. Or not, as the case may be.
The multiple-cast format fits the play so well it's surprising somebody hasn't tried it before
rating
Explore topics
Share this article